Now you see him, now you don't: for Moncler's S/S 2017 campaign, performance artist Liu Bolin appears in front of the lens of celebrated photographer Annie Liebovitz – but reveals himself to the eye only after close inspection. Replacing the conventional mechanisms of photography, this collaboration situates Moncler at the intersection of a cultural moment where artist and photographer combine their stylistic cues to nurture a collective vision.
Following the fantastical current of previous Moncler campaigns, for S/S 17 Leibovitz envelops us in a surrealist metropolis with a trompe l'oeil effect. Against the urban structures of Manhattan, Chinese artist Liu Bolin appears transparent as his body recedes into the surrounding landscapes. Painted in camouflage and digitally erased from the photographs, the only remaining aspect of Bolin are the subtle shadows cast by his features against the wood, books, bark and glass.
Known as the Invisible Man, Bolin has earned his place as a megalith in the art world through his unconventional self-portraiture. As he is pulverised into transparency, Bolin opens a dialogue between the material and the abstract, paying homage to the spacio-temporal distortions of photography. The images force us to pause and reflect upon the disconnect between humans and the physical world as we are digested by the virtual. As he explains, "art originates in life, and good works of art are closely relevant to our time, which stimulates critical thinking in our society." Speaking of his work with Moncler, Bolin explains that "the collaboration with Moncler shows [his] intention of inviting individuals to experience, and to contemplate art in everyday life. As we stand at the intersection of the postindustrial and virtual age, the interrelationship among modern technology, man-made landscapes, and human beings themselves has become the point of departure in my works."
Subtly emerging at the centre of each image is Moncler's Doudoune Legère snowsuit which was designed in celebration of Bolin's poetics of space. By situating the suit in two diametrically opposed environments – the natural and the manmade; the infinite expanse and shelter; physicality and knowledge – Liebovitz communicates the mutability of Moncler's products.
Discover Moncler's collections here.
Words / Annie Lord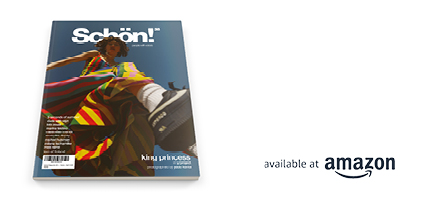 Discover the latest issue of Schön!. 
Now available in print, as an ebook, online and on any mobile device.