Hailed as the first Independent Fashion Week, ModaLisboa or Lisbon Fashion Week, is an honest platform for designers to present their unique creative visions. ModaLisboa is a real celebration of art, culture, and the entrepreneurship in Portugal. Schön! returns to the festivity to view the Spring/Summer 2016 collections which took place from October 9 to October 11, 2015.
This season's theme was The Timers, which pertains to every person who is a mover and shaker, the modern person of today. "All of us that have the capacity to change the world in the present, to innovate, and to leave our mark in time to create a better future," explained Fernando Medina, The Mayor of Lisbon. Eduarda Abbondanza, the President of ModaLisboa Association, took it a step further and added, "Our time is now, and our heritage is here, parading before us. It may not be perfect, but it is free."
The fashion shows kicked off with Sangue Novo, or "young blood," to shed light on Portugal's fresh crop of talents who show promise in bold designs. We loved Banda's pure garments with crisp train prints. Designer Tiago Loureiro of the brand placed buttons along shoulders to guide the eye and highlight innovative cuts. Banda was a young and fresh take on men's and womenswear.
Vulcano, the leading Portuguese brand of water heaters, boilers, and solar panel solutions, awarded a 5,000 Euro scholarship to Sara Santos. The Fashionclash Award was granted to designer Tânia Nicole.
Catarina Oliveira shaped Klimt-esque illustrations on nude garments paired with excellent eyewear. Titled "Savage Mind," the collection was ripe with transparencies and light fabrics, an amalgamation that stressed the triumph of instinct over self-consciousness. Loose fits and watercolour tunics exuded an easy Barcelona vibe.
AWAYTOMARS reinterpreted the classic sky blue button up shirt into fresh and interesting forms. Ruby separates such as coats and pants were intriguing in form and textile choice. AWAYTOMARS aimed to maintain "a perfect equilibrium between people, time-space, and product-body," which was clearly seen in explosive galactic prints fashioned by graphic strips. 
On the second day of ModaLisboa, designer Nair Xavier took us on a safari voyage in linen separates made to be worn under the sweltering sun. The London College of Fashion alumnus utilized earthy tones of sand, sky blue, and stone to create garments that emphasized technical savoir-faire in large pockets and crisp outerwear.
Alexandra Moura stole the show as she distressed garments only to piece them together in explosive ensembles. Bubble-gum pink, ruby red, and jean blue looks appeared to have been shredded and tied, a fashion forward take on construction. Moura demonstrated her keen attention to detail in inconspicuously embroidered floral jackets. The collection was extraordinarily bold and different – a real crowd pleaser.
Standout creations on the third day of ModaLisboa were those of Kolovrat and Dino Alves. Designer Lidija Kolovrat illustrated a galactic tale of blue moon prints and edgy tailoring. Silhouettes were a combination of abstract and circular shapes to redefine conventional lines. Kolovrat demonstrated intense detailing in the back of long, black garments. Her collection rang as a modern fantasy for every city slicker.
Dino Alves closed ModaLisboa in an artistic collection highlighting the creation process from sketch to finish. Taking place in the exquisite Teatro Do Bairro, the fashion spectacle featured white, cloud-like creations alluding to crumpled paper. "An idea scratched on a paper crumpled and thrown away, it's not always a lost idea. It is not just an end in itself, but a means to get somewhere," Alves explained. Voluminous skirts and ruched dresses acted as blank canvases, followed by scribbled patterns of crimson as a passionate train of thought. At the very end, ruby powder was poured on three models, the "Eureka!" of the creation process and an explosive finale to the weekend.
Moreover, ModaLisboa presented Wonder Room, a pop-up store with 22 emerging national brands. There was also Portugese Shoes, an installation by APICCAPS dedicated to the creativity of national talent, combined with the quality of production.
Lisbon Fashion Week presented a myriad of distinctive talents ranging from the hairy corsets and wigs of Olga Noronha to the outstanding hardware accessories of Valentim Quaresma. Inimitable womenswear and menswear were aplenty, only proving ModaLisboa's force in showcasing the best designers of the country. Without a doubt, ModaLisboa has upheld its growing reputation in today's fashion scene.
For more information, visit modalisboa.pt
Words / Sheri Chiu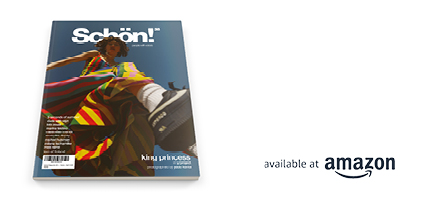 Discover the latest issue of Schön!. 
Now available in print, as an ebook, online and on any mobile device.