Earlier this month, MODALISBOA presented its 50th edition, cementing its position as one of Europe's most established fashion weeks, but rather than look to the past, the organisers were keen to focus on the future of Portuguese fashion.
"Number 50 is not about nostalgia," states Eduarda Abbondanza, President of the ModaLisboa Association. Instead, it is about "discovering the artists that will be part of our cultural scene in the future, assuring the freedom that enables fashion to be unexpected, challenging, refreshing and unpredictable. The aim is not to live forever but create something that lasts forever." And what might this future look like? Perhaps it spells the "end of seasons as we know them", and certainly, the AW18 catwalks were awash with the vibrant colours and prints one typically expects to see in the Summer months.
When fashion collective AWAYTOMARS tasked its designers to explore the theme of Space, one might have anticipated that they would come back with astronauts in a sterile white kit. Instead, they showered us with every hue of the rainbow, from lime green, hot pink and blood orange to turquoise, emerald and cobalt blue. These were combined with prints inspired by "a universe beyond the earth's atmosphere, extending between the planets and stars, containing small amounts of gas and dust". There was also a distinctly retro vibe to the silhouettes, with flared trousers, tunics and polo necks. As the models wove through the lush vegetation of the Parque Eduardo VII's greenhouse, they conjured up costumes from 1968 sci-fi Planet of the Apes.

AWAYTOMARS weren't the only ones to take their inspiration from outer space. Gonçalo Peixoto's collection looked to the Aurora Borealis for the "unexpected shades" he incorporated into his sports-luxe womenswear. Designing for "a proud, unpretentious and affirmative woman", Peixoto offered unexpected contrast by juxtaposing voluminous puffer jackets and hoodies with straight, flowing knits, matte with shimmer and chromatic colour (red, blue and green) with black, white and grey.

The late '60s influence made a further appearance at Filipe Faísca, but with a more subdued colour range. Inspired by "counterculture, lightweight dresses flying to the sound of songs – so Woodstock, baby," the designer presented feather-light dresses in sheer and appliqued organdie and traditional Madeira embroidery, accessorised with triple-lens sunglasses and bejewelled tights. The pale palette of white, marble and putty further lent a season-less feel to the collection, but shots of violet, red, olive green and gold velvets added warmth. 

Kolovrat's collection was called Shape Shift, and the designer's intention was to "tell you a story, unexpected and unfitting. As you feel nostalgic, I will reset your reality." Shape and silhouette were indeed a primary focus, from oversized coats and hats to voluminous trousers, ankle length shirt dresses and knee-length double-breasted blazers, but colour was also key. Teal greens were paired with indigo and magenta, deep purple with mustard yellow and a standout coat made a statement in lime green.

"I am going to continue doing vampires as long as people sin, for I believe that humanity needs the moral lesson and it needs it in repeatedly larger doses." So said silent screen actress Theda Bara and it is this "vamp, star, femme fatale and sex symbol" that inspired Aleksandar Protic's collection. Wool, silks, cotton and blends were draped in languid and fluid forms in black, black and… more black – a welcome interlude to the vivid colour of the season.
The future may be bright, but it doesn't have to be orange…
To find more information about ModaLisboa click here.
Words / Huma Humayun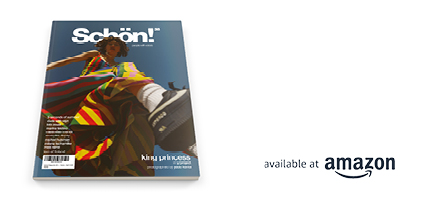 Discover the latest issue of Schön!. 
Now available in print, as an ebook, online and on any mobile device.