Despite the bitter cold that mercilessly hit the Italian peninsula and the social disorders that anticipated the upcoming political elections, Milan resiliently presented its AW 18/19 collections featuring, besides the regular shows, a rather surprising set of exciting events and new entries: an outstanding occasion considering the fashion capital's reputation for being perhaps a little too rooted to its traditions.
Moncler opened the fashion week by unveiling Genius, Moncler's creative fashion hub "establishing a daily dialogue with consumers." Set in a spectacular location and divided into different areas, illustrious creative minds displayed their vision of the brand. Remo Ruffini, CEO and director of Moncler since 2003, collaborated with Pierpaolo Piccioli, Karl Templer, Sandro Mandrino, Simone Rocha, Craig Green, Kei Ninomiya, Hiroshi Fujiwara and Francesco Ragazzi. Each designer curated a "room" inside the hub by giving life to unique performances and displaying cult Moncler items skillfully turned into artwork. All in all, Moncler proved to be a brand with an immensely strong identity and no fear whatsoever to push its boundaries and play with the unconventional. After all, as they say, "change is what drives us forward".
One century has passed since the deaths of Egon Schiele, Gustav Klimt, Otto Wagner and Koloman Moser and, this year, Wien pays tribute to its golden age, Modernism, with a series of events and celebrations. Arthur Arbesser, originally from Wien and now based in Milan, decided to dedicate his whole collection to the Wiener Werkstätte. Inspired by paintings from the Wiener Secession and graphic work of Koloman Moser, Arbesser released perhaps his most mature collection to date; where severe silhouettes, pleated skirts and striped shirts were seen combined with prints of flowers, fruits and bucolic landscapes for a sophisticated, ultrafeminine result.
For the presentation of their AW18 collection, Gilda Ambrosio and Giorgia Tordini literally opened the doors of the ATTICO (Italian for 'penthouse'). Inviting everyone to a house party, the collection referenced the '20s speakeasy (visible in the fringed mini dresses) combined with an outburst from '80s disco fever and glamour. Bold, padded shoulders, hedonistic velvets, leather, flowery prints and fluid wrap dresses covered in sequins gave birth to a decadent, sensual and at the same time extremely elegant collection. Also, for the first time, the designer duo also presented a menswear boudoir outfit.
Backstage at Gabriele Colangelo, the designer presented an unusual mood board. A collage of the textile swatches used in his collection and photos showing his creative processes: starting from a clean white canvas and gradually adding layers of fabrics and colours. Nothing more and nothing less. This is where the designer takes his inspiration from: textiles and layering —the basis for conceptual design. Once again, Colangelo explored asymmetry —mixing and matching layers and panels to create unique items. Despite the rigidness and sculptural qualities of the shapes, the silhouettes manage to preserve a soft femininity.
A selected group of editors received a weird package stating the official warning: "Parental Advisory, explicit content". The package contained an orange timer counting down the minutes to the Gucci show. In other words, an invitation to the parallel Gucci universe —please, be punctual. The Gucci HQ were transformed into a surgery theatre —complete with green walls, PVC chairs and the nice, reassuring beeping of a heart monitor. The show notes stated that "the concept reflects the work of a designer—the act of cutting, splicing and reconstructing materials and fabrics to create a new personality and identity with them." The models graced the catwalk carrying severed heads, dragons and chameleons whilst wearing what could easily seem from an artsy vintage market — if it weren't for the spectacularly modern items and impeccably adorned details. 
The keywords for Jil Sander's show are purity and layering. Leggings, skirts, shirts with delicate pleats, long coats and soft cushion-like shawls. The clean lines that define the brand met precious textiles and unusual details such as knitted sleeves over a formal jacket and a thick fabric belt over a long sleek dress. Everything was elegantly piled —even the boots.The palette was mostly bright and delicate, with a predominance of white and a few touches of pure optimism in the form of floral prints and striking blues. This is Luke and Lucie Meier's second show for Jil Sander who, digging deep in the archive, have managed to add a positive, vibrant touch to the brand.
Bright, cheerful and glittering: Alessandro dell'Acqua at N21 embraces the pop culture of the '80s with all its excesses. Presenting a fascinating collection, where slip dresses are covered in sequins, checked shirts pair with leather pants and transparencies with knitwear whilst masculine items create bold contrasts through uniform pieces, animalier prints and statement accessories.
Inspiration can come from the most unusual places. This season, Stella Jean's muse was the strong bond that grew during the 1936 Berlin Olympics between the African-American athlete Jesse Owens and German Luz Long. Surprising but somehow coherent, the designer took sportswear elements such as logos, tracksuits and squad numbers and seamlessly combined them with her self-defined bourgeois look. The result is surprisingly clean and elegant —the sporty elements adding a playful touch to an otherwise immaculate silhouette.
This season was Vincenzo Palazzo's second time at Milan Fashion Week with Vìen. Fascinated by music subcultures, the young designer form Puglia chose punk as a starting point: presenting a collection full of T-shirts, baseball caps, sweaters, jackets that become mini dresses, oversized pants and heavy long dresses. References to Vivienne Westwood's Seditionary were present, as well as multiple nods to Demna Gvasalia's Vetements early seasons. The presentation featured live cello and piano music blended with '70s punk—perfectly appropriate for the brand's aesthetic and vision.
MFW's last night saw Tommy Hilfiger's latest #TOMMYNOW event come to life. Inspired by Formula 1 one and in collaboration with Mercedes Benz, Tommy staged a racing pit complete with pit stops and pilots. Gigi Hadid opened the show, closely followed by her sister Bella, Joan Smalls, Winnie Harlow and most of the models of the moment. The collection celebrated the Tommy Hilfiger logo and the brand's long tradition of sport-inspired garments, but it also showed a few unexpectedly elegant and ultra feminine outfits.  The presentation proved to be a cheerful, festive way to close Milan Fashion Week, while the city looks at the future with optimism and high spirits.
Find out more information about Milan Fashion Week here.
Words / Sara Kaufman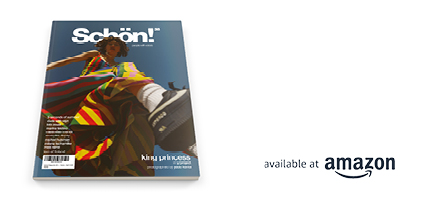 Discover the latest issue of Schön!. 
Now available in print, as an ebook, online and on any mobile device.