Even though Ljubljana is a relatively small and almost unheard of city within the fashion circuit, up to 3000 guests attend this October's bi-annual Mercedes Benz Fashion Week. Celebrating design talent from Slovenia and its neighbouring countries- Croatia, Italy and Germany, the three-day event, which took place from 5th to 7th October, is a credible spectacle with talent exceeding expectation. With each show choreographed impeccably, the core team of models strutted across the industrial warehouse space to stereophonic sounds. Often there were up to four models zig-zagging across the platform, allowing you to appreciate not only the clothes but also the production.
With more than 30 designers and fashion brands from the region, the event is gaining momentum. Names like Izadora Verlič, Natasa Persuh, IVANMAN, Draž, CLICHÉ, SENS, Akultura, Peter Movrin, Marko Mitanovski, Sofia Nogard, Sari Valenci za for And by Andraž, Milica Vukadinović, Tanja Zorn, Susnyara, D'Alpaos, and Arnoldo e Battois, might not be on your radar at the moment, but sit tight and enjoy our picks.
Akultura, the brand of Slovenian designer Alenka Globočnik, portrays a punk-bondage influence in her designs. Starting with the basics of clean lines and symmetry, she transforms every piece into a wearable work of art. Connecting with the early 90s, her collection is a 21st-century nod to Blade Runner with metallics, quilting, and cowl neck details.
Building on the significance of the humble white shirt, Natasa Persuh has given it a serious injection of sex appeal. Combined with simple trouser suits, layered or belted, she has taken something basic and worked her magic. Whether it be plain, patterned or oversized, she demonstrates that with the right pair of sassy boots, the world can be your oyster. This is the name to know for a confident woman, who like to make an impression with minimal fuss.
Milica Vukadovinic is menswear design with a sports couture vibe. The designer from Belgrade offered a capsule collection of oversized jackets, cropped trousers, and slogans designed for maximum impact and for those who like to rebel against the norm. Bright colours clash with unusual fabrics and are perfect for the man who wants to make a statement.
Croatian born, Berlin-based designer Ivan Mandžukić is the mastermind behind IVANMAN, a brand of menswear which complements his own style. Combining urban functionality and creativity, the pieces are highly wearable. No stranger to using colour in his collections, SS18 was a haze of royal blue. Everything from oversized knits, to dungarees to workman style trousers to utilitarian vests. With plenty of pocket details, the option to mix and match is vital to the IVANMAN man. Crisp and straightforward. This is one to watch for lovers of a perfect fit, minimalistic wardrobe.
Peter Movrin's fans include Lady Gaga. Need we say more? The son of a butcher, Movrin hails from a small, rural Slovenian town, which is perhaps why he is able to demonstrate so much imagination in his work. SS18 took us back to the heyday of the 1920s with a dash of the 80s! The poppy colour scheme of blue, mustard and fuchsia pink, combined with the supersize shoulder pads were not for the faint-hearted, but I loved it! Dresses, twin sets, and floor length macs were brought to life with contrasting accessories, including oversized bags and necklaces. Eccentric, yes, quirky. Absolutely!
Founded in 2012, Nicola D'Alpaos started a capsule collection of bags with a friend, since then it has transformed into a fully fledged fashion label, which prides itself on using environmentally friendly materials that are intertwined with the Japanese and Nordic influences going by the moniker D'Alpaos. The SS18 collection entitled, WINTRY SUMMER is an exploration of geometrical shapes collection which in turn is inspired by Asian cultures. The tiny details are what make the pieces unique, and the collection consisted of faded striped suiting to 30's inspired cardigans. Steering away from current trends, Nicola is happy to remain autonomous, and true to his vision.
Sofia Nogard showcased a unisex collection on both male and female models, making it clear that the brand's aesthetic "timeless archaic" is evident for SS18. Fusing comfort fits in a range of materials, shapes, colour combinations, the result is a mash-up of street-couture. Faded pinstripe jumpsuits and paper bag waisted PVC trousers were nestling for attention, but even though that might sound like a contrast, the collection fitted together perfectly.
Celebrating the nineties, and aliens it is no surprise to learn that designer Sari Valenci za also gained a placement with Jeremy Scott. Her SS18 collection uniquely and seamlessly blends together youth subcultures. Designing in collaboration with sportswear brand And by Andraž, allowed her access to an already established market, to which she has added some va-va-voom. Instead of making something sporty, fashionable, Sari's collection was total fashion with a nod to sports. Resulting in luxurious street fashion as well as quality sportswear.
One thing is sure, definitely, keep your eyes peeled for the next instalment of MBFWLJ. For more information, click here. 
Images by Žiga Intihar, Jure Makovec, and Urša Premik.
Words / Sara Darling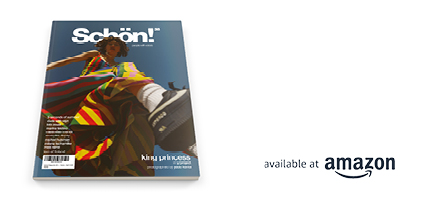 Discover the latest issue of Schön!. 
Now available in print, as an ebook, online and on any mobile device.