In sweltering temperatures, Paris revealed an array of masterly pieces for the spring summer shows. It's no mystery that menswear is facing a turning point – with a sudden challenge faced by the predominance of consolidating men's and women's – or with the arrival of the Brexit bomb in the heart of Paris Fashion Week. While the future of London in the international fashion system was at stake, the French capital proved once again that its fashion appeal is enduring, its quality unparalleled and its talents, well, the best. Established and upcoming creators alike, Paris brings an eclectic but euphoric mix of collections to the table.
Shown on a bateau mouche on the recently flooded Seine, Y/Project opened Paris Men's Spring Summer with a reconstructed take on '90s silhouettes, comprised of peachy silk tunics, loose fit lavender suits and nylon joggers. What particularly stood out was the alternate waistline of the denim, which purposefully showcased plaid boxers in a V-neck cut. Postmodern to the core, Y/Project remains one of the most exciting new design projects to come out of the French capital.
Walter Van Beirendonck's SS17 collection would not look out of place in a futuristic Chinese New Year parade— as bold, blue streamers flowed behind a navy bomber jacket and a pattern of bright, green circles can were spotted on several looks— all of which completed a face of what could be a Chinese dragon caricature. Bright white shades brought out the bold yellow, green and lavender of these looks whereas on the other side of the spectrum, we saw some very innovative suits crafted in a harness-like style.
Haider Ackermann continuously and fervently cultivates an aura of elegance, of timeless beauty, which is as ever pure poetry — all the way from tight, metallic black striped trousers to drop crotch, linen orange ones. For this collection, stresses of pink silk tied the metallic looks together, whereas intricate yellow and black brush strokes apparent on the black bombers added a painterly touch to the pieces.
Kim Jones debuted the prints of artists Jake and Dinos Chapman in Louis Vuitton's newest menswear collection for 2017. The prints, seen on breezy, silk fabrics, were the Chapman brothers' eerie depictions of elephants, giraffes and zebras, giving the overall collection an air of a summer safari in London— revisiting the British punk influence, as made evident with the addition of some LV leather chokers. 
Boris Bidjan Saberi executed the creation of a 'half human, half machine' theme in this year's Men's SS17— as models donned metal pieces as facial accessories, intended as forms of symbolism for the invasiveness of technology. A rusted brown, grey, and black colour palette added to the signature grunge style of the pieces— giving the collection a semblance of our future in the form of eroded metal.
Master of reinvention, Yohji Yamamoto stood out with his themes of cross-gendered and cross-cultural garb in Paris this week. Playing with tones of bright beige, grey, and black— Yamamoto's many looks consisted of effortlessly layered wide legged trousers, oversized blazers, and untucked tunics. An occasionally asymmetrical pin stripe ensemble could be seen among camouflaged paintbrush strokes and eastern, slipper-like shoes.  
Dries Van Noten's artful touch was as ever present in his Spring/Summer 2017 collection, with delectably light, summer linens in patchwork, earthy camouflage patterns and renaissance angel print. Various oil paintings were present in many of the looks, giving the collection an air of a nostalgic Sicilian summer. Something not totally displaced in a contemporary rendition of Il Gattopardo, in urban form.
Junya Watanabe's Man collection was unmistakable this season due to the models' captivating facial tattoos (real and fake), capturing the languor of the strangely ready to wear plaid suit/short-trouser combinations. The collection formed an ideal unification of eccentric and street style for a summer in the city.
The ironically monochrome collection of Ann Demeulemeester is said to have been inspired by love, specifically, the act of being 'red in love'— which was one of the logos that stood alone in painted, red brush strokes on translucent white tanks. Almost black, embroidered navy silk wraps equally stood out amongst the splashes of red, providing a reference point for the darkest depths of love perhaps.
Taking cue from the pilot G-suits of the '50s, and the repeating logos stating 'covered' confirmed this sentiment as Juun J. envisions summer in the air. Army green, white, and black oversized bomber jackets and hoodies were adorned what from afar resembled dozens of untied shoe laces. In the finale, baggy and durable fabrics clashed with villain-like pin stripe blazers, in which Juun J. brought his G-suit concept to terms with the reviving punk trend.  
According to Rei, weather was not going to get in the way of showing some skin this summer. Various forms of translucent PVC gave these layered looks a futuristic effect. Brandishing slogans proclaiming royalty, the Emperor's new clothes were revisited – stripping bodies of their adornment, peeling back the layers of consumerist excess to reveal corporeality's beneath. A reminder to perhaps focus more on function rather than form? Or rather, forget form and function altogether? To be discussed.
Kenzo's Carol Lim and Humberto Leon were inspired by the youth of NYC nightlife this summer. All the way from toned down sporty, neon yellow and lavender short combos to little, edgy black dresses with sparkly triangle bras on the inside out. The vibe is very colorful, but not yet rave-like, as Kenzo stays true to the fact that you can get away with wearing almost anything to an NYC club— as long as it's fairly trippy, and you are cool enough.
Perfectly checkered, black lines clearly pop amongst the minimalistic designs of the Korean mother-daughter duo of Wooyoungmi this week. Checkered black and white patterns spanning various sizes were often seen side by side in the midst of long, grey skorts and oversized olive green silk trousers: a truly poetic take on contemporary masculinities, and its antiquated forms, Wooyoungmi SS17 was a delicate highlight.
Words / V Tyurina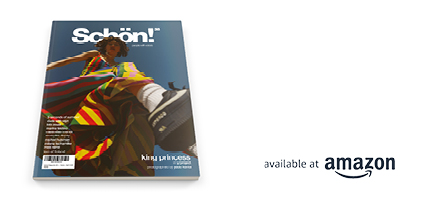 Discover the latest issue of Schön!. 
Now available in print, as an ebook, online and on any mobile device.