This past weekend, NY-based MADE, part of the WME/IMG Group, gave Los Angeles a taste of its good medicine. In April, the NYFW production company announced that they would be taking their platform from the Big Apple to the City of Angels for the first time, bringing with them Moschino's 2017 Men's and Resort Collections. LA hometown heroes Jeremy Scott, Creative Director of Moschino, and Tyler, The Creator with his new line Golf Wang would share the bill as headliners of the two-day festival, punctuated by a last-minute addition of innovative NY streetwear-cum-couture brand Hood By Air.
Friday night, the star-studded crowd was adorned in a rainbow of Moschino and Scott collections past and present, buzzing in anticipation of their Spring '17 resort and menswear presentation. Stealing the pre-show were Cindy Crawford, Caitlyn Jenner, Katy Perry, Amber Rose and the newly crowned Miss USA, Deshauna Barber. The catwalk was nearly as star-studded as the front row, with a cast of top-tier models such as Alessandria Ambrosio, Miranda Kerr, Jourdan Dunn, Chanel Iman, and finale Devon Aoki – who walked the show in celebration of her 20-year anniversary since first walking for the long-time friend and designer.
Psychedelic 60's flower power and eastern influence lent to the collection's aesthetics via elaborate embroideries and mirrored embellishments, adorning an abundance of sheer and crocheted ensembles. Accessorized by floppy-brimmed hats and pom-pommed platform shoes, the collection was a perfect love letter to Los Angeles. When I asked Jeremy Scott what wisdom he would offer to our readers, he reiterated his underlying message: "Just follow your heart. Don't listen to what anyone tells you. Listen to your heart, and it won't ever lead you wrong." Better advice is rarely given.
The most defining, captivating moment was when model Anna Cleveland slowly slithered down the runway in swerving baby-steps, serenading the crowd in a caftan printed with six arms, giving her the illusion of a Ganesh-like goddess, topped off with a classically comical umbrella hat.
Skate-culture icon and hiphop artist Tyler, The Creator shared an impressive interactive experience to showcase his collection, debuting not only his first runway show, but also an all-new collaboration with adidas. The presentation held true to Tyler's creativity with two live action sets on the stage which were also projected above, and held true to his skateboarding culture roots by installing a skate park within his runway and stage.
Models acted out skits, played craps, made jokes and pulled off tricks while cruising around the circular, sunflower-lined runway on skateboards and motorized mini-bikes to show off Golf Wang's line of printed pants, colorful polos, hoodies, hats and socks. At show's end, the crowd was treated to a performance of a new song created specifically for the event, titled My Ego, which can now be streamed online. Notable guests were abundant, highlighted by Kendall Jenner attending as the date of Kanye West.
Hood By Air delivered an experience not soon to be forgotten. A dark and desolate room lit only by swirling strobe lights was revealed to guests. Fog machines and white noise filled the air, which then grew to a screeching feedback sound, escalating into an industrial crescendo as musical performers Yves Tumor emerged. The group wrestled their way through the crowd to ascend the pile of dirt in what what appeared be monumentally uncomfortable silver platform boots – a fitting feat.
As the full lineup of models congregated to join Yves Tumor in the center of the chaos, bloody crucifixes dripped down their faces as they dragged overly-extended sleeves, secondary pairs of sleeves, vinyl trousers, constantly tripped-on extended tees, and conjoined hoodies through the dirt. At various points, there was nudity, mock-violence, and screaming. The entire program was strategically designed to make the crowd feel uncomfortable, unease, violence, and HBA did not disappoint.
Presentations are becoming far more creative and innovative than traditional runway shows.  Our standards are being pushed and the bars are being raised.  New York is once again embracing their western counterpart for the first time in nearly a decade – ever since Smashbox and IMG (and therefore, Mercedez Benz) parted ways in 2008. MADE LA has proved that the west coast's momentum is on an upward trajectory and grows more promising with each season.
Words / Landra Lee Dulin
Follow her here.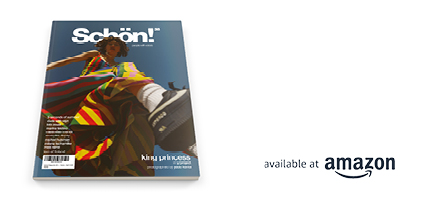 Discover the latest issue of Schön!. 
Now available in print, as an ebook, online and on any mobile device.