London Fashion Week has made a name for itself being the slightly more colourful, out of the box ticket on the show circuit. This season was rather political – from presentations representing individuals in states of flux, to empowering words on runway looks – designers both established and new had a message to share. 
Since 2011, Fyodor Golan has been a strong fixture on the LFW schedule – quintessentially colourful and out of the box, it's one of the show tickets that make LFW what it is known to be – bold. Each colour, cut, and texture presented were very much a nod to the Golan aesthetic – plastic, cotton, denim, and synthetic fuzz contrasted one another in primary colours. A standout piece being a transparent, plastic skirt, full on raincoat style, plastered with neon post-it notes with little messages such as "Don't call me princess".
This season, we continued to see more of Eudon Choi's experimental approach to womenswear with his innate tailoring skills. With a strong foundation in menswear, this collection demonstrated this with his overall monochromatic collection, with pops of blue, orange, and a dusty lavender. What started as sharp, tailored trousers and crisp white shirts, flowed into smock dress workwear in white and blue stripes, to chunky-knit jumpers. Each piece was experimental, with elements of utility. Examples being a large rucksack accompanying an all-black look, and easy-open snap trousers. On- trend puffa jackets were made in military khaki, giving the utilitarian vibe to tie in the streetwear. Flowy dresses were given street edge with silk and draped tops in moss green, paired with wide-legged trousers, and long sleeved silk dresses, worn with trainers, to bring the elevated pieces down to Earth. 
Bora Aksu's AW17 Collection was for the woman who is strong and empowered. Sporting messages on hope interwoven into the very fabric of the looks, ruffles, lace, and layers made their ways down the catwalk in black and white as well as pastel blue, pink, and lilac. These inspired pieces were juxtaposed with the traditional cuts and shapes in the collections. A moment of positivity in a flurry of darkness, politically and socially speaking.
Art and fashion have had strong responses to today's current political climate, and Haizhen Wang's presentation also had a message. The collection shows models in a state of transition – carrying cling film wrapped boxes, each model wore layered pieces in shades of green, blue, red, and black with embroidered patches reading HANDLE WITH CARE – FRAGILE, and accessorising looks with clear trench coats – made to represent a human version of clingfilm. The belted accessories were pragmatic airplane seat belts, in orange and black, cinching in at the waist over shirts, dresses, and outerwear. Wang's outerwear consisted of military-style layering puffa jackets in the shapes of corsets, as well as blanket-like pieces draped around the midsection like blankets, and hoody combinations.
MBE Hussein Chalayan presented a seamless catwalk show letting fabrics, shapes, and cuts speak for themselves upon his return back to the LFW circuit. The collection was inspired by Greek folk – shown with the brown, gray, and black dresses paired with monochromatic tops, trousers, and tunics in a dark palette of navy, white and grey. Closing the show was an impressive crescendo of feathers coating cardboard above looks, and streamers popping out of the tops via strings pulled on by the models. This loud injection of colour was a fake"celebration" of current world events, Chalayan stating that the "protest" was directed towards "new, isolated individuals that the current world order is generating". The two different moods of the show blended together perfectly – much like the duality of life.
London's whimsical Ryan Lo stayed true to form in a lovely collection of pinks and stripes inspired by Hello Kitty – printed skirts, tops, and a memorable Hello Kitty ruffle-tiered dress included. Also memorable were the large star prints and onesie pyjama-inspired camouflage trousers with cargo pockets – in muted hues injected with fuschia pink. The accessories were kitsch chain necklaces, paired with fluffy '90s rave hats, matching perfectly with the looks' camo trousers.
Fashion East have been known to launch the careers of London's most  designers, and this season was no different. The highly anticipated Matty Bovan and Mimi Wade made buzzy business of showcasing incredible design talent. The former had models of the moment Adwoah Aboah and Winnie Harlow open and close the shows in tribal makeup, tribal accessories made up of pipe cleaners in primary colours, pieces reminiscent of DIY projects – with seatbelt fastening belts in gold and citrus tones.
Asai presented a show of a mishmash of clashing fabrics which really worked -think nomadic traveller goes to a cocktail party- knit black and white pattern skirts finishing off with argyle prints, paired with fur and denim jackets and Lord of the Rings-esque cloaked hoods and accessories including what appeared to be broken Green plates. Mimi Wade's Dial M for Mimi collection was a glorious with girly silhouettes, '50s pencil skirts, low-cut square necklines, pink furs, and cloud shapes.
Ports 1961 is a house known for its elegant, classic cuts, shapes, and colours. This show focused on the usual clean palette in neutral shades, with adorning features such as oversized sequins on chunky knits, asymmetric shoulders, and clean, crisp shirts. Suits with cutaway midsections and arm sections walked along with layered shirt dresses. The show proved to be successful with its subtle cutouts on staple pieces.
In an autumnal mix of feminine and outgoing, Preen by Thornton Bregazzi sent lace florals down the catwalk, in typical Poetic, romantic style with Victorian necklines, ruffled sleeves, and flattering cuts. Deconstructed tailoring highlights were showcased in black oversized coats with cutout shoulders, layered over blouses and floral-printed corsets had cutouts and elements of modern details to offset the classic shapes. Closing with puffy, floral and pastel outerwear tied in with straps, Preen always remains a very British twist on  flattering, woodsy clothing. 
Presenting its capsule See Now Buy Now collection, Topshop Unique sent shearling down the runway with wonderfully bright green fur lining, worn with workman trousers adorned with patches.
The patches made reappearances – seen in Lineisy Montero's look of a denim, patch and badged-embellished jacket layered over a rosé pink silky dress. Silk made its way down the catwalk in multiple looks – one sheer dress with a high high slit in pink worn by Adwoah Aboah as well as a Grecian-style white silk, floor-length gown, worn by Victoria's Secret model Stella Maxwell. 
Stately, country, and equestrian, Mulberry used powerful heritage influence in their AW collection in an array of loose 1920s and 1970s shapes. Tweed, skirt suits, and jackets have been layered with lace, the show using archive inspired pieces found in wallpaper and furnishing prints, with imagery of horses, roses, and other animals. The asymmetry of the show's dresses and skirts was inspired by stately side-saddle horseback riding, pieces were paired with chunky loafers, bright mohair tights, and other granny elements as well as typical buttons reshaped into countryside animals like foxes, deers, and crows.
MM6 opened up their atelier to the press – showing what goes on behind the scenes in the buildup to a show. Conceptual as ever, the outsideres eye into the stylist building looks in the studio, while a tape on the floor makes a mark in front of a set, with notable accessories including iPhone charger belts, wool suits with deconstructivist pinstripes, and a large, royal red velvet cloak, held at the back with a strap of pearl necklaces. The funniest bit? Leather boots with Margiela's usual cylindrical heel, but this time shaped like a red plastic cup. 
In a pastoral turn, Temperley London showed a collection inspired by none other than Lederhosen. A wardrobe fit for the English Rose who is part bookworm, part daydreamer, this collection boasted pretty floral prints, embroideries, and quilted dresses and skirts in an elevated turn.  Editorial favourites wdere the sequined jumpsuits, and striped sequin sheer skirts.

Belted, colourful feminine looks worn by models both old and young – sequins (of the skirt, bustier skirt, dress, and boot variety), skirts, and statement single earrings made a strong impression on the Osman runway. The pieces ranged from looks wearable for the day – exemplified in olive suits, and blue button-up shirts with beautifully exaggerated collars. 
Makeup master Isamaya Ffrench imagined Lucha Libre makeup for Ashish's George Michael inspired collection. The contrast of roughhousing (Lucha Libre wrestlers) and sexual identity through this collection gave each look its own identity – all centered around a message of showing individuality and love. Ashish collaborated with baseball teams the LA Dodgers, Boston Red Sox, and Chicago Cubs to recreate sequin jerseys, and included thoughtful and political slogans on shirts –  such as the reclaimed Nasty Woman and "Fall in Love and Be More Tender". Political and timely, the sequin shirt exhibited the slogan "More glitter, less Twitter", showcasing the designer's sense of humour in this reaction to a hate-filled media landscape.
Words / Estefania Hageman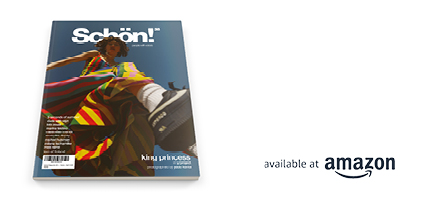 Discover the latest issue of Schön!. 
Now available in print, as an ebook, online and on any mobile device.