It was a strong season at London Fashion Week, where high art was coupled with low art and full-on glamour sat comfortably alongside street style, subversion and a healthy dose of British humour. Here are some of Schön!'s favourites, including some surprisingly colourful Autumn/Winter collections.
Mary Katrantzou took inspiration from two very different aesthetics – high Victoriana and Bauhaus – and not only from their fashions, but the whole spectrum of decorative arts. The sharp lines and slender silhouettes of Bauhaus were combined with the excess of Victorian design, from swagged curtains to lampshades. Structured inch waist jackets were given crinoline hips and trompe l'oeil designs translated into sequined drapery.
Eudon Choi also drew from a post-World War I art movement but focused on the modernist painters who settled in the Cornish Town of St Ives. Humble fishermen are referenced in a modern take on the sou'wester hat and the rugged landscape and weathered coast is celebrated in the form of golden textures and rough, freshwater pearls.
The Temperley woman set off this season in pursuit of freedom and adventure, in a homage to the trailblazing first female aviators. Workwear silhouettes were covered in embroidered patches and fully sequinned mesh dresses and metallic pinstripes appeared alongside belted jumpsuits, shearling jackets and boxing boots, resulting in a tough but high-shine rebel.
At Gareth Pugh, models strutted down the runway in what the designer described as a 'demolition silhouette': exaggerated shoulders and minute waists balanced with high rise black boots resembling crushed shiny car metal. Cobalt blue armour gave the female form a harsh geometric form, which was juxtaposed with feline leopard prints, creating Pugh's desired take on a 'zero bullshit' woman.
Models at Markus Lupfer stood amongst giant black balloons and wore heavy tartans, deep maroons and bolts of blue. Florals added a flourish of femininity, as did diamanté dripping through their hair.
The House of Holland Grow Up collection was reminiscent of those rebellious teenage years. Ripped denim and larger than life puffer jackets over miniskirts were paired with hiking boots, kitsch coloured tartans and florals. Large scarves and leather caps bore the brand name, tying the collection back to the label's roots, while the myriad colours and prints propelled it forward.
At Sadie Williams, it felt like a spaceship crew had just stumbled upon its first craft cupboard. Raw edges were presented alongside applique and a range of sophisticated, graphic prints from Helen Lawrence, while disco glitter rolled socks added a youthful tone to the A-line silhouettes.
There was also a touch of disco at Osman, where we were transported to a penthouse party complete with houseplants and plush orange couches. Metallics, sequins and bright pops of solid coloured played off against pop art flora and fauna prints.
Ashish transported us to a bustling Indian market with a catwalk lined with colourful rugs and shopfronts advertising 'Glamour Fashions'. Models sashayed in rainbow stripes, leopard print and florals to the sounds of a Hindi version of Abba's Super Trouper. Alongside upbeat slogans such as 'Viva l'amour' and 'All I want is love', there was a comment on consumer culture, with the familiar branding of credit card companies and supermarket chains subverted in sequins.
Find out more information about London Fashion Week here. 
All images courtesy of the brands. Feature image: photography by Mitchell Sams at House of Holland.
Words / Alana Flood & Huma Humayun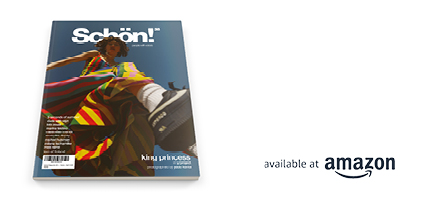 Discover the latest issue of Schön!. 
Now available in print, as an ebook, online and on any mobile device.