Trends; a word beloved by many and now loathed by me; I have spent over half my professional life as a "trend forecaster "and now can barely bring myself to utter the word. Once it had a use and gathered the stories of the season and the key looks into neat packages for the press and buyers; not any longer. When did you honestly last see a trend which wasn't either a reworking of a classic or so vague it was meaningless? Romantic, feminine, nostalgic, softer, stripes, brocade, exotic, folkloric; there is a seemingly endless supply of these catch all trends. Magazines still produce them every season, as much as an easy way to tick off dozens of designers' names with a caption amongst the hundreds of collaged images, as it is about the trends.
London as a city of fashion has always defied trends, since classic, alongside knitwear and tailoring, is timeless and the other side of the British coin is eccentric. The home of Edith Sitwell, Barbara Cartland and Isabella Blow is hardly the place to look for commercial fashion reassurance.
London was amazing this season, throwing up so many great collections, many of them relatively small and well edited, many shown in odd locations and many produced with real character and thought behind them. Trends however, except the above-mentioned romantic, and a spot of Miss Havisham, were not what these collections were about.
However – in this vein – my first trend is cinematic. Those collections where the director, cameraman and actors are telling a brilliant story and keep your attention all the way through. Faustine Steinmetz crafts and manipulates fabric to turn it through some textile alchemy into enchantment, and presents it to us in a strange and odd way. This season we peered into boxes containing the models yet there was no peeping Tom element only a secretive, this isn't for everyone quality which with the optic white, luscious green and yellow seemed strangely natural but odd. Stunning is the only word.
Teatum Jones used amazing fabrics too, but striding over a thin layer of salt, models were wrapped and draped and surrounded by almost Edwardian silhouettes with a puritan sensibility. Perfectly judged proportions and hints of tightly controlled deconstruction in finishes were shown to perfection in the pieces and brilliant green flash of colour and an enormous knit added an off kilter beauty to the entire thing. Peter Jensen and Fellini was a perfect partnership producing brilliant colours and simple pieces sometimes layered alongside the unexpected abstract pattern pullover or a rich print which slipped into the collection in a simple shift dress. Odd but beautiful, just like Fellini was my verdict. Fyodor Golan looked fun on the catwalk but was even more fun off; great pieces' cinematic prints, bold colour and sweeping silhouettes had a definite Alta Moda Roma quality to them. Quirky ruffles meandered across pieces almost as abstracts yet never fussy.
My second trend is intensity, where the workmanship and the dedication to the actual production of the pieces is at the pinnacle of fashions craft dexterity and clearly proclaims its intent to be special beautiful and strong. Clothes with a real designer thought process visible and a special personal signature. Simone Rocha uses her life her background and yet this is of secondary importance unless this produces great clothes. Be assured that the collection wove a totally magic spell on the audience and her layering of fabrics, use of colour balance and avoidance of fuss or fancy dress was a superbly confident balancing act. These clothes could have become fussy or blurred but the shapes were strong and beautiful proportioned, the softness never dropped or drooped and became bulky or messy. Confident and unique in its narrative this was a strong collection of international standard. Antonio Berardi truly does have both international roots and clients and has shown in other cities. Berardi can cut and construct in a way few other designers know how to even start. From his graduation show onwards he has pursued and path of excellence and design originality which sets him apart. This was a confident Berardi statement, mixing hour glass tailoring with fluttering tails of fabric so adjoining contrasting silhouettes in total harmony with each other. Sensual and seductive through and through.
Roksanda also likes to go a touch further with proportions and pattern. This season the short dresses had a Secret garden party, best behaviour quality about them and mixed in with the long and flowing worked well, the flutter of ruffles and the soft billow of sleeves added to this faint nostalgic scent of the show. Holly Fulton was on top form with her show which started totally monochromatic and built up to colour, with poison green and chocolate brown amongst others. The Balenciaga influence in silhouette and also in collar shapes was brilliant and the collection in spite of her signature decoration was never over done or sweet. Manuel Facchini also hinted at an Alta Moda mood; the presentation and the clothes were simply knock out. Great tailoring, great craft work and a strict control on the number of elements. Editing is as much an art as designing and this was a superb edit where every piece was a stand out. Multi-sized grommets created a couture feeling as did an abstract swirl patterned ensemble of cape, trousers and jacket. One to definitely watch. Finally, in this group three girls to watch at Fashion Scout; Dian Pelangi/Odette Steele/Nelly Rose. Throwing caution to the wind the look was global, ethnic, patterned, embroidered and totally thrilling. Colour and pattern were layered, draped and layered again, yet each piece would stand on its own ad be desirable. Well-proportioned and fluid these were new and with that the feeling of something truly special.
Finally, British Traditions, where Urban and Country tailoring and dressmaking, womenswear and menswear merge into a wonderful collection of pieces. Most of which have a strong heritage; be it a zipper golf jacket or a nice pleated skirt. Stand out designers in this manner; Amanda Wakely for showing the heritage of Norman Hartnell and Hardy Amies without any historical feeling. Resolutely modern and sexy clothes for the woman of today and tomorrow. Superb colour sense and great finish. 
Mention in this group goes to Belstaff, who seem to be better every season and the live models installation seemed to be as much shopping for some observers as it was reporting. Desirable clothes produce a different response to exciting or admirable – the I want or need statement starts appearing from the audience. This certainly applies to the legendary Margaret Howell whose clothes are just great. Buy now to wear and love and mix and match and keep. Seasonal updates in colour, detail and proportion encourage new purchases without straying from the designer's signature and her expertise never falters; Fashion Hall of Fame I think.
So three trends if you still want them, and three areas of fashion expertise London did superbly well this season.
P.S. ……..and A. F. Vandervorst was amazing.
Words / Tony Genville
Follow him here.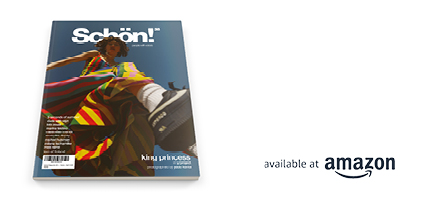 Discover the latest issue of Schön!. 
Now available in print, as an ebook, online and on any mobile device.