Katelyn Nacon is a living teen dream, a full fantasy come to life, seemingly overnight. Her eyes still have that sparkle, big and full, reflecting the big city lights and the big city fame that comes with it. At just the early age of 15, her talent was noticed by major producers and was scooped up quickly by one of the highest rated shows on television to date. The phenomenon that is The Walking Dead has been a favourite every year, feeding zombie buffs' and post-apocalyptic enthusiasts' soul food, seven seasons strong now.
Katelyn began her now very successful career on the small screen, taking on a role on a now viral video created by Adult Swim. Although her brief appearance on the comedy network fueled her passion to continue acting, her soul gravitated to the shadier side of the street; dark dramas pulled at her heartstrings, landing her the role of a lifetime. Katelyn giggles, gushing over her new character: "I couldn't be happier. It's such an incredible series! It's just amazing I was able to get on such a great show that I really love being on. I have such a good character I enjoy playing. I just got so lucky!"
The transition from her high school career to her working one was fast, but doesn't change the dynamic with her peers. "I don't know how I do it. I'm really behind in school right now actually." She still smiles, determined to keep a positive attitude while she explains, "I missed about a month of schooling so there's a lot I have to make up, but I do my best to try to get all my work done and also spend time with my friends. I'm kind of happy that I still go to a public school. They still think I'm a dork, which I love. I wouldn't want it any other way. I don't want things to change." It's clear her positivity and determination had a big factor in casting her for Enid on Walking Dead. Just two quick weeks after her audition, she landed the role and was on set filming almost immediately.
Enid is a great new addition to the cast; her strength and power chick attitude is an easy energy to channel for Katelyn and seems to come from a dominant place deep in her own psyche. She explains her draw to her character, identifying with the courage and vigor Enid must channel just to survive, "Well Enid can be pretty closed off as you can tell, from all this stuff that has happened to her. She's like a scared little girl with a tough wall built up around her. I try to put myself in my character's shoes and sometimes I'll pretend to replace people in her life with people in my life to make it feel more natural for me on set." While we can't reveal what is in store for her next season, we can tell you there is much more excitement to look forward to.
The character is a growing powerhouse and has a long adventure ahead. Katelyn tries to be coy about the future, careful not to reveal too much about the next season, "I've been on six episodes. I can only hope they keep me on. You never know. It's so unpredictable. It's ridiculous." She says little, but implies big things for the future: "We get to see a bit more of who Enid really is. It's been a bit hard lately, with how closed off she is and how big the wall built up has become. We get to see a bit more of what's actually going on." We don't see her going anywhere soon though. This appears to only be the beginning of a long relationship with her character.
She has invested time into discovering who Enid is and where she fits in the series. "I can say I absolutely love playing a power role. I love it so much, especially when there are those scenes where you get to yell at people, because you don't really get to do that in real life." Her excitement is catching, sparking our curiosity, as well as our remotes, keeping us watching every step of the way. This is one girl we don't want to miss in 2016; her ferocity and fervour are enough to keep our Walking Dead addiction alive and hungry for the next few seasons.
The Walking Dead returns to AMC screens today for Season 6.
Words / Mynxii White
Follow her here.
This Schön! online editorial was produced by
Photography / Ben Cope
Styling / Alexandra Mandelkorn
Make-Up & Hair / Michaeline Becker using FACE Atelier &  R+Co
Assistant styling / Emma Larsen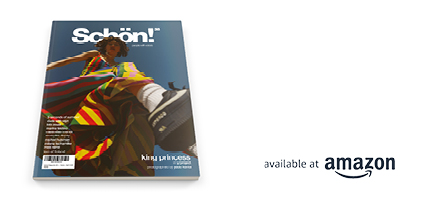 Discover the latest issue of Schön!. 
Now available in print, as an ebook, online and on any mobile device.