"Liberté et égalité, c'est Jean Paul Gaultier" a cameraman chants, while a room full of press applaud the French bad boy of haute couture prior to the unveiling of his retrospective at Paris' expansive Grand Palais. Mr. Gaultier, whose signature nautical stripes and trademark joie de vivre have made him synonymous with French flamboyance and avant-garde fashion, is a man not defined by his successes, but by his desire to achieve the unimaginable – his innate understanding of our universe – and of all the vibrant personalities and 'punk souls' who permeate it. 
A veteran visionary, Gaultier began his foray as king of playful and irreverent style when he launched his first prêt-à-porter collection in 1976. Twenty-one years later, the French couturier refined his craft and enlarged his kingdom by launching his own haute couture label. Showcasing an unparalleled technical prowess for tailoring and cutting, Gaultier proved himself to be fashion's Edward Scissorhands, pruning and reshaping societal codes and challenging cultural and conventional aesthetics. 
After an enormously successful run in Montreal, Dallas, San Francisco, Madrid, Rotterdam, Stockholm, Brooklyn, London and Melbourne, it seems only appropriate that the exhibition land in Paris, Gaultier's ville de résidence. The exhibit, in fact, was designed specifically with Paris in mind, heightening the personal souvenirs of Gaultier's childhood that embody the genesis of his early inspirations. With over 182 of Gaultier's haute couture ensembles on display, along with a fine selection of ready-to-wear pieces, l'enfant terrible de la mode has deservingly earned his infamous title. Gaultier's eccentric and unique showcase radically celebrates diversity.
In the world of Jean Paul-Gaultier, beauty is not homogenous. It is multifarious, imperfect, and raw. The French couturier's exhibit hence honours transgenderism and individuality. Paolo Roversi's prolific image of one of Gaultier's muses, Tanel Bedrossiantz, who wears a corset dress from the Barbès collection, was shot over a decade ago. Gaultier broke barriers by crafting effeminate runway creations that reinvented the traditional ideology of the once 'ultra-feminine' corset, thus reintroducing the corset as a symbol of strength and freedom for both women and men. 
The interactive show employs holographic technology to augment the imagination of Gaultier's awe-inspiring oeuvre, by projecting animated faces onto stylized mannequins (including the iconic visage of Gaultier himself). Computerised figures dressed in iconic sailor garb gently wink and whisper while we pass through a cobalt-lit room; their eyes follow us as we greet mermaids, sanguine sirens covered in golden paillettes and metallic armour. In a way, we feel we are being watched by the creator himself because when we move with the mannequins, we enter into something more than fashion… we enter into life, a Gaultier-fied existence that is mystifying and bold. 
Separated into eight different parts, Gaultier's exhibition is a great testament of his monumental metier. He presents not only a parade of 'Punk Cancan' couture, but also a moving runway where mannequins circle the catwalk wearing houndstooth pantsuits and Moulin Rouge embroidered tulle petticoats. On the opposite side of the operating catwalk sits the fabricated front row; mannequins of A-List editors and celebrities fashioned after Grace Coddington, Suzy Menkes, Carine Roitfeld, Grace Jones and the late Amy Winehouse, all coiffed by acclaimed Parisian hair-guru Odile Gilbert. 
Couture, however, is not the only masterpiece on display: an array of sketches, theatre costumes, film clips, fashion shows and concerts delineate Gaultier's most jaw-dropping collaborations. From directors Pedro Almodóvar, Peter Greenaway, and Luc Besson, to Madonna (who revolutionized Gaultier's cone bra) and Kylie Minogue, Mr. Gaultier's artistic sensibility serves to remind us that he is not only a trailblazer, but also an icon. And nearly after four decades in the business, Gaultier claims he is not nostalgic. After all, what's the point in looking to the past when you've spent your entire career foretelling the future?  
The Jean Paul Gaultier Exhibition is at the Grand Palais in Paris, France from April 1 – August 3, 2015. For more info click here.
Words / Chloe Rash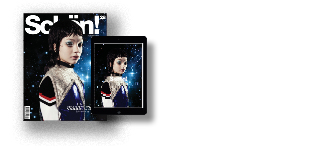 Discover the latest issue of Schön!. 
Now available in print, as an ebook, online and on any mobile device.