"Girl, I miss Myspace. I'm not gonna lie. If it comes up, everyone says the same thing – what happened to Myspace?" Ivy Levan asks with a laugh. "Do you remember those old chat rooms you would go to when you were a kid? Like, A/S/L (age, sex, location) or whatever? Myspace felt like a chat room, but with a profile pic."
This era in Internet history probably comes up fairly often for Levan. For the singer, actress and model who will be seen this October in the role of Usherette for Fox's remake of The Rocky Horror Picture Show, it all comes back to Myspace, where Levan met friend and future Rocky Horror co-star Adam Lambert.
"Years ago we were stalking each other over Myspace and were obsessed with each other and we would send messages back and forth," says Levan of her then-blossoming friendship with Lambert. "We would post our demos and obsess over them, like 'Oh girl, that shit was fire!' Then he moved out here to LA and was on [American] Idol and we finally got meet and you know, the rest is history."
Fast forward to 2016, when Lambert was cast as Eddie in the Fox rendition of Rocky Horror, and he then recommended his longtime friend for the role of Usherette. It couldn't have been a more perfect match – the Rocky Horror aesthetic bears an uncanny resemblance to Levan's own body of work as a singer, actress and model. The campy vamp's 2015 single Biscuit looks and sounds as though it could have been ripped from a 21st century sequel to Rocky Horror; it's dark, sexy and hilarious.
Levan's tenacious pop-meets-Broadway voice and provocative fashion sense bring to life a character that doesn't appear in the original film adaptation, but is a staple of the Rocky Horror stage play and a favourite of fans. When coming into the role of Usherette, Levan shares that it wasn't easy playing an undefined character in the iconic film.
"I was very nervous because I didn't have a lot to go off of and there really aren't many references as to who she is as a character that I could just pull from and use," says Levan. "But Kenny Ortega [director of the production] really helped me in coming up with her persona; we finally came to this idea that Usherette is dark and missing a few screws, but she's the classic beauty and she's pumped full of sexual fire. This theatre is her home and her life. Once we figured it out, it was pretty easy to be all of these things because I can relate to her in my own life." 
Like the millions of fans who have been celebrating the production in its many forms for generations, Levan herself remembers the first time she saw The Rocky Horror Picture Show as a teenager. She calls it a "top ten favourite" and believes the experience reverberated back to her in a way that helped shape the artist she became. "I remember being extremely confused and uncomfortable and aroused all at the same time," the actress says with a giggle. "There was just something about the creepy, campy, free spirit that really resonated with me. When you're a fan, it can be hard to describe why you're a fan, you're just a fan and you relate to it in some way. It's just an incredible piece of art." 
The unbridled desire to explore the weirder side of art and music has never stopped for Levan. A musician first and foremost, her home studio gets daily use. After the success of 2015's No Good, Levan alludes to a possible new album in the works. Alongside friend and producer John "Feldy" Feldmann – whose studio credits include diverse acts like 5 Seconds of Summer, Black Veil Brides, Good Charlotte and Panic! At The Disco – the purveyor of blue-eyed soul says she's excited for the opportunity to show new and longtime fans another side of her.
The Rocky Horror Picture Show premieres on the Fox network October 20th.
Words / Bree Davies
Follow her here.
This Schön! online exclusive has been produced by
Photography / Dorian Caster
Fashion / Erik Ziemba
Model & Make Up / Ivy Levan
Hair / Jaime Diaz
Production / Corrie Caster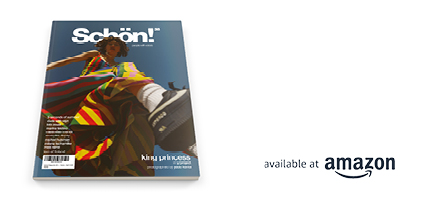 Discover the latest issue of Schön!.
Now available in print, as an ebook, online and on any mobile device.