The irreverent photographer is most recognised for his subversive roaster of pictures playing with the notions of celebrity, luxury, beauty, sex, destruction and violence. This is the man who famously sawed and set on fire a $1000,000 Hermès Birkin bag; who blew up a Rolls Royce. He shot Lindsay Lohan covered in blood wielding a knife; Hayden Panettiere half naked with a machine gun. He photographed Mischa Barton eating a raw steak and Glee star Heather Morris tied up, drinking from an iron with a black eye. It's not surprising that Shields quickly gained a reputation as the dangerously provocative Hollywood photographer.
Born in the early eighties in Jacksonville Florida, Shields started off as a professional inline skater right in the hay day of American skate culture. He would skate the Venice Beach half pipes in the late nineties, touring with Tony Hawk in 2003. His later segway into photography was completely unexpected. Having moved into directing music videos, Shields was cheated on with his (then) girlfriend and decided to throw all of her belongings out and take a photo of the closet: empty bar a hanger and two sets of high heels. He borrowed his housemate's Canon 35mm, printed the picture and hung it. Shields was twenty-one years old and little did he know that this picture would blaze a path for his future career. Following the advice of a friend, Shields put the picture online and it went viral, eventually bought by image company Magic who used it and later asked him to shoot their next advertising campaign. He hasn't stopped working since.
Shields' jettison into photography was instinctive and entirely unaffected. He grew up in a pre-Internet world where the only exposure to photographs were magazines such as the National Geographic, and later the skate photographer community of Southern California. "I didn't know anything about photography. I knew movies but photography just really wasn't a thing. So you would see something in a magazine and that was it, so in terms of the fine art world I had no idea that was a thing until I was doing it." Does he remember the moment he became aware of that world? Yes, after buying one of his works, a collector showed him a Helmut Newton print. He had no idea who he was at the time but remembers being awestruck upon seeing it. "It's funny because it almost makes you feel stupid when you're like 'I don't know who this is' but it was a different time, everything is so accessible now."
Parallels are often drawn between Shields and the high fashion, surreal, sexy and subversive world of Newton. There also is a playful 'popness' to some of his work: the PRADA popcorn, the Chanel acid tab, and the ice cream stiletto. The celebrity faces and repeated brand logos, quite Warholian. His heightened and stylised look, along with a knowing naughtiness, also pays homage to the iconic photographer, Guy Bourdin. But, Shields' work can be darker, racier, playing with sex, fantasy, a subordination of power, and occasionally, violence. Provocative with a capital P: it's unsurprising the divisive reception he gets.
For a time, high profile controversy seemed to be his modus operandi, but it would be a mistake to think this reflects the totality of Shields' work. What is clear that he has explored an enormous variation of style in his tenor as a photographer. The arresting and surreal dreamscape in both his 'Underwater' and 'Suspense' series; the bold articulation of colour in 'Chromatic'; the sheer theatre in the 'Decadence' series – all mark exciting discoveries in Shields' style.We talk about the importance of artistic growth, of pushing boundaries and taking risks, he stresses that you can't be afraid of it: "A lot of photography now (especially with Instagram) has become, you find what people will like, and I mean literally 'like' and you just repeat it. And for me it was like, I could have kept doing the same thing over and over again but then it wears and it gets old and it becomes stale. And that's part of the fun. I get excited by the new thing."
You get the sense he is always on, frenetic fireworks of ideas forever exploding backstage in his mind. Reading elsewhere it will tell you that he doesn't drink, loves shooting at night, and likes to think of the camera an "expensive paperweight if you don't use it." But, does he ever hold back on ideas? "When I did the KKK image I had a couple of friends saying that I should never release it and that it will ruin my career. I have taken a couple of stuff over the years when people have said, this is too far or this is too much. Or you will have an idea, and people love to shut ideas down. I had this picture of two nuns kissing and one of my friends was like, that's too religious you shouldn't do that, you will upset people."
His genuine passion and thirst for what he does are inspiring. There is purity in it, a charming, unbridled excitement that fizzes off him and doesn't seem to have been compromised by such a long stint in the industry. He is clearly meticulous in his process; obsessive in sourcing the right prop for a photograph, however long it takes (this also goes for his subjects who spend unlimited time with him on a shoot). It took him six months to find the right camera for his 8 by 10 series 'Decadence'. He grew his own orchids at home in LA so they would be big enough for his infamous orchid photograph. The Batman mask was made three times from scratch until he abandoned them all together and found the right one. Recently he bought 100 butterflies (alive and dead) for a photograph. He spent the next six days hatching them and then working out how they work and move.
Even with this level of production, there is no machine behind him. He does all the styling himself, doesn't have any hair or makeup artists, and has such a small team it's often just him and one assistant. Why wouldn't someone of his stature demand more resources? Because, when a shoot is ready, it's ready, he hates the idea of a photograph being delayed by someone's schedule. He doesn't really carry a camera around anymore. Why? "I can't take a spontaneous picture, I want to control it." Knowing his work this makes sense, but interestingly there is a level of surprise he allows within his own constraints. "I am spontaneous once I have controlled and manipulated and created the world – then you can do whatever you want in the world".
"You can execute an idea in six frames", he goes on to explain. After that, he is free to play around with the subject, try news things and see what happens, and sometimes the results turn out better than the original idea – the smoking cigarette added to famous 'Bunny' picture, for example. Has he ever regretted a photo he didn't take? Yes, he nearly shot Lindsay Lohan (at the height of her fame) doing something 'dangerous' in a part of the Chateau Marmont that no one has ever photographed. Five hundred paparazzi were waiting below and she was about to do it when someone panicked and halted the picture. He also desperately wants to shoot someone water-skiing behind a plane but hasn't found a pilot that would agree to do it, because it's so dangerous.
Not much feels off the table with Shields, he doesn't do limits, a double-edged quality that has often got him into trouble countless times, most recently, this summer, for a picture of Melissa Bates holding a decapitated Donald Trump head. On the one hand, he is completely sanguine about how his work is received and doesn't seem too affected by what people think. "When people get upset about a picture, you know that's just part of it." But later, he concedes, when musing on what the hardest thing about being a photographer is: "It's not ideas. I have too many ideas; I don't have time to do them all. It's not taking the pictures because that's all fun. It's can you do what you want to do without worrying about the effect of it? And when I say the effect of it I mean family members being pissed at you, friends being pissed at you, basically what feels like the world is coming down on you. Can you do that and still hold this thing in your mind and be like 'I am making art and that's what I do, and keep doing it? I have seen people get broken by way less than some of the things that I have experienced. That's one of the hardest things, in this time when everything is about being liked, can you be disliked and keep going?"
 When asked what his advice would be to emerging artists and makers struggling with that conflict he replies, summing up his own spirit: "You have to make what you want to make".
Tyler Shields "Provocateur"  is now open at Imitate Modern & COYA Mayfair
Words / Daisy Stenham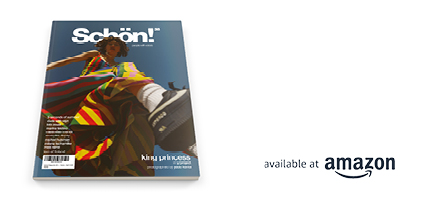 Discover the latest issue of Schön!. 
Now available in print, as an ebook, online and on any mobile device.