"I don't want to be like anyone else. I look for no validation because I validate myself," says Towkio, the rapper whose playful beats and exuberant flow are a direct reflection of Chicago's musical roots. A city steeped in innovation, Towkio's sound is unlike other rappers today. His lyrics are mindful and escapist, his maze-like rhymes weave within the music in an otherworldly fashion, and he fuses energetic basslines with a characteristically animated delivery.
Hailing from the north side of Chicago, the 24-year-old MC is of Mexican and Japanese descent, a mix he says "makes my story all that more unique." He started making music in 8th grade but says that "music has so many more aspects than just writing a verse. I would say I got really into making music maybe around 19." Throughout high school, Towkio connected with talented rappers, like Chance the Rapper and Vic Mensa, who along with other Chicago artists form the hip hop collective 'SAVEMONEY.'
What sets Towkio apart is his aptness for experimentation. Each song is distinct from the other. His atmospheric sound verges on cinematic, creating a transcendent experience with every listen. The diversity in his style can be attributed to his sonic influences, citing André 3000, Kanye, and Jay Electronica as his heroes. Towkio particularly recalls Lil Wayne's 'Tha Carter II' as "the most inspiring album" growing up. With a summer of shows ahead of him, Schön! gets to know the promising artist from his musical beginnings in high school to what he learned on a trip to space earlier this year.
What was your experience growing up in Chicago like?
My mother moved here from Mexico and my father is Japanese. Growing up, I identified more with my Mexican side. Being a minority in Chicago means you usually find yourself in trouble with the police. I got arrested a bunch, made a lot of good friends, and also a lot of bad ones. My parents raised me well but there is no way to escape the city's influence.

Does the city still influence your sound today?
Yes. Home of originality. [Chicago] invented Jazz, House music, Juke, Footwork; the first skyscraper, Walt Disney, Kanye, Obama — a city of innovators. Taking public transportation all across the city at a young age you experience all walks of life.
Were your family musical too? Or were you the first to venture into it?
My abuelo was a respected music teacher in Mexico. My oldest tío had a famous band in Mexico. My dad was a very talented visual artist and studied architecture. So I get my artistic side from him.
Has your circle always been supportive of your career choice?
Friends, yes. Family, not so much. They wanted me to pursue school. Once I started selling out shows they became more supportive.  
So you always had your mind set on pursuing music? 
Yeah, I think so. I was very drawn to music at an early age [and] started writing poems in like 4th grade. It really started in middle school around 8th grade. I got into hustling was strictly concerned with making money. It wasn't until after high school that I started taking music very [seriously].
How did you first start out in the industry?
Well, living in Chicago you enter the Chicago public school system. I met my brother Joey Purp there in kindergarten. Then we entered high school which brought more like-minded people even closer. So what people know as 'SAVEMONEY' nowadays used to just be a group of like-minded youth who connected through school and the city. We had a deep web of friends including Chance The Rapper, Vic Mensa, Joey Purp, Kami and Brian Fresco. Vic was in a band named 'Kids These Days' that really kicked off the music scene for us. From there we all started recording our first projects with our homie L Boog on 35th & Halsted. That's where I created 'Community Service' and where Chance created '10 Day'.
Your first studio album 'WWW.' came out earlier this year. What's the meaning behind the title?
WORLD WIDE WAVE. Three Ws together make a wave. This is the frequency that is supposed to reach across the Earth. It's about the ultimate high, the overview effect, which is a shift in consciousness that you can only experience from space looking back at the Earth.
Why did you choose to go to space to promote the album?
It was all a part of God's plan. The opportunity came up and I moved with my intuition that I should do it.
How did you prepare for the trip?
Meditation. There [were] some conditioning, breathing techniques and weight loss training I had to do.
What was the journey up there like?
It was a mind journey. For the majority of the four hours, I had my eyes closed meditating and praying. They say when you die you leave Earth. Imagine leaving Earth then coming back. It's like coming back from the dead.
What were your thoughts once you finally reached space?
I wanted to come home safely IMMEDIATELY.
And how did you feel once you got back to Earth?
Thankful, blessed and chosen.

Did you learn anything about yourself in the process of creating the album?
That I could do anything in this world. In creating an album I learned how to become fearless. I no longer see failure as a bad thing. I've pushed myself to limits no one would ever try to. So even if I failed I would have learned that much more than the next person. I've seen pure magic and manifestation happen in front of my face. There were life and death experiences. I trusted my intuition, gave every waking hour I had, and trusted the universe – God – would help set the plays up.
Is there one song that particularly resonates with you on the album?
'Alone.' The song was a one-take freestyle. I was just channelling energy. The feeling of leaving earth and the fear that you may never come back.
What do you want people to feel when they hear your music?
High. [A] shift in consciousness, but really, I just want people to feel good.
Towkio is currently on his World Wide Wave. Tour. Grab your tickets here.
This Schön! online exclusive has been produced by
photography. Ryan Michael Kelly
fashion. Anthony Pedraza
hair + make up. Vanessa Cartagena
talent. Towkio
words. Shama Nasinde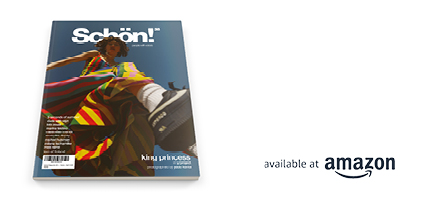 Discover the latest issue of Schön!. 
Now available in print, as an ebook, online and on any mobile device.