You will most likely recognise Tom Walker from his smash hit Leave a Light On, released just last year. He's been up to a lot since. This year alone he has completed tours across the UK, US and Europe, released new music, created an album, collaborated with Rudimental and even had time to arrange another UK tour in 2019. Schön! caught up with Walker to chat about his hectic year and the recent release of a live music video version of his new single, Angels.
In collaboration with Vevo UK LIFT, Walker's powerful Angels is stripped down and re-created into a simple yet still beautifully intimate recording. In the dramatic original video, Walker is seated on an out of control plane, while him and members of the public on the plane are constantly faced with their life decisions and memories. In contrast, in the live video, our attention is placed directly on Walker and the gospel choir stood in the empty pavilion. "We just wanted a really intimate setting where the song and performance was the main focus," says Walker, taking in the song's meaningful lyrics. "Vevo picked me as one of their Lift artist which was a massive honour, so we knew we had to do something special for it and what better way than a gospel choir?"
In Angels, Walker proves he is not your average pop-star. His lyrics spread powerful messages of hope and inclusivity going far deeper than just creating a song for the views. "Everyday people, there [are] so many people in society that don't get their fair share of credit," Walker explains about the inspirations behind the single. "I wanted to write a song highlighting those everyday angels in our lives that are sometimes overlooked." Angels is also a form of self-reflection for Walker himself, with the original video featuring inserts of home videos of his upbringing, including a hospital scene montage as a subtle political commentary. "Without the NHS I wouldn't even be here today so that's something I'll always be well grateful for," he reflects. 
Angels is taken from Walker's highly anticipated debut album, What a Time To Be Alive, which will be released in March next year. The album was produced by musical genius Mike Spencer, who has worked s for the likes of Emeli Sandé, Years and Years and Rudimental. "Mike is like a scientist of production, me and him just seem to be on the same page with everything," Walker recounts of their time working together. "He really thinks about the subtleties that make a track what it is and that's something that took us a while to get right on Angels, but when we cracked it the results speak for themselves."
In the last year, Walker has been busier than usual but while creating his debut album he still had time to travel the world on numerous tours. "Touring is always pretty special too, I did a sold-out EU/UK run back in March, the US in August and then I've just come off a crazy UK run," he recounts. "I'm about to head out to Europe again next week."
"It's mental seeing all those sold out rooms there for my music, I don't think I'll ever get my head around it," Walker continues. "We've done a lot of shows and it can get tiring at times but it's totally worth it." Despite having performed at some of the world's biggest stages, Walker still finds time to perform for more charitable causes. "I performed on StandUp2Cancer last week and that was an amazing experience. I was so proud to be part of something so important and It's something that's really close to home for me."
Born in Glasgow but brought up in Manchester, Walker's goals and inspirations stem from childhood experiences, especially when it comes to his preference of live venues. "My dad was the biggest influence on me musically and I think that would have been the same wherever I grew up but we went to see a lot of shows at the MEN (Manchester) Arena," he explains. "The goal is to headline that place one day." 
But that's not everything Walker owns to his father: his music taste and influences were ignited through his paternal figure. As he tells us, when he was just a child, they'd listen to AC/DC, The Police, Paolo Nutini and the Foo Fighters together. "I grew up listening to all sorts with my dad," he explains. "He's got amazing music taste and we still send each other music but he's always well ahead of me. Growing up we listened to everything."
We can expect a lot from Walker in the next few months and throughout 2019, including a feature on the latest Rudimental single. The talented artist is also going on his biggest UK tour in 2019, and it's definitely something to be excited for. "At the rate tickets are moving right now it's going to be sold-out pretty soon and for sure it's going to be sick!" 
To pre-order Tom Walker's upcoming album or grab tickets to his tour, click here.
photography. Simon Emmett
talent. Tom Walker
words. Phoebe Gardner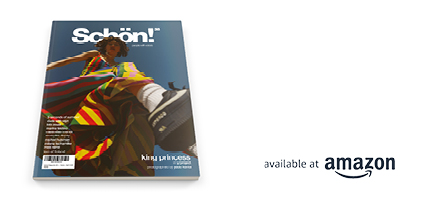 Discover the latest issue of Schön!. 
Now available in print, as an ebook, online and on any mobile device.