Tiera's last name might seem hard to pronounce, but you won't forget it once you see her acting. Hailing from Canada's coastal Vancouver, her Scandinavian background is glaringly obvious not only in her surname but also in her striking features. Tiera has been acting her whole life —literally— landing her first role at the tender age of seven. Currently guest starring as the lovely Polly Cooper in The CW's hit show 'Riverdale' alongside Lili Reinhart, Camila Mendes, KJ Apa and, of course, Cole Sprouse; her career keeps expanding way beyond Pop's Diner. Despite having appeared in series such as Eric Kripke's 'Supernatural' or DC's 'Arrow', Tiera's talents aren't restricted to the screen. In 2008, she was scouted by an International model agency. "Modelling for me now is something I do more for fun, and a chance to travel," she says. As a model, Tiera has graced the pages of internationally acclaimed publications like Elle Canada and Elle China. And she'll continue to do so, now with the spotlight being her acting. "Fashion has always interested me," she says. "The beauty of being an actor is the two go hand in hand."
Tiera Skovbye first ventured into the showbiz world as a youngster in theatre, reciting Shakespeare and Mary Shelley's most acclaimed oeuvres. Dreaming of becoming an actor, she enrolled in the top acting schools in Vancouver. Those big aspirations lead to the Hollywood allure and her wholeheartedly wanting to pursue acting and move to LA. "My ultimate goal [still] is to be [a full time] actor, wherever that exciting journey may take me." Figuratively speaking, her journey has taken her far already, but literally, not so much. The acclaimed 'Riverdale' is currently being filmed in her native area of Vancouver, which she admits is "an amazing bonus". And, although she started acting more than a decade ago, her career undoubtedly gained international momentum after landing the role of 'Riverdale's mysterious sister and runaway lover Polly Cooper. "Landing that role for me was a bit of proof that all the hard work does pay off," she admits. "I'm so honoured to be a part of such a hugely successful show."
You may not believe in destiny, but Polly Cooper sure sounded like the dream role for Tiera: being an avid reader of the Archie comics since childhood and living in the same area where the show was being filmed. What are the chances? First billed as the angel girl character of the 'Riverdale' cohorts, Polly has proven to be a complex and nuanced character — sweet as sugar yet strong as steel and with a penchant for disappearing. "My character is completely different from the comics, as most of them are," she recounts when asked if she drew inspiration from her beloved comics for the role. "I set out to play Polly with the guidance of the amazing writers and directors and the rest of the cast. Building and learning as we went".
And it has certainly served well. Roberto Aguirre-Sacasa's encyclopaedic knowledge of the Archie world transpires through the actors' performances as well as the modern comic pages. Creating a dark story from the cheerful Archie gang may seem natural now that we're hooked every Wednesday but it hasn't always been that way. Polly is perhaps one of the less acknowledged dark characters of the series. After conceiving twins with her murdered cousin Jason Blossom, last time we saw her she was fleeing the town to give birth securely away from the masked murderer terrorizing the town, known as the Blackhood. But Tiera assures us that we "will hear from Polly again, I can promise you that."
But while we wait for the reappearance of Alice's most rebellious daughter, we have Betty to count us in the drama. The dynamics between the Cooper sisters, Betty and Polly, have proven to be equally adorable and ominous since season one but, with the Blackhood on the loose, even the sisterly bond is in danger. "Lili is wonderful, right from the start we had a great bond which made playing sisters really fun and easy," Tiera recounts. "Unfortunately the Blackhood doesn't make Polly feel very safe so she feels the need to leave to protect her children putting a distance between her and Betty". But will that distance remain?  "You're going to have to wait and see," she teases. Tiera's character is not on-screen 24/7, which makes her story all the more complicated. With the main characters, we are always seeing them fight their demons on screen but the enigmatic Polly has arched quite a bit off-screen as well. "My favourite aspect [of playing Polly] is that the audience is always left wondering a bit," Tiera confesses. "[They're] always curious what's going to happen next with her". 
And we sure are. But whilst we wait for Polly's return, Tiera has made sure we get enough of her on our screens. Transitioning from a new series with already cult following such as 'Riverdale' to an established cult following, as she joins ABC's 'Once Upon a Time' as the new face in Hyperion Heights. "The fans of 'Once Upon a Time' are all so wonderful and have already shown lots of excitement to have me on the show," Tiera excitedly proclaims. She will be playing Robin, the daughter of Robin Hood and Zelena. "Robin is a lot like her father Robin Hood," she says. "[She's] very strong and determined but also struggling with her identity and trying to figure out what she wants in life." With only a couple of episodes left until Tiera makes her big debut in the magical world of Hyperion Heights, she assures that we "can expect a lot of adventure."
Landing this big of a role for the second time in a row is a huge step in Tiera's career, such is the success of 'Once Upon a Time' that the information surrounding her casting remained quasi-classified until now. "When I booked the part I didn't even know who I was playing specifically," she explains. "The name for the audition was different, so as not to give away any spoilers but of course once I found out who it was I was really excited". "The series is really special and fun and something that everyone can enjoy," she recounts. "There is constant twists and turns and magic and adventure. It's never a dull moment."
Never a dull moment indeed, just like in her career irl —having just announced that she'll be starring in the upcoming horror film 'Summer of '84', her first venture into the coveted genre. "'Summer of '84' is a really kick-ass movie with a really amazing cast," she tells Schön!. "Our directors RKSS were amazing and they had such a great image for the film. As an actor, the horror genre is a lot of fun and this project is extra special because I got to work with my Fiancé Jameson Parker, who produced the film".
In a truly millennial way, Tiera announced her engagement to Parker over Instagram earlier this summer. But the wedding isn't the only thing she has to look forward to. Her noir drama cachet will be getting another star besides 'Riverdale' this year with Michelle Ouellet's 'Prodigals', which has its world premiere at the Whistler Film Festival this week and Tiera assures us is "really exciting." But if even that is not enough to satiate your appetite, she'll also be in 'Midnight Sun', alongside Bella Thorne and Arnold's oldest son Patrick Schwarzenegger. Based on Norihiro Koizumi's romantic film 'Taiyō no Uta', Tiera reassures us the American counterpart "is set to premiere in theatres this spring." With such a packed agenda, one thing is sure: Tiera's got drama for days.
'Riverdale' returns tonight, November 29, on the CW in the US and tomorrow on Netflix in the UK and worldwide.
This Schön! online exclusive was produced by
Photography / Robert Palmer
Fashion / Carlee Wallace
Model / Tiera Skovbye
Hair / Tania Becker
Make Up / Maxine Munson
Words / Sara Delgado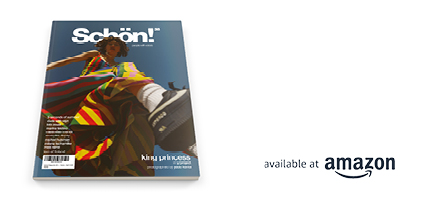 Discover the latest issue of Schön!. 
Now available in print, as an ebook, online and on any mobile device.