We all like to be drawn in and believe the fantasy — at least momentarily — when watching a film or show. Sydney Sweeney has the skill and refinement to make that escapism real, so it's only fitting that she'd starred in some of the biggest shows of 2018. From Handmaid's Tale to a lead role in Netflix's Everything Sucks! and starring opposite Amy Adams in HBO's Sharp Objects, Sweeney has livened up our screens playing characters that are incomparable to each other. She has somehow avoided the girl-next-door phase most newcomers have had to tolerate, instead boasting an impressively diverse portfolio. Not many actresses can claim such versatility so early on in their career. "I like playing challenging characters that are different from myself," she explains to us. "I've been really lucky that writers have been writing such intense, powerful, and unique female characters now." But something tells us it's not just down to luck, determination, imagination and a striking method that make this young actress stand out from the rest.
She tells us how every character is given life and nurtured long before the cameras even start rolling. "I create my characters from birth to the first page of the script. Completely build their memories, life, world, everything about them. So when it comes time to work, I'm able to just step into their shoes," she explains. "I make sure they are different from myself in their thoughts, mannerisms, sometimes voice even." Sweeney has even been known to keep journals as her characters during filming. Her deep enthusiasm for creating and becoming convincing characters is the impassioned work ethic of someone who knows they've beaten the odds by being here. She took a big risk to go to L.A. and pursue acting when she was just twelve years old. "It definitely wasn't easy, it's still not easy. It's a lot of work and sacrifices. But I never doubted myself."

Very few people have to grow up balancing a career in one of the most ruthless industries, and to come out sane at the end is a feat in itself— something Sweeney has managed to do with a level head and a lot of humility. "I think growing up, in general, is a big achievement. There [are] ups and downs, a bunch of new experiences to learn from […] Adding the film industry to it just made me grow up faster with the responsibilities I had." Even looking back at her trajectory from hopeful pre-teen to a successful actress now, Sweeney doesn't let it get to her head. "I don't think I believe in the term "I've made it." I think there's always more you can work towards and achieve."

In that spirit, Sweeney has continued to go to school even as her career is taking off. We dare to ask her if this could mean she has considered some sort of backup plan for "the-acting-thing'". If acting hadn't panned out, what would she be doing right now? "Still acting!" she responds defiantly. "School is not a backup. I believe education is important. Acting and this industry is a business, and I want to make sure I know how to run my business. There's always something new to learn."

Sweeney tells us she looks for parts that are authentic and raw. With her ability to deftly tackle heavy dark subject matters and carve out the complexities of her characters a lasting career is a no-brainer. And there's still a lot in store for 2018. "I just finished a movie with Pete Davidson called Big Time Adolescence. I'm currently working on Tarantino's new film Once Upon a Time in Hollywood. And then season one of Euphoria on HBO!"

Sweeney's next project, 'Under the Silver Lake', premiered this Monday at the AFI Festival and will open to the public in April 2019. Watch the trailer here.
This Schön! online exclusive has been produced by
photography. Ben Duggan
fashion. Douglas Van Laningham @ Photogenics Army
talent. Sydney Sweeney
hair. Richard Collins @ Tracey Mattingly Agency
make up. Melissa Hernandez with TMG
production. Villani Productions
photography assistant. Roman Udalov
location. 11:11 Theater
words. Sarah Osei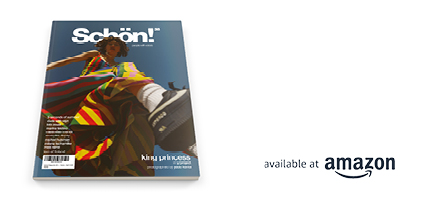 Discover the latest issue of Schön!. 
Now available in print, as an ebook, online and on any mobile device.