Stella's last name may ring a bell. For non-Hispanic people, there's only really one Santana – Carlos Santana. But, as the daughter of one the most prolific and awarded guitarists of the last decade, she's here to change that. Having grown in the epitome of a musical family, she was encouraged by her father to "stop fighting the urge to feel the music". Leaving the Latin and Afro-Cuban rhythms her family is notoriously known for; Stella is set to redefine the R&B scene. With a sultry soulful sound, often likened to the likes of Sade and Lauryn Hill, her music speaks lengths.  Thought-provoking, heart touching and with sentiment, her sound provides listeners with an unfiltered look at the world through her unique perspective. Having matured musically, her diary-like confessions are soon to be replaced with more profound, soulful and surprising diamonds — as one could expect from the daughter of "the most spiritually enlightened musician ever". Between studio sessions and transatlantic travelling, Stella sits down with Schön! to discuss her first venture into music, finding her voice and what the future holds for the 32-year-old artiste.
Why did you decide to go with STELLA rather than Stella Santana as your artistic name? And, why the capitalization?
When I was first starting out my full name sounded so formal! And it felt weird so I wanted to be referred to as STELLA. The capitalization was just because I felt like aesthetically it looked better all caps but now I really could care less [laughing]. The funny thing is now that lots of people actually call me by my Instagram name (@stellibelli) so go figure… I'm just happy people care that I exist!
Naturally, people often refer back to your father's success specifically when they interview you. Is this something that ever bothers you?
No! [laughing] I'm so proud of my dad and I'm so grateful to be part of my family. We're a pretty cool bunch, you know…
You grew up in the Bay Area surrounded by musicians, not only your father but also your maternal grandfather, Saunders King, as well as brother. How did you first venture into music yourself?
I played piano and sang a bit growing up but I was so shy and it was excruciatingly painful for me to be on stage that I nixed music altogether for sports right before high school. I came back around to it a few years ago when I realized it's the only thing I'm here to do. 

As you've said, at the beginning of your career you were really shy and would even dare to sing in public. How did you break that shell and what keeps you driven now?
I think when it comes to getting over fears it's just about figuring out what's the most uncomfortable. For example, was the thought of my life without pursuing music going to be better than the thought of my life if I had pursued music? The answer was so clear that I had to go for it. To me, nothing is worse than wondering, what if? I have no regrets in life and now when I'm scared of something I believe that it means I have to move toward it, not away from it. 
Your music dwells on your personal experiences, how would you say you have evolved since you first started and how has that affected your sound and writing?
Well, now I don't think every feeling I have is important [laughing]. Being able to throw your own stuff in the trash or at least set it aside for a while, unattached to its outcome, is a healthy practice when you're creating. I still write about my own personal experiences but, you know, you just get wiser and wiser (hopefully) in life, so that has elevated my creative process and the output for sure. 
Songwriting is an important aspect of your music. You need to tell your stories and not anyone else's. You are undoubtedly the full package- you sing, play, and write. Given the state of the music industry, what does it means to you to be a songwriter?
Although most people who know me really well would probably disagree with this next statement, I don't consider myself a big talker. At least, not when I'm in a room full of people I'm just meeting, which is how it is most of the time when I'm working. I like to listen, to hear other people's perspectives, stories, and see if there is anything there that I relate to or inspires me to say something I wanted to say but in a more meaningful way. I think the best way to write is to listen to what's around you — not because what you think or believe isn't good enough but because there is so much more out there to pull from and be inspired by. 

Your mother, Deborah, is a writer as well. Has she influenced the way you write your own songs in any way? Could you give us an insight into your songwriting process?
Both my parents have influenced me a great deal. My mom is such an incredible writer and so is my sister — I'm more "matter of fact" about things. I like to get to the point clearly, quickly, and significantly. I want to read my songs without music and still feel something.
On that note, what's your favourite song you've written and why?
That's a hard one… I'm making new stuff now that I really like but it's too soon to talk about those right now. My earlier stuff I wrote I didn't think about as much. I didn't know enough yet about who I was as an artist and also what else was out there. I was just doing what I felt and that made the process different than it is now because now I feel like I know too much [laughing] and I'm super critical of everything because now I say to myself: "yeah, yeah, yeah… someone already said that and said it better, so push harder." I know my perspective is unique and I know I'm good but now good isn't enough for me. I want to be fucking incredible so that affects everything I do, which I think is a good thing.
You've stated multiple times that remaining true to yourself is one of your top priorities. You've also name-checked Lauryn Hill as your main influence. What other things –artists or otherwise- influence you and how do you find the balance so that it feels right for you and your music? 
I'm most inspired by artists who are themselves, who leave a piece of themselves on every song and every stage. Not just sweat but heart. Like, show me who you are. I think the industry can be a weird place because they want you to stand out but they also like to point to other people and say, look what they did! You should do that too! So for me, I guess this can be a gift and a curse, but I'm really bad at doing shit I don't want to do, which is helpful for me as an artist. I know if something is a fit or not for me quite quickly. And if I just stay true to that, I'll be good.

What are some artists that you would love to collaborate with?
Oh goodness, there are so many! Kendrick, Cardi, Frank, Cat Power… Those are the ones that come to mind quickly but I'm sure I'll think of so many more once [this interview is over]!  
 You released your debut album 'Selfish' on your own… Independent artists notoriously have a hard time stepping into the limelight but, on the contrary, can also control the trajectory of their sound without external influence. Is remaining independent something you value when it comes to making your music?
To me, now, it's not necessarily about remaining independent but more about the fact that anyone who comes on board will need to realize that I'm running the ship. With help, of course. But no one knows better than me or more than me about me. That's just a fact and, in my experience so far, lots of people have come on and wanted to control and change me and tell me they know better, which I don't even fight with them about because my energy is sacred to me and trying to explain obvious things to people is a waste of my time. I'd rather just move on and find someone who gets it, no hard feelings. 
'Selfish' released last year and referred to the journey of finding yourself musically. You are working on your new EP, which will be released next year. What path is your journey taking with this new venture? Do you feel like you have ultimately found yourself musically?
Oh boy! 'Selfish' was definitely just the beginning and feels like lifetimes ago. I'm a lot more intentional with everything than I was. With 'Selfish', I just needed to get that out of me. I didn't really care about anything else. I didn't care how anyone else did it before or what anyone thought I should do, I was like, no, this is what this project is, it all goes together and it needs to be out in the world! Now that I got it out, I'm like, ok here I am. This is what I made and that's just the first thing I ever did! I'm proud as f*** of 'Selfish' but the sky is the limit for me so I want to push myself harder and further and never stop. 
Stella is currently in the studio working on her new EP, which will be out next year. Keep up with her here. 
This Schön! online exclusive was produced by
Photography / Andrew Boyle
Fashion / Heather Dunphy
Talent / Stella Santana
Hair / Marco Santini @ Tracey Mattingly
Make Up / Leslie Lopez @ Tracey Mattingly
Photography Assistants / Nick Suttle & Sincere Dennis
Interview / Sara Delgado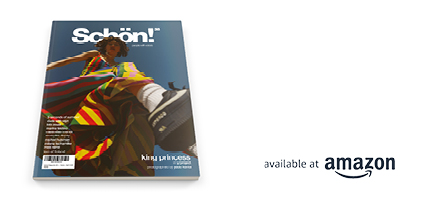 Discover the latest issue of Schön!. 
Now available in print, as an ebook, online and on any mobile device.