From performing renegade exorcisms in The Devil Inside to playing a Greek poet in the fantasy-driven-thriller, The Scorpion King 2: Rise of a Warrior; Simon Quarterman can do it all. Known for gracing our screens in film, it's his role as Lee Sizemore, Head of the Narrative Department in HBO's sci-fi hit series Westworld, whose second season premieres tonight, that currently has viewers at the edge of their seats. Schön! sits down with Quarterman to discuss his ambitious journey towards the spotlight and what's in store for Sizemore as we head into the second season.
Although garnering international attention, the British-born actor recounts his early, yet challenging experiences while trying to storm his way into the industry. "I was living in London when a self-tape request came through from my U.S. manager for The Devil Inside. I'd been out of work for a while [and I] was at my wit's end," Quarterman recalls. "I attempted to put the audition on tape, but kept forgetting my lines… I was honestly about to throw the towel in out of frustration. [I gave] it another shot, I let loose with this fire and brimstone speech, got through it, sent it off and forgot about it."
"A few weeks later, I got the job," he continues. "After that, I did a couple more horrors. I actually don't quite enjoy watching horror films, but I had a blast making them." Bearing in mind his memorable work in the dark and heart-pounding genre of horror, Quarterman was destined for his current role in the whimsical and thriller driven series. "As soon as the audition came through for Westworld, I was very excited," he reveals. "It was pretty dang easy to develop an interest for the show, even [without] a script! There was just that intangible something about [this] project. I knew it was magic and I wanted to be involved."
Although his acting career is deeply embedded in film, Quarterman welcomes the world of television with open arms. "Westworld is actually the first regular role I've had in a television series and I'm enjoying it immensely," he says. "Not knowing where Lee has been headed, episode to episode, has been an enormously liberating and fun experience. It was difficult at the beginning as whenever you're shooting a movie, you have one script. You know where you're going. With Westworld, I've never had a clue where I was headed, we'd only get the script a week before the episode started shooting," Quarterman continues. "The difficulty came in wanting to know what was going to happen. But, after a while, I let go and let the season unfurl as life does". as to whether he has a preference between film and television, he affirms that "it really depends on the project. Of everything I've done, [Westworld] is at the very top of the pile. It's been extraordinary."

And it certainly is out of this world. In the world of humanoid machines and artificial intelligence, an egotistical Lee Sizemore is Head of the Narrative Department, responsible for creating intriguing storylines and exhilarating theatrics for Westworld's guests. "Playing Lee [gives] me permission to delve into my [own] ego, which [is] kind of fun and very illuminating," Quarterman confesses. Throughout the first season, it is undeniable that Sizemore had difficulty dealing with situations that don't necessarily work in his favour, especially when Robert Ford, the parks director, rejects one of Lee's narratives. Perhaps, we might see a shift in Lee's character in the upcoming season. For now, Quarterman's lips are sealed. "There will be many surprises and certainly a lot of revealing moments [from Lee]. I'm going to leave you with [these] incredibly broad breadcrumbs."
Amidst his embellished speeches and robotic storylines, the remarkably ambitious Lee found himself in an unpleasant circumstance during the season's finale, in his attempt to run Ford's code out of the park. "It wasn't looking good at the end of season one. Lee headed to cold storage to pick up Peter Abernathy, only to find it completely empty. He [had] no idea where all the hosts [were], so in his mind, [his] plan [was] pretty much dead in the water," Quarterman narrates. "All he [did] know, [was] that he's in a real spot of bother. I think his career aspirations might have suddenly taken a back seat."
While Quarterman feels confident walking in Lee's shoes, he admits that this has been his most challenging role to date and emphasizes the importance of simplicity in all his work. "Keeping things as simple as possible is key to adapting to different roles. Years ago, I read David Mamet's book on acting and there was one line that stuck with me [that] I've been working towards ever since," he recalls. "It's simply 'what comes from the heart, goes to the heart.' I [believe] you can adapt [this] to any role. It's a beautiful tool." From The Scorpion King 2 to spine-chilling films like Estranged and The Devil Inside, Quarterman has polished every role to perfection. "There really isn't anything I wish I'd done differently," he confides. "The Scorpion King 2 was my first [American film] and marked a real turning point in my career. Secondly, The Devil Inside changed my life [as it] prompted me to move to L.A. Though, working on Westworld has really been the most memorable and [magical] time of my career. What a ride."
For the British actor, what is most intriguing about taking part in the Westworld phenomenon is "the fact that it is just that, a phenomenon. It's been wild watching [the series] find its way so effortlessly into the zeitgeist. I'm pretty excited to see how this next season is received and how it might deepen its roots culturally." If Quarterman could take anything from Westworld and apply it to the real world, "the dawning of consciousness" would be his greatest takeaway. It is clear that we have not seen much of the outside world in the series thus far. Perhaps, this may hint to a shift of events in the upcoming season.

What can we expect to see from Quarterman next? "Nothing concrete right now, that I can speak of. To be honest, I've been enjoying the space," he says. While discussing Westworld's upcoming season, the utterly charming Quarterman reveals that "the second season is an entirely different beast. The first season was very much about setting the scene and creating the controlled world [where] both hosts and humans were living in. Obviously, we saw that control slip at the end of the [first] season and, we pick up season two with the wheels well and truly off the bus. Viewers can expect a more expansive and chaotic experience. I think people are going to have a blast. It's bonkers."
The second season of Westworld premieres tonight worldwide on HBO.
This Schön! online exclusive has been produced by
photography. Ben Cope @ Seven Artist Management
fashion. Tiffani Chynel
talent. Simon Quarterman
grooming. Heather Rae @ The Rex Agency
words. Amanda Breeze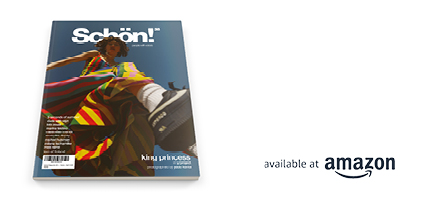 Discover the latest issue of Schön!. 
Now available in print, as an ebook, online and on any mobile device.