An accomplished actress with a stunningly diverse portfolio, Selma Blair has made a name across film, theatre and television projects of every imaginable size and scale. Renowned for her integrity and composure, she brought a confidence beyond her years to early roles in teen flicks like the CB comedy series Zoe, Duncan, Jack and Jane as well as break-out hit Cruel Intentions and shone in critically acclaimed indie projects like Dark Horse. While versatility has served her well in her acting career, it has also helped prepare for one of the biggest roles of her lifetime: serving as mother to her seven-year-old son. After taking a step back from the public life at the height of her career to fully devote herself to family life, Blair is now back and ready to take centre-stage once more. As she kicks off the year with Brian-Taylor-directed black comedy Mom and Dad, we sit down with Selma Blair to discuss her development as an actress, the personal impact of becoming a mother and what she's getting up to in the first half of 2018.
You have stated that you initially wanted to pursue ballet, horse training and then photography as potential careers. What finally led you to pursue acting professionally?
I think I wasn't good enough; certainly, at a young age I learned I wasn't good enough at ballet. With horse-back riding I started later in life and was really good, but didn't have the money, or probably the skill, to ever really get great and photography was really hard to break into. With acting, I gave myself a year [living] in The Salvation Army in New York City and I said 'I'll give it a year and then I'll go home and work in a drugstore'. Even though I had a college degree, I just didn't know what I'd do if it weren't acting. It was always there but I just didn't know how to make it possible, I was just a girl from Michigan. Then I was in a workshop and a woman came in [an agent] and she started sending me on auditions. I got a tiny part on the film 'In & Out' that lasted for months and that was really the beginning.
What would you say was, in retrospect, your most formative early role?
I think my most formative early role was Cruel Intentions because it was so fun. Reese Witherspoon was, and continues to be, one of my idols as an actress. With her ambition she is just unstoppable —she is a force.Cruel Intentions was my first role that people had seen and I was able to work with director Roger Kumble who I worked with again on The Sweetest Thing. And then working with Todd Salonz [on the film Storytelling] was some of my favourite work and the work that was closest to me as a person, because he is so absolutely authentic
You achieved mainstream success with hits like Legally Blonde, Hellboy and Hellboy II. How did you adjust personally and professionally to the sudden fame —particularly as paparazzi culture developed?
The paparazzi is much bigger now than it was then but I would still see them lurking. I remember I was once walking with Kirsten Dunst when she'd just done Spider-Man and I said; 'How do you deal with the paparazzi? It's so weird.' She said 'I don't deal with it much,' she just hadn't noticed, I think and I said; 'Well there's one [a paparazzo] right there'. He was taking pictures of us but we both just laughed. That was really the beginning of it…but for some reason the paparazzi does really follow me still, even though I've been so under the radar. It's strange, my son doesn't really know any time outdoors with me without the paparazzi in his life, so we should really ask him what it's like to have sudden fame from birth.
With roles in romantic comedies, serious dramas and action flicks, combining big-budget and indie projects, you have showcased your versatility as an actress. What is your key adapting to such different projects? How do you prepare for each new role?
I've been in this business so long, it seems, its been like twenty tears, I've done so many different roles, from big-budget to indie. The big-budget ones are so over-the-top, they're almost theatrical. It all just depends on the tone of the script, and there's a lot of misses I've made. You just adapt by the director. I've made a promise to myself that I won't work with someone unless the director really shows themselves because things can get really murky and the tone can be so off. So I really prepare for each role now with the director and the script…and then I just go and do it!
You are perhaps best known for your work on the big screen but you have also worked in television —notably appearing in the acclaimed American Crime Story. Do you have a preference between the two formats?
On the small screen, I actually started out on a show called Zoe, Duncan, Jack and Jane. It was ahead of its time, I think it was great, and I worked with Michael Rosenbaum, Azura Skye and David Moscow. I did two years of that show then two years on Kath & Kim with Molly Shannon. American Crime Story was a small part but certainly kind of a pivotal role because Kris Jenner is such a force in the public life. With regards to a preference between the two formats, I don't know…TV is amazing, it's kind of where it's at and it's my dream to get a TV show that shoots in LA or nearby, so I can be with my son because that's been my focus for six years now. I did do Heathers, a small part, and it's shot in LA and that was a blessing. I loved it and I loved the creators and the directors and Paramount. That would be my dream —to do a show like Heathers, full time.
Has becoming a mother informed your work? Has this life experience been directed into your acting practice, perhaps in your roles in 2016's Mothers and Daughters?
It's given me a well I never thought I'd have and I thank God for that because if I am given the chance to move forward with acting I am such a different person with such a different level of patience and understanding of people and mothers and women. I am totally, totally grateful for having this time with my son and ready to go back to work now as a really different person. Mothers and Daughters was a really sweet script, and to see Sharon Stone on screen, even though we didn't share screen time, was incredible. She stood out in that movie and was such a pleasure to watch.
Speaking of parenthood, 2018 will see you appearing alongside Nicolas Cage in suburban black comedy Mom and Dad —a project we can't imagine you would want your son seeing until he's a few years older. How would you describe this film to our readers?
I just went to a screening last night and it is so outrageous —such a black comedy, so punk rock and the subject matter is really probably sensitive but I was laughing so hard in that theatre. It's uncomfortable but funny and Nicolas Cage is such a force. My son will not see that movie for a while, I think the idea kind of scared him, he vaguely understood it. I think everyone can get on the ride for that movie, it's crazy.
What challenges did this role present for you as an actor?
People ask; 'what part of yourself did you bring to this role' and I can reply to that 'absolutely nothing'. But there's a sadness to my character, that now that her kids are grown and she isn't needed, she's just nothing. I can understand that as I have really given everything to my time with my son.
Mom and Dad works on the premise of parents turning against their children. This is certainly a novel concept, not often shown on the big screen. What do you think makes this so compelling?
It's so outrageous and we're so careful nowadays, and for good reason, about how to navigate the waters of what's politically correct and whose feelings you're hurting, but this movie is just so big in its scope of the horrifying premise that parents would turn on their children. That in itself is just so compelling — how could someone even make this film?
As you mention, this year will also see your appearing in a tv reboot of 1980s film Heathers. In what ways do you think that the cult classic will resonate with audiences in 2018?
There are so many people that are craving some of the tone of the eighties and nineties, for sure. I see such a resurgence. They stayed so true to the tone and style of that movie for this tv show, but it's so completely different. The characters have just turned the original Heathers on its head.
In this project, you will be playing 'Jade', who has been described as a 'rough-round-the-edges, gold-digging stripper'. What drew you to this role?
Seeing the pilot —it was incredible, I just can't imagine that people won't love this show.  I play Jade, the stepmom to a Heather, and we have a really antagonistic relationship, it was so much fun. I was attracted to the chance to play someone who's kind of the winner of the show, who's bonkers but is also kind of the voice of reason in the show. And it's also fun to get to play such a wreck of a person.
Are there any more projects in the pipeline for 2018?
It's been baby steps back into this business but I did buy the property of a book called The Lost by Sarah Beth Durst and I just finished the proposal and putting it together into ten episodes, kind of drawing that outline. That's something that I'm going to go out and pitch; I've great ideas for it and it's an incredible story of a woman that's lost then gets lost.
Mom and Dad, starring Selma Blair and Nicolas Cage, opens in US theatres today, January 19th.
This Schön! online exclusive was produced by
Photography / Ben Duggan
Fashion / Michael Mann @ Photogenics Army
Hair / Christian Marc @ Forward Artists
Make Up / Kathy Jeung @ Forward Artists
Location & Production / MMC Studios
Interview / Megan Wallace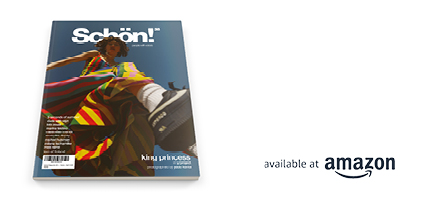 Discover the latest issue of Schön!. 
Now available in print, as an ebook, online and on any mobile device.