Social media has been responsible for finding new gems of talent amongst the waves of young hopefuls, bringing us the very handsome, and downright charming Sean O'Donnell. Earning him a one-way ticket out of his Midwest high school straight to the glistening Hollywood lights in California, the power of the community platform continues to prove king amongst fresh discoveries in the industry. With eyes that could stop traffic and a mama's boy demeanour, this heartthrob has a lot to continue to look forward to.
Very conscious of who may be watching, Sean always minds his p's and q's when it comes to his content. "I have to be conscious of my younger viewers. I ask myself two questions whenever I post anything- can my baby siblings or my grandmother see it? If it passes that test, I can post it, no problem." Although his Instagram pulls in about one million followers, he continues to be humble and grateful for the jump into his career. "It gives everyone a platform right at their fingertips, so I think it's just a lot easier to get seen, which is a great thing because there's a lot of wonderful talent out there who doesn't have the resources to actually come to Hollywood and get recognised on that level. I think Instagram is a great thing." Continuing to maximize his fan reach, the creation of Sick House was a unique way to wield the influence of Snapchat, which is more commonly used to send videos to friends, rather than a platform of performance.
Written and directed by Hannah Macpherson, the film was initially released on Snapchat utilising clips, which made up the bulk of the film. "It was interesting. It was basically a movie that was based in a real life through Snapchat, and it was shot over the course of five days in Malibu State Park. It follows four friends on a camping trip to a haunted house and it goes very wrong, very quickly, and because it's happening in real time on Snapchat, people can watch it as it's being uploaded. The gag was that no one knew that it was a movie, so these couple million people that were watching it actually thought that it was real," he laughs.
Sean has also had a chance to take his talent to the silver screen, taking a stab at his first feature film Mama Boy. Tackling the very strange subject of male pregnancy to hilarious heights, Sean reveals a humorous side to his acting career. "Mama Boy is a film that I did last year. It is the story of a baseball player who has it all, a great family, he's captain of the baseball team, and has a great girlfriend. His whole life kinda just turns on his head and he has to deal with all the things that happened in the midst of handling high school. We're so much about the film because no matter were you come from, you can understand feeling of kinda being lost and searching for yourself." He reveals the biggest plot turn in the movie, "a big twist in the movie is that his girlfriend gets pregnant and through some interesting means, which I will leave out for the sake of the movie, Kelly ends up becoming pregnant and taking the baby, so the plot is his struggle of dealing with that."
Pregnancy is tough on all women, and while men sympathise, many don't quite understand the realities of creating new life. Although this was meant to be a comedy, Sean's experience with preparing for this role was eye opening, and led him straight back to the woman who was responsible for giving birth to him. "When I was physically pregnant on set and I had the prosthetic on, I stood there for about six hours. They stuck it on me and it was very hot, and it was only two pounds so nothing like an actual child, and I immediately called my mother afterwards and told her how much I loved her because I could never imagine 9 months with that much. It was insane! After filming, I appreciated her more than I already did."
Inspired by the path and people that led him to this point, Sean has turned his talent to writing full time, putting all his time and passion for the art of acting into a feature that he is writing himself. With Mama Boy completed and behind him, he is ready to tackle the next big challenge. It's a beautiful thing to watch a new career blossom right before our eyes, and social media has given us the microscope that can be used for the power of the better.
Sickhouse is in cinemas now.
Words / Mynxii White
This Schön online exclusive has been produced by
Photography / Ben Cope
Fashion / Roman Sipe
Grooming & Production / Mynxii White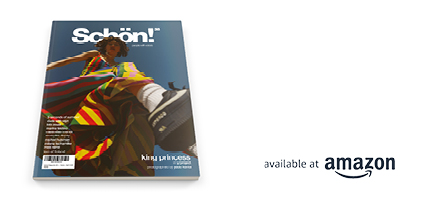 Discover the latest issue of Schön!.
Now available in print, as an ebook, online and on any mobile device.