Nothing is impossible for Sadie Stanley. The young actress and action sensation behind the upcoming Kim Possible film reboot is gearing up for stardom. The film landscape celebrates drama on-and-off the screen, but this first-time leading lady steps into it with carefree, infectious energy and pure drive. Her naturally curious approach to this glossy industry tells us this actress is one to watch, she's in it for the long run. Ahead of the anticipated release of Kim Possible, Stanley speaks to Schön! about becoming an accidental vlogger, learning to fight and dreaming the impossible.
When did your interest in acting start? When did you know it was the right path for you?
Growing up, I loved being in my school and community plays and musicals, that is where my love for acting started. When I was around twelve or thirteen I started getting really into watching TV and film. I would write and create little videos and skits with my friends all the time. Around that time, I realized that these people I watched on TV did this for a living and that maybe I could too. I talked to my parents about it and it took a little while before they realized that this wasn't a phase and it was really something I wanted to pursue.

How did you pursue your dream at such a young age?
There were a lot of stepping stones to get to where I am now. I have the most supportive parents, I'm incredibly lucky. I started locally and then made my first trip to LA for pilot season, something I'd always dreamed of. I surrounded myself with an amazing team of people who believed in me and fought for me. Kim Possible was perfect timing, I was ready to fight for my place in this industry and I ended up being right for the role. I think it was a combination of luck, hard work, determination, and God looking out for me.
Which actors or actresses did you look up to the most growing up?
Some of my favourite actors are Jennifer Lawrence, James McAvoy, Brie Larson, Sandra Bullock, Meryl Streep — the list goes on and on. These actors and actresses are able to transform themselves into so many different types of people, their versatility is amazing. They make everything they do feel natural and authentic and that's exactly what I strive to do with my acting.
Kim Possible was your first audition! How did it feel to land your first film role as the lead?
I was not expecting things to work out the way they did! I remember when my manager told me that my first ever audition in LA would be for the role of Kim Possible. I kind of laughed because I was expecting to start a lot smaller than that. I felt like it was a little out of my league, especially having absolutely nothing on my resume. But, I decided that I would have fun with it! Yeah, maybe nothing would come out of this audition, but it's an incredible opportunity so I'm going to do my best and have a good time. I think that's why the auditions went so well, I was just so surprised and happy to be there. Booking this role was a little intimidating, I had never been a lead in anything, let alone a live-action remake of a super popular cartoon! I was so excited and ready for the challenge.
How did you prepare for the role? Did you watch the original series?
I had a lot of preparation to do for this role. I watched pretty much every episode of the original cartoon. I wanted to know everything about this character, but at the same time, I wanted to make her my own. Kim Possible is also an amazing fighter with a huge martial arts influence, so I had to get to work! I took three weeks of Tae Kwon Do back in South Carolina (where I'm from). There, I learnt the fundamentals. Then we headed to Vancouver where we filmed the movie. I worked with the incredible Stunt Coordinator Melissa Stubbs and her team every day for a month before we started shooting. I learnt how to fight in front of the camera while keeping yourself and others safe. I learned how to do flips and kicks in a harness while flying through the air — which is very fun. It was such a fun process, and a very empowering one too.
Is acting how you imagined it to be? Have there been any challenges?
Acting is even better than I imagined it to be. I've learned so much since I started it's insane! I find myself falling in love with acting and everything that comes with it, even more, every day. I think the biggest challenge is the fact that I'm away from home so much. All these incredible opportunities are pretty far away from South Carolina, so my mom and I have to leave a lot. It's hard being away from friends and family but at the same time, I feel so lucky that I have all of these people that I can count on, who support me and make sacrifices for me.

How has your life changed since you got cast as Kim Possible?
My life and future were put onto an entirely different path. Everything is different now; my idea of the future, my goals, my outlook on life and so much more. It's so crazy how one moment can do that. I'm so genuinely happy with my life and where it's headed, and that is probably one of the best feelings in the world.
What are you most excited for fans to see when Kim Possible finally releases?
I'm just so excited for them to see the finished product in general! So many people came together and worked really hard on this movie and we are all so proud of it. I want them to see a strong, powerful girl saving the world and balancing regular life. I also want them to see a girl who's not perfect; a girl who is human and makes mistakes and struggles with her identity. I want them to relate to that girl, to know that they aren't alone in their challenges and to know that they will get out of those dark places and prevail. I want them to feel strong, confident, and to be true to themselves.
You also have a YouTube channel where you're very candid with fans about your journey. As you get more known, what do you want to use your platform for?
I created that YouTube account and posted those vlogs primarily for myself. I wanted those memories kept safe somewhere so that I'll never forget what I felt in those moments. Now I'm realizing that I think I also made them for other people. When I started acting and even before then, I wanted to watch someone going through it too. I wanted to relate to someone and have them be honest about the process. I hope I could be that person for someone else. I think it's so cool that you get to share the more human side of yourself through YouTube videos and other social media platforms. I want to keep doing that if I can. I want to remind people that these actors and celebrities that you watch on tv are real, normal people whose lives are not perfect. I want to use my platform to inspire people to go after their dreams like I did.
Are there any roles that you dream of playing, or any genres you want to explore?
There a lot of different types of roles that I'd love to play. I want to challenge myself by telling stories that are difficult and dark, in a raw and authentic way. I want to be in movies that make people happy and laugh and have a blast, and I also want to be in movies that open people's eyes to someone else's experience, that make them cry, make them think.
Do you have any projects in the works that we can look forward to?
Nothing official or that I can speak about yet, but some things are in the works that I'm very excited about!
What are you most excited about for the future?
I'm excited to grow. I'm looking forward to evolving as a person. I want to constantly keep striving to be a better version of myself — and that goes for acting as well as real life.

'Kim Possible', the movie, premieres on Disney Channel this Friday, Feb. 15. Watch the trailer here.
This Schön! online exclusive has been produced by
photography. Ben Duggan
fashion. Holly Copeland @ The Rex Agency
talent. Sadie Stanley
hair. Giannandrea @ Forward Artists
make up. Toby Fleishman @ TMG LA
words. Sarah Osei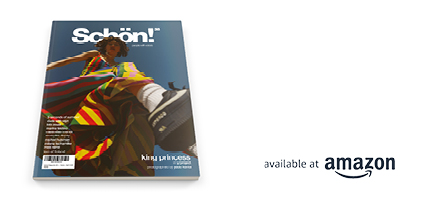 Discover the latest issue of Schön!. 
Now available in print, as an ebook, online and on any mobile device.