Part of the refreshing authenticity that lies behind the sparkling green eyes of Nolan Gerard Funk is his sense of purpose. Funk is an actor first, celebrity second. It might seem obvious, but in today's world of gossip blogs and oversaturated Instagram feeds, Funk is quick to distinguish himself as a thespian.
"I refused to get Twitter in the beginning," he recalls, having been eventually coerced into getting an account by his manager. "I do it because I read some of the comments and I know it's important to fans. I think everybody has the right to be a dreamer so if I can encourage that or let people see the things I'm doing having come from a small town in Canada, then it's worth it."
By acting standards, Funk is – in his own words – a late bloomer, having not seriously pursued a career until his 20s. Prior to that, he was competing nationally as a gymnast. "I wanted to go to the Olympics. I was very adamant about it."
Those plans were derailed thanks to a fortuitous teeth cleaning. "I was discovered by my dentist," he says with a laugh. "While I was there, I noticed that there were headshots on the wall from kids. I told him that I wanted to be an actor and he and his wife steered me into the direction of a youth acting school where I ended up being scouted." The potency of the acting bite was immediate and, before long, Funk was being flown down to Los Angeles for a screen test opposite Mila Kunis. "They flew me down to make out with her basically," he laughs.
He traded in his first class ticket home for two coach tickets; one he used, the other he stowed away for "a rainy day." A few months later, having returned to Vancouver to work what he describes as service acting jobs, Funk said "fuck this," and promptly packed his bags for La La Land. It's this unquestioned gut trust that's helped him seamlessly jump from role after role.
He would go on to star both on the small screen on Glee and on Arrow as well as in films including Riddick. "I don't if I've even had it," he says when asked what role he considers his breakout. "If there's one thing I can say — and I'm really learning to be a lot more present  — if I were to have a big should, it would be being open to receiving the great things that I already have. When I was getting these great opportunities, I was always super grateful, but I wasn't necessarily allowing myself to enjoy it. I've had some really over the top moments that are awesome but I don't know if I have one specific thing that I'd want to harp on."
One choice over-the-top moment came in 2012 when Funk appeared in a now infamous foursome in Paul Schrader/Brett Easton Ellis' The Canyons, opposite Lindsay Lohan and adult film provocateur James Deen. Salon.com described the film as "pornographic in places, [but] never campy." Did he have any reservations about stripping down then or for his upcoming role in the movie musical Hello Again? "No. I guess I'm kind of European in that sense."
Funk's sculpted physique was front row as the face of Versace's Spring/Summer 2014 Campaign, an opportunity he says came in tandem with his desire to be chameleon-like in his approach to acting. "I didn't get into this to industry to play myself all the time. That's why I do these photoshoots: Versace was all character."
Funk's own character, however (and in vast opposition to many of his contemporaries), is far less braggadocious. "I'm a little bit embarrassed of my social media, to be quite honest," he says — a rare admission for a celebrity of his age. "I think I'm a little bit careful about how much I really let people in." It makes sense in an age where simply posing with a friend can result in headline upon headline of reductive romance speculations.
Yet Funk seems unphased by the pressures to curate an inauthentic, prescribed version of celebrity, instead focusing on working to expand his repertoire beyond playing villains, something he's mastered on television in Glee and Awkward; on film in House at the End of the Street (opposite Jennifer Lawrence) and the upcoming American Romance. Funk also has plans to write and direct in the future.
So, what is next? "I really want to get back on stage," he says, having made his Broadway debut in the 2007 revival of Bye Bye Birdie. "I'm ready to do a Broadway play." Beyond that, he's ready to dive into the mud, figuratively speaking.
"As I get older, I'm a little bit more interested in imperfections and exploring some of the messier sides of me."
Bless this mess.
Words / Evan Ross Katz
Follow him here.
Photography / Dennis Leupold
Fashion / Ugo Mozie
Talent / Nolan Funk
Grooming / Grace Phillips using Kevin Murphy & La Mer
Photography Assistant / Winston Kingstro
Fashion Assistant / Noah Rafiezadef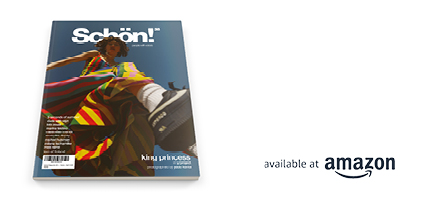 Discover the latest issue of Schön!. 
Now available in print, as an ebook, online and on any mobile device.