Internationally-coveted GBF (Gay Best Friend) and dubious troublemaker at Hester High, Michael Willett stays one step ahead of the average teen dream with a serious comedic presence in the industry and a hefty set of pipes to match. Setting the stage where the outcasts are the "in crowd," MTV's hit series Faking It creates a world where Regina George wannabes are snubbed and the colourful lives of LGBT royalty rule the school with rainbow enthusiasm and sharp tongues.
Playing the most popular boy in school – Shane Harvey – Willett confidently fills the shoes at the top of the food chain. "In the beginning when I first auditioned for the show I felt like, oh, this is definitely something I could believably play very easily. They kept encouraging me to be myself, and I didn't believe them. So I was doing some weird hybrid for like the first two seasons of myself and what I thought they wanted and eventually I just started playing him how I would honestly be in each of the situations and that's really what they wanted," he explains. It seems like Shane and Michael are more alike than he once thought. "Shane is a very confident, outgoing, stylish kid who likes drama. I think on some level he may be addicted, but I'm not addicted to the drama. He's obsessed with being the puppet master of all his friends. He's sort of like a super hero. He's like a mix of Ferris Bueller and Ducky from Pretty in Pink."
Although he runs the show, Shane still experiences the same growing pains as the rest of the school. Michael shines a light into the future of his journey: "Shane sort of starts off recovering from his last relationship and the trouble that got himself in. He starts off this season with this attitude of not really wanting to be in a committed relationship. He just wants to hook up with guys. Eventually, he gets hooked, and he has to reconsider his feelings about relationships."
With the subject of sexual identity on the forefront of the show, Michael is very aware of his role in real life as well, "as much as it's important for the LGBT community, I feel like it's important for everyone to see because we're normalizing the gay experience. We have gone beyond the "coming out" story and said, 'now what happens?' What are all the complicated things that can happen once you know who you are when you're in a relatively well adjusted society? I think that those things are what are really powerful about our show, and people are seeing a different world, a possibility of acceptance, and I think that's a positive message that will change people's minds." The pressure to be a positive role model is heavy, but one he has grown to embrace and handle well. "I have felt some pressure of responsibility and I used to actively try to help people but I think that what I have found is that I can't do it on my own. As much as I can be a positive role model or a source of light, that I'm not the only source of light. I can't save you via Instagram, even though I'd like to. It's been more about changing minds and being a positive example."
Michael's path to his own enlightenment is not limited to the hallways of Hester High. Spending the last few years on his new album, Michael has put much of his time and energy into developing his own unique sound. "I created this album called Regeneration. I'm releasing it in 3 EPs – Phase 1, Phase 2, and Phase 3. It tells a story so it's more of an art piece to me. It's a journey for people to participate in and interact with me; to come on this journey of self-discovery." Explaining that his sense of self value and confidence comes from truly being seen as himself beyond his characters, he writes to touch all ears and hearts that his music may encounter. "I like to write music that has universal themes. I also don't want to be a part of an exclusive genre. Every song on my album sounds different, and that's again, channeling this idea of evolving constantly and changing my mind constantly, but it's also this universal belief that music touches everybody. That really is universal so why would I go and try to make it more exclusive by making it one genre or tapping into one audience? I really try to make music that young and old can appreciate."
Defining success as a fleeting moment of victory, Michael pushes to be the best version of himself every day. "I want to continue to create things I am passionate about. I'm really excited for my album to come out because I've been working on this for years and it's very personal to me." With his audience following closely, his future both on screen and off are sure to be worth watching.
Faking It season finale airs on May 17th on MTV. Regneration Phase Two lands June 15th.
Photography / JUCO Photo
Fashion / Roman Sipé
Talent / Michael Willett
Grooming & Interview / Mynxii White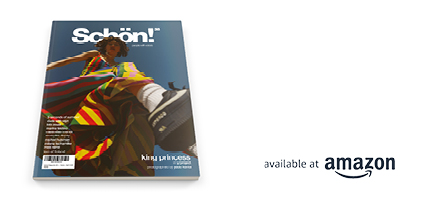 Discover the latest issue of Schön!. 
Now available in print, as an ebook, online and on any mobile device.