Brooding British talent Mel Raido's back-catalogue ranges from brutal bouncer in Clubbed, to charming food critic in Gemma Bovery, to his latest role as real-life Glaswegian gangster in box-office smash Legend. The Jamaican-born actor moved to London as a child and a stint of elocution lessons sparked his interest in performance. Racking up over a decade's worth of gripping television, theatre and silver screen roles since then, Mel opens up about his character in Brian Helgeland's gritty gangster biopic, what inspired his career path and sheds light on his upcoming role as a tetraplegic.
Legend is out right now working its way around the world. What about the script attracted you to the film?
I liked Brian Helgeland's previous work. He did LA Confidential and Mystic River so I knew that I was going to be working with a writer-director who had done some fantastic work. I also liked the fact he was an American. An outsider telling a story that is very much in the hearts and minds of my generation. He focused on the relationship between Reggie and his wife Frances, all the gangsterism wasn't the main focus. The heart of the film was a love story.
Growing up in London, did you hear any stories about the Krays?
A lot of Londoners, my generation and above, have a story to tell about the Krays. It's funny how far reaching that is. 
Could you tell us about your character Ian Barrie?
Ian Barrie is based on a real person. He was one of the gang members who I believe is originally from Glasgow, but there's not really much known about him because he was one of the few members who refused to kiss and tell. There was limited information on who the real person was so I had some artistic freedom in bringing the role to life. He's Ronnie's right hand man. His body guard really — trustworthy, violent, loyal. Almost like a hired hand. An outsider as well because he's from Scotland. 
How did you prepare for the role? I heard you looked into Scottish poetry and literature.
I read The Profession of Violence: The Rise and Fall of The Kray Twins which the film was loosely based on. I got my head into the book because the writers spent a lot of time with the Krays. It gave a good insight into that world. In terms of my part, I used a lot of creative licence. A lot of it I imagined and made up. I also grounded it in researching the gangs of Glasgow during that time, researching the accent through Scottish writing and poetry to get the rhythm, and listening to Scottish actors that I liked.
Is it different playing a real life character as opposed to a fictional one?
To some extent, yes. If you're playing a real person, for example Ian Barrie who's still alive, there's some sort of responsibility to the part. You're representing someone who actually lived so the responsibility is much higher.
You grew up in South London. Does the diversity of the area ever help you embody new characters?
Definitely. London is such a diverse place there's so much to draw upon. Especially when you're brought up here. So many different nationalities, colours and essences. It's such a textured city. You're exposed to so many different cultures it just makes you richer.
What role would you consider your breakout moment?
One of my first roles when I came out of drama school was Jesus in a play called Corpus Christi. It was quite a controversial play at festivals in London. Later on I got a role called Billy Porter in He Kills Coppers by Adrian Shergold. That gave me some wonderful exposure. So I'd say those two parts.
Why acting of all trades? Was there a mentor, actor or moment that inspired you? 
I was bought up in Jamaica. I moved to London when I was very young. When I originally moved I had a very thick Jamaican accent. I was sent to elocution lessons and remember being exposed to lots of poetry and reading exercises to get rid of my accent. That got me into plays at school [and] was the beginning really. It was kind of by accident in that way. But if I really think about it my mother was a wonderful story teller. She kind of inspired my mind to want to become an actor. 
Is there anyone you'd like to work with in future?
There are a lot of actors I love who are sadly not with us anymore. There are lots of theatre directors, film directors and actors I'd love to work with. Sean Penn, Gene Hackman, Dustin Hoffman, Michael Gambon. I would love to share a stage with them.
You've done stage, film and television – would you ever get behind the camera?
If the opportunity comes I would love to. I think I may have three films that I would love to direct in my lifetime. I would love to write it as well. 
What's next for you?
I've just been doing a film called The Myth of Hopelessness. A black comedy about a guy who's a tetraplegic. It's based on him and his carer, played by an actress call Morjana Alaoui, their relationship and how he copes with his disability. It's very funny and dark by a wonderful first time director called Shaun Robert Smith. It was quite an intense film, but especially fun. Moving forward into the horizon I'm focusing on some writing I'm trying to develop with a wonderful director called Adrian Shergold and just spending time with my family.
Legend is out now. 
Words / Shama Nasinde
Follow her on Twitter.
This Schön! online exclusive has been produced by
Talent / Mel Raido
Photography / John Cubillan
Fashion Editor / Marianna Frannais
Grooming / Claudia Savage using Clinique For Men & Bumble and bumble
Production Manager / Sophia Imsineski
Fashion Assistant / Caitlin Donalson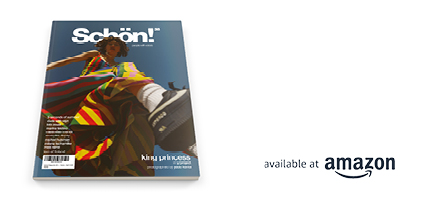 Discover the latest issue of Schön!. 
Now available in print, as an ebook, online and on any mobile device.