Hailing from the British Midlands, Mahalia Burkmar has been exuding creative brilliance since penning her first song at 8. Despite trading her native Leicester for Birmingham, her music knows no frontiers. Going for the moniker of Mahalia as her stage persona, she already has various successful EPs under her belt as well as an acting debut in Noel Clarke's Brotherhood. Despite staying under the radar —voluntarily— over the last few years, that hasn't stopped her from scoring national and internationally acclaimed gigs like Glastonbury, The Great Escape or Latitude. If that wasn't enough credit to her incandescence, you might have also spotted her alongside Emeli Sandé, Ed Sheeran or Compton's hip hop King Kendrick Lamar.
Mahalia's carefree yet determined attitude is captivatingly contagious, and so are her poised vocals and powerful presence. At only 19, her repertoire is worthy of veteran envy and name checks Drake's producer Nineteen85 and Sam Smith's Steve Fitzmaurice, to name but a few. Not surprisingly, her soulful infused sound carries a maturity that transcends off stage. With an upcoming UK tour in the new year flaunting the sold out sign, the Leicester native and lover sits down with Schön! to discuss her musical upbringings, the power of collaborations, finding herself musically and why she refuses to be imprisoned in a genre.
You are probably one of the youngest people to venture the music sphere professionally but, when did your interest in music first start? 
I guess it started when I was pretty young. I used to sing to my family around the dinner table and stuff when I was like 6. It started properly at the age of 10 when I started singing in assembly at school. I picked up my guitar for the first time when I was 11 and then it all kind of kicked off from there… I just remember hearing music on the radio or on my little iPod shuffle and just being so excited by it.
Both of your parents are involved with music as well. How do you feel their involvement has impacted you as an artist?
My parents shaped me in many ways. Because they were both in music, they were incredibly supportive. They totally helped me begin to make a name for myself and I'm so grateful for that. My dad plays the guitar and I think that's one of the main reasons why I picked up mine. He was there when I bought my first guitar too. My mum has a beautiful soulful, jazzy voice. I used to try and sing like her when I was younger. 
Many of your songs are written from personal experiences. What your songwriting process is like?   
It's pretty different now… when I was younger, I used to always write pretty fast. I would always have to be at home with my guitar in my bathroom. But now, I can kind of write anywhere. It can sometimes take me about 6 months though now. I think when you're younger, you are less scared to say something that doesn't make sense. Whereas, with age, comes the 'art of overthinking'.

Going back to the early "breezy" days, you signed with Asylum at the age of 13 and have since worked with major figures in the music industry. What would you say has been the most formative experience you've experienced in all these years?
Aargh, that's a big question! This may sound really boring but, all of it. I've learned so much being in the music industry from so young. I grew up really quick – understood when and when not to talk – how to best grab an audience on stage – loads of things! It's been a crazy rollercoaster these past 6 years. I've met some fantastic artists and creative people and I'm really proud of the journey I've been on. 
You say you grew up fairly quickly because of this but, still, you waited until you finished college to release your first official single. How did that come about? 
I needed to grow. My music needed to grow. I wanted my debut single to be right and I didn't feel like I was ready before I was 18. I think I just hadn't finished developing. Even now, I feel like I'm still growing personally and musically! 
For your EP Never Change you worked with the big music producers Nineteen85 and Supa Dups. How did you experience working with them at the early stage of your career? 
I loved it. We had a really great time. I had never had so much fun in the studio with producers before so I was so happy to have such a great experience. I got to go to Miami and spend 10 days in the studio with them. It was all pretty surreal. I was so young and just so happy to be doing something I loved. 
Apart from your first-hand experience, who inspires you to write? In other words, who are your icons musically? 
If I were to list a few, I'd say artists like Lauryn Hill, Erykah Badu, Amy Winehouse, Jill Scott, Adele and more. I have many musical icons definitely – too many to list! I'm heavily inspired by other female artists, definitely. It's interesting the way that I gravitated to women in music as a young girl. I think I wanted something to relate to and so that's what I did. 
Last year, you did the project #DiaryOfMe where you posted a personal song for your followers every two weeks – how did you experience putting yourself and your feelings out there like that?      
It was crazy, for sure. I felt really vulnerable putting out that much music so close together! They were all really personal songs and it took me a while to put that project together. I think I was just really relieved by the end of it!! And people took it really well so I was so happy by the time it was all done. 
Back to present day, 'Sober' has a more R&B sound compared to what we have previously heard from you. Is this a direction you will continue pursuing?  
I'll be honest, I'm scared about being categorised… mostly because I don't want people to be let down when I don't release an "R&B track" — if you know what I mean. 'Sober' came quite naturally to me. That was just me, making music that I love. I just have to keep going in that direction. 
Other than the multiple producers we've mentioned before, you also did a track with Rudimental a while back. Do you have any more collaborations coming up? 
For now, not that I know of. As an artist, collaborations are so much fun [but] I think I just need to work out exactly what direction I'm going in first and then maybe think about working with other artists. I'm excited to delve into that, though.
You are working on your debut album now what can we expect from that?  
Loads more stories, hopefully. I just want to make sure you get all of me on my debut album. That's really important. I've always tried to write music that gives listeners a little insider into my life. That's what I'm trying to do with this.

Listen to Mahalia's latest tracks, 'Hold On' and 'Sober' now.
This Schön! online exclusive was produced by
Photography / Francisco Gomez De Villaboa
Fashion / Celia Arias
Talent / Mahalia
Hair / Brady Lea @ Stella Creative Artists using Maria Nila
Make Up / Elle McMahon
Fashion Assistant / Carolina Fernandini Hernandez
Paintings / Mat
Special Thanks To Matty Harrison
Words / Sara Delgado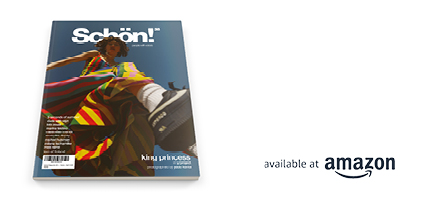 Discover the latest issue of Schön!. 
Now available in print, as an ebook, online and on any mobile device.