Lxandra is a woman who knows what she wants, and how to get it. After moving to Berlin from the Finnish archipelago Suomenlinna, the singer-songwriter has been caught in a non-stop whirlwind of musical creation. Not only has she released songs 'Flicker', 'Hush Hush Baby' and 'Dig Deep', but she has a debut album in the works and has played opening slots for one of the biggest acts in the world: Dua Lipa. Amidst festival appearances and studio sessions, Schön! sits down with the cinematic Scandi-pop starlet to talk empowerment, inspiration and her musical journey.
All stories have an origin, and Lxandra's is no exception. Her decision to risk it all and move to Berlin is a clear turning point, one which converted her from promising music enthusiast to nascent star. She acknowledges that this change of scenery had a profound impact, "in many ways; upon both myself and the music I make". The path of knowledge which this life-event created is two-fold, opening up possibilities for both creative and professional development. Not only did she become "more focused on the music" but "little by little, I started to get to know myself as an artist and to discover what I want to do". This sense of duality feeds into the music itself, which carries markers of both her Finnish background and her Berlin present. As she puts it, "I think you can hear both, the island is the organic parts of it and Berlin can be heard in the electronicinflexions".
The past year has been an impressive one for self-growth, seeing her improve "as a singer, performer, writer, artist and person". She elaborates, explaining; "I'm a lot more confident and have stopped comparing myself to others too much, more just trying to reach higher in what I know I can do". However, she retains a spark of her homegrown purity and instinctual ingenuity. "There was something genuine and simple in how I worked when I started," she confesses. "I'm always gonna try to hold onto that and stay true to myself".
Whilst she might retain a firm grasp on her roots, her powerful lyrics and skilful vocals are the sound of the future. Creating music to inspire coming generations of women, her outspoken advocacy of women's empowerment positions her as part of a wider narrative of female agency. The singer-songwriter's output is informed and enriched by these political leanings and she expresses her admiration for female musicians with a similar feminist prerogative. "I very much look up to strong female artists that are doing their own thing, like; Sia, Lana Del Rey, Laleh and Björk," she asserts.
Her strength manifests itself in a different way to these pop heroines, stemming, paradoxically, from the emotional vulnerability which not only deeply resonates with her listeners but allows her to contact with them on an individual level. Her emotive, empowered pop first came to public attention last year with the release of the piano ballad 'Hush Hush Baby' and, since then, the singer-songwriter's achievements have continued to gain momentum, culminating on latest track 'Dig Deep', whihc has just debuted its acoustic version.
Lxandra wrote the song in order to "support the change for us all to be equal; regardless of our gender, race or background". She expands on this thought, saying: "Hopefully 'Dig Deep' empowers the individuals who identify as women and inspires oppressed groups to keep fighting for a better future, to keep holding the flame high." The single has been released in conjunction with an accompanying video, infused with a fairytale aesthetic. Peeling back the lush visuals, we arrive at an unfortunate story which has plagued society for centuries; that of the strong woman whose self-assurance is perceived as a threat by the world around her. Given the themes which the video brings up, one can't help but wonder if society is ready for empowered women, or if the pressure to "keep quiet and behave" is still too great.
Lxandra's response to this query comes as a call to arms, an appeal to women to rebel against social expectations and push for progress. "I don't care if society is ready, we are here and the change will come even if there's still a long way to go. It's rooted so deep in all of us that we have to keep digging to get rid of it."
Lxandra will be debuting new visuals and music shortly. Keep up with her here.
This Schön! online exclusive has been produced by
photography. Iiris Heikka
talent. Lxandra
words. Megan Wallace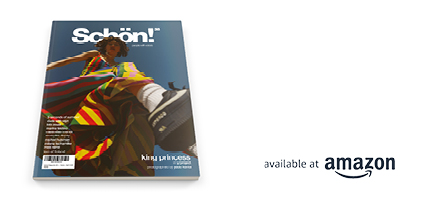 Discover the latest issue of Schön!. 
Now available in print, as an ebook, online and on any mobile device.