After a first listen to LP, there is no turning back. The multi-platinum selling artist makes timeless pop with a retro feel and has a unique timbre that holds your attention and sparks your emotion. Prior to receiving popularity as LP, the New York native, whose real name is Laura Pergolizzi, spent years writing chart hits for the likes of Cher, Rihanna and The Backstreet Boys. Cementing her status as a truly unmatched talent, the star found international success last year with her hit 'Lost on You', which peaked at #1 in 13 countries and was 7th Most Shazamed Song in the World. Her track 'When We're High' makes you want to dance and belt your heart out in equal measure. Marked by LP's powerful delivery and signature piercing voice with a knack for storytelling.  Fresh from a sold-out UK & Ireland tour, Schön! chats with LP about songwriting, gender identity, and what inspires her music.

What was the soundtrack to your childhood?
Pretty much classic rock. The Beatles, The Stones and Led Zeppelin on constant rotation along with my mother's opera records and musical theatre.
Is music something that runs in your family, or were you the first to venture into the industry?
My grandfather dabbled in music but not professionally, except he co-wrote an Italian love song. I'm the only one who has gone full-on professionally into music. I apparently have a distant relative who was a music composer but I haven't looked him up…

How did you first get your foot into the industry?
Honestly, just hustling and playing out, touring on my own dime, and continuing to write songs until somebody noticed.
What has the journey been like up to now?
Kind of like a turtle who walked across the desert and then tripped into a water slide.
You're a New Yorker living in LA – creatively, do you prefer one over the other?
Definitely LA for me. I feel like it was good to grow up and be immersed in NYC for a good portion of my life but for me LA just made my creativity open up even more and I feel very close to the muse there.
LA is a hub for creatives with big dreams. Is working there as rewarding as it seems?
It can be. There are no guarantees, no matter what city you move to. I've seen people come and go with a bitter taste in their mouth. It's the effort and what you bring that makes it work or not work for you.
How did it feel to make the transition from behind the scenes to being the face of a global hit?
It felt normal and good. I was prepared for it in a way and comfortable in it.
Why do you think your breakthrough track, 'Lost On You', resonated with so many people?
I would like to think it's because longing is a universal emotion. We have all been in a place where we wonder if we are being taken advantage of or wondering if we are appreciated fully.
What typically inspires your songwriting?
Relationships of all kinds. From romantic to familial to friendship. Writing songs is something I do whether people are watching or listening or not.
Do you use writing as a form of therapy?
Absolutely. The subject of your work is often personal.
Are you ever scared of revealing, quite vulnerable aspects of your experience, to strangers through your music?
Not really, no. I feel like that's something I'm comfortable with and people appreciate it. It comes naturally to me.

You speak openly about not fitting into gender norms. When did you realise this was something you're passionate about?
I probably realised it early in life. It took me a while to feel like I could be who I wanted to be and not feel like I was defensive or on the attack. I feel like the way I am able to present myself isn't or shouldn't be threatening to people.
Did you experience any issues with identity or sexuality growing up?
Of course. [Gender identity] can be, in many places, very divided and structured. I think lots of women have felt that and still feel that. Equality is equality of rights and how a person is treated in the world. It's not like women wanting to be men. I think we get things confused where people mistake equality with wanting to be the same.

What helped you become as confident and comfortable in who you are now?
I guess trial and error. Discovering that was what put me at ease. I just feel like when you're comfortable that's contagious and makes others comfortable. Being yourself and down to earth is the best way to go through the world.
Could you tell us the story behind the track 'When We're High'?
It's a couple of things. It's wanting to access that place in your relationship where you are at your best with your lover. And then sometimes the downfall of it being – do we only get here when we are actually high?
What inspired the concept behind the music video?
The inspiration was that I had exactly 12 hours at home to shoot it, to create a party atmosphere and have some fun.
Lastly, what can fans expect from LP next?
More touring. I'm working on a new record. Making records is something I'll keep doing. It's going really well and I'm happy with it. I hope it can bring some happiness to people.
LP's latest album, 'Lost On You', is out now. Keep up with her here.
This Schön! online exclusive was produced by
Photography / Gomez de Villaboa
Fashion / Kieran Fenney
Hair / Ronnie Woodward
Make Up / Ben Dniprowskij
Photography Assistant / Cherry Au
Words / Shama Nasinde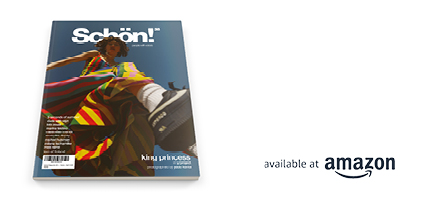 Discover the latest issue of Schön!. 
Now available in print, as an ebook, online and on any mobile device.