With faultless devotion to her craft and professionalism beyond her years, it seems absolutely certain that the Danish actress is at the beginning of a vertiginous upwards trajectory. As the newest addition to Netflix's success story Stranger Things, one thing is sure: you'll soon be hearing a lot from Linnea Berthelsen. 
Although professionally stern, her seriousness doesn't translate to staleness. The Danish nation being so rich with auteur talent — from Nicolas Winding Refn to Lars Von Trier —, Berthelsen is open to taking an experimental approach to her practice. "I think as an actor, having grown up with and studied [films by Winding Refn and Von Trier], it instils an emphasis on the importance of spontaneity and adaptability in acting," she expresses.

Despite having recently finished her studies at the East 15 Acting School in Essex, Berthelsen takes a refreshingly unstudied approach to her craft, emphasising process and stating that her interest in acting is motivated by a natural fascination with the people around her. As she expresses in her own words: "I have always loved observing other people, and have been curious about their personalities and mannerisms. Once I started acting, it just fit with this curiosity."
But her approach to acting filters through into every aspect of the character's being — their inner psyche as much as the very physical aspects of movement and voice. Luckily, Berthelsen has extensive training as a singer and dancer, two talents which have fed into her acting work. "Dancing definitely helps me every day in my work," Berthelsen says. "I guess I have a good sense of what I can express with my body and what I need to work on for a specific character. I love finding moods and chemistry between characters with help from music and physical preparation."

The fact that Berthelsen is performing in her second language might seem like a barrier between her and the authentic, spontaneous performances she aspires to deliver. However, she puts this to her service and uses it to work more closely on voice and accent. "It's definitely a challenge, but a blessing at the same time," she explains.  "I am forced to work very actively with pronunciation and the language in general, and I find that this can sometimes be a fuel for creativity. It's a lot of hard work and it means that I sometimes have to reinvent the way I speak when building a character, which ultimately can be great for the process."

Displaying the key characteristics of an empath, preparing for roles allows her to flex her keen emotional intelligence. When she encounters a script for the first time, she describes being drawn to "characters that have an interesting background that requires great research, as well as people who are somehow excluded from society, are really interesting."
Clearly relishing opportunities to become as immersed in a character as possible, she describes her laborious preparation methods. "I really try to learn as much as possible about the character and "fill in the gaps" in their background story. I love interviewing "real people" to get a chance to attach real stories to my work," she says. "I did that a lot for Stranger Things and it changed the game for me."

Her portrayal of Kali in Stranger Things' hotly anticipated second season emerges as the role of a lifetime for the young actress. It goes without saying that a turn on the Netflix Original series is a fantastic platform, providing a real opportunity for growth, but the character — "socially handicapped, an outcast, complex, driven, angry and impulsive", as she puts it — also seems to perfectly fit the bill for Berthelsen's dream part. Walking onto an established series, one with big names like eighties screen legend Winona Ryder seems to have left her mildly star-struck and she describes her state of mind upon joining the programme as "excited, nervous and proud."

Yet Berthelsen is no novice, having appeared in TV and short film here and in her native Denmark. Despite her extensive experience, the process of working on a relatively big-budget series has definitely been a novel opportunity. "Everything is bigger. Just bigger," she says. "The crew is bigger, the set is bigger, the hair teams are bigger. Everything is bigger."
We hope that things only continue in this vein, especially given the endearing enthusiasm with which Berthelsen talks about the industry and the actors who she (in a dream scenario) would like to work with; "Marion Cotillard, Emma Thompson, Martin Freeman, Riz Ahmed, Ron Howard, Mark Gatiss, and I could keep going… I would definitely love to co-star in a movie with Marion Cotillard or work with Mark Gatiss on one of his curated monologues at a theatre in London. That would be unbelievable."

Coming back to earth, Berthelsen describes her plans for the near future. While she has a lot on her plate, she clearly intends to keep her feet firmly rooted in the ground. She expresses her resolution to "enjoy every moment of the Stranger Things experience. Hopefully, I'll go back to Copenhagen at some point as well. I've only been able to go back for short periods at a time, so I would love to enjoy a traditional Danish holiday season when the time comes."
Strangers Things Season 2 is out now only on Netflix.
This Schön! online exclusive was produced by
Photography / Ben Duggan
Fashion / Jules Wood @ PhotogenicsArmy
Talent / Linnea Berthelsen
Hair / David Stanwell @ The Wall Group
Makeup / Vanessa Scali @ The Wall Group
Photography Assistant / Geoff Glenister
Fashion Assistant / Nikita Desai 
Location / The Forge LA
Words / Megan Wallace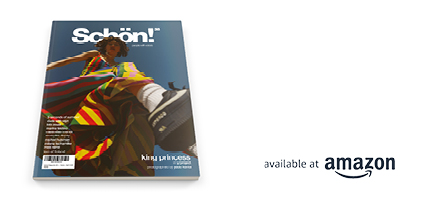 Discover the latest issue of Schön!. 
Now available in print, as an ebook, online and on any mobile device.