Singer, songwriter, and actress Kiana Ledé, may have spent her early years riding dirt bikes and doing pageants, but growing up, Ledé, a self-proclaimed "confused tomboy", certainly did and still does not lack self-awareness. The songstress, who has experienced the pitfalls of heartbreak and betrayal, is guided by her divine femininity and unshackled voice. Ledé is a woman you want to know as soon as you hear her first sultry melody.
There's nothing young about Ledé, an old soul, who, at twenty-one, only seems her age when she fervently speaks about her love of camping and competitive board games (she raves about Settlers of Catan). The Arizona born performer, who is best known for her stirring R&B covers, has released her first EP, Selfless, this summer. A seven-song self-empowerment manifesto, every lyric unravels a layer of Ledé's multifaceted identity: honest, empathetic, and wise beyond her years. Schön! speaks to Ledé about her debut album, love, loss, and all the music in between.

Congratulations on your new EP Selfless! How did the title come about and what does being 'selfless' mean to you? 
I was going through a really tough time, at a really young age. I was transitioning from being in a three year relationship to [being single]. I really didn't know who I was. I pretty much had to figure out who I was as a person without that other person in my life. I realized after the break-up that I was a very giving person, emotionally. I was selfless and I gave a lot of myself to the people that I came into contact with. This added to the reason I didn't know who I was. I was a young adult trying to find myself. 
You got your start singing covers. If any singer could do a cover of one of your songs, who would it be and why?
Hearing The Weeknd sing Wicked Games would be really sick because it's inspired by him. I'm a huge fan of his music.

Tell us about your single Fairplay… what inspired you to write it? 

I wrote Fairplay when I was kind of in the 'screw-you' part of the break-up. My ex cheated on me. After we broke up, I was hooking up with other guys while still being friends with him. I went through a phase of emotions — I'd be totally cool with him and then we'd be talking on the phone — I'd want to tell him about my day. I remember one time he asked me if I was hooking up with anyone else and I blatantly told him yes because I needed to get over him. After we broke up, I would hook up with other people and I had my ex in the back of my mind. I thought, "oh this is going to hurt him" and I kind of liked that feeling. He hurt me, so I wanted to hurt him just as bad as he hurt me, which is super vindictive. I am not a vindictive person at all but, in that moment, I was. 



In addition to singing, you acted in MTV's Scream and Netflix's All About The Washingtons. How is acting different than singing? Do you have anymore acting jobs on the horizon? 
Acting is really fun. Honestly, I feel like I don't really know what I am doing when I am acting because I never took classes or anything. When I'm acting, I am just kind of emoting and I feel like that's my real job. My real job is people and emoting; making sure people have something to relate to and lean on. No matter what the art form. I'm not a visual artist, I can't draw, so it's really my best talent after singing.
Scream was fun in a different way than All About the Washingtons, of course, because I died! It was amazing and I was so pumped about it. I love horror, it's my favourite genre. I spent so much time as a kid watching scary movies. It was like a dream come true, dying [on a horror show] just made my whole life. I can check it off my bucket list! All About The Washingtons is fun in a different way because it's a family setting. Many of the actors are musicians so they come from a similar background. I have an animated movie out right now called Next Gen and I have a couple of other things that I am waiting to hear back on but can't quite tell you about… 



At just twenty-one years old, you have accomplished so much. What advice do you have for other young girls who are looking to breakthrough in the entertainment industry?

Keep going and be persistent. I know that's kind of a clichéd answer but I have been dropped and I have been told 'no' so many times, but, if you believe in yourself and you keep going, then you'll get through it. The one thing I always say is that I know that I love my music, so other people must love my music as well. I am my toughest critic and the fact that I respect myself means that there's at least one other person in the world that respects me and what I do. Just keep going, the people that love your art will find you.
You are a role model for so many young women; how do you use social media to motivate your female following? 

I use social media to empower other women by spreading silver linings. I am a very positive person. I want to make a better place for women and for women to know that we have to stick together. Women have it all. We're great. We just need a little more from the world.

What does it mean to be a woman in the music industry? What are some of the challenges you have faced?
Whenever I release music or write a song, especially when I write a song for a man, people are very quick to give credit to the man in the room. I think that's just how it is, but I always make sure to check people. You give a lot, but you get a lot less let credit and respect. Nevertheless, I try to be a good representation of a brown woman in this industry.
Tell us what's next for Kiana Ledé?
I am going on tour… it's my first tour and I am really looking forward to it! I love travelling. I am also working on a new album right now.
Listen to Kiana Ledé 'Selfless' here.
This Schön! online exclusive has been produced by
photography. Ricardo Beas
fashion. Anthony Pedraza
talent. Kiana Ledé
hair. Takuya Yamaguchi using R+Co
make up. Andi Metro
fashion assistant. Alexander Pabon
words. Chloe Rash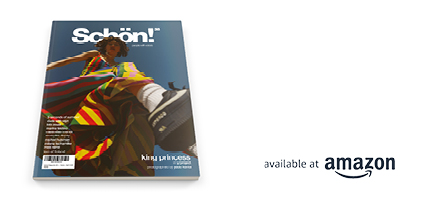 Discover the latest issue of Schön!. 
Now available in print, as an ebook, online and on any mobile device.