Making the seamless transition from actor to director is no easy feat — a challenge Kevin Alejandro knows all too well. Best known for his acting roles in cult Vampire thriller, True Blood, and most recently as fan favourite Detective Dan Espinoza in the crime comedy, Lucifer, Alejandro has his eyes firmly set on mastering both acting and directing. Having created his own film project, ALEJANDRO FILMS, to hone his craft, Alejandro is set to make his formal directing debut, stepping behind the camera as a director on Lucifer.
Not afraid of learning on the job, Alejandro considers the challenges of balancing being in front of and behind the camera, and the knowledge he has gained so far. Having moved to L.A. to pursue a career in acting, Alejandro grafted his way, appearing in shows such as Ugly Betty, CSI Miami and 24 to name but a few. But it was his breakout role as Jesús Velásquez in True Blood that helped make him a household name. Roles in Arrow, The Returned and Lucifer quickly followed suit. It was through these roles, across such varied shows that the directing bug began to kick in. It was no surprise when Alejandro jumped at the opportunity to direct an episode of the current season of Lucifer. As season three comes to a head, Alejandro enthuses, "I honestly think I got one of the best episodes of the season. It's all about the intrigue of a "what if" world, so I was lucky enough to get the opportunity to treat this episode like a new show. It was a lot of fun, but it was by far one of the most challenging experiences I've had in this industry!"
Not only featuring in but directing, Alejandro had to quickly adjust to wearing two hats whilst on set. "I always thought it would be easy to direct myself, as acting has become second nature to me, but it isn't! I forgot just how long I work on my lines and story beats before a scene, that's why it feels like second nature," he confesses. "So when I was spending most of my time with the director's hat on, I found myself struggling to find the necessary time to give a good performance. I think I figured it out in the end though! It's all about working out how to split your time appropriately. The more opportunities I have, the better I'll get. I was lucky to have had this first experience with my friends and colleagues on Lucifer, I felt like everyone had my back."
ALEJANDRO FILMS has provided unparalleled insight into both acting and directing, enabling Alejandro to gradually master all facets of his craft. Producing, directing and starring in a series of short film projects, Alejandro continues to get to grips with the intricacies and nuances of filmmaking.  "I created the ALEJANDRO FILMS YouTube channel to challenge myself to learn as much about filmmaking as I possibly could through experience," he asserts. "It has become my educational platform which allows me to tell any story I want using my own set of rules. I try to act, direct, edit, colour, audio mix and find music for every piece. As this adventure continues, I'd love for the channel to evolve into a platform for other indie filmmakers who want to showcase their work."
This drive to learn as much as he possibly can about filmmaking bleeds into all aspects of his work.  "Believe it or not, there are a lot of similarities in my approach to acting and directing," he enthuses. "For me, whilst doing both for the season finale of Lucifer, the main thing that I had to keep reminding myself was that I couldn't just focus on my character anymore. I was responsible for all the other characters as well as the entire story. Being a director is a huge responsibility. You have to make sure that above all else, you tell the story that needs to be told, whilst making sure that the actors give the performances that the audience has already fallen in love with."
As fans wait eagerly to see how this season will be resolved tonight, Alejandro muses how the show's success revolves around the chemistry on set. "We don't take ourselves too seriously, and I think the audience can genuinely see how much fun we're having. It's sexy, edgy, but most importantly it's funny! It's the perfect solution to an ordinary night in." Having played several law enforcement roles throughout his acting career, Detective Dan Espinoza holds a particularly treasured place. "One of the main things I love about this character is how flawed he is," Alejandro admits. "I'm thankful to play a character that allows you to experience life through realistic circumstances. Having the opportunity to work through a number of emotions is a dream come true for an actor."
Alejandro continues to be inspired by every aspect of the filmmaking process. Whether he's studying another director's work to help enlighten his own creative process or using his experience in improvisation to add a sense of spontaneity to his characters, he won't be content until he masters everything that filmmaking has to offer. Despite the news that Lucifer didn't get picked up for a fourth season, Alejandro has his eyes firmly set on the next challenge of both acting in and directing a feature film. Whilst others would shy away from such an overwhelming task, Alejandro is very much up for the challenge.
Lucifer's season finale premieres tonight on FOX.
This Schön! online exclusive has been produced by
photography. Leslie Alejandro
fashion. Warren Alfie Baker @ The Wall Group
talent. Kevin Alejandro
digital. Noah Asanias
location. Tulum, Mexico
words. Katie Shuff
special thanks to La Zebra Beach Hotel & Restaurant lazebratulum.com + Mi Amor Hotel tulumhotelmiamor.com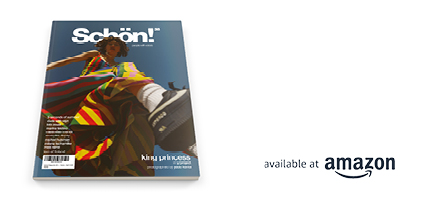 Discover the latest issue of Schön!. 
Now available in print, as an ebook, online and on any mobile device.