Amidst an abundance of playful energy, ethnic presence and spontaneity, lies Kenzo — the whimsical luxury fashion house that was introduced to Paris by none other than Mr. Kenzo Takada. Born in Japan, Takada took his colourful eye, free spirit and aspiration for Japanese culture to fuel the creation of his handmade fashion line, which was first introduced as Jungle Jap in 1970. Inspired by traditional kimonos and urban savannahs, the young designer introduced Japanese fashion to Paris by fusing vibrant pattern clashing with a joyful attitude. Amidst its evolution, the label was acquired by LVMH in the early 1990s, yet still preserved a slight bit of Takada's identity through the bold colours and enthralling motifs that were present in the labels new designs.
Remembering his exhilarating past, Schön! caught up with the iconic designer to discuss the freshly launched book Kenzo Takada, written by long-time friends Kazuko Masui and Chihiro Masui, which explores his pioneering career through a series of unpublished photographs, personal letters and over 350 fashion sketches by Takada himself.

When did you first meet Kazuko Masui and Chihiro Masui? What was your reaction when you found out they were making a book about you?
Kazuko Masui was a journalist who I met for the first time at the beginning of the 1970s. She quickly became a close friend. To be honest, I was quite surprised and maybe a little sceptical about the project initially as I couldn't believe that anyone would be interested in seeing my sketches. It was Kazuko who first had the idea to work on this project more than 25 years ago. I was heart-broken to see her pass just before the book got published. I finished it with her daughter, Chihiro Masui, who I watched grow up. Nothing would have been possible without them.  


Can you tell us a little bit about your involvement in the making of the book?
It was a very long process. The discussion about this book started in 1999 with Kazuko Masui and took many years to complete. I worked closely with her; we had long discussions about what the content of the book would entail. The selection process was difficult since we chose 300 sketches out of more than 5000. Since the book is a memoir of some of my work in the fashion industry, it was a slow process but the outcome was worth it.
 What do you think differentiates your work and legacy from other designers today?
When I started in 1970, I quickly thought about the identity of the brand and how I wanted to differentiate it from other designers. Going back to my roots and implementing a Japanese touch to an occidental fashion was what I wanted to focus on. This was at the early stage of ready to wear, so I wanted to blend a Japanese but also global influence to the occidental fashion. I think this is what made the brand different from the other designers at the time.
 Do you believe the Jungle Jap brand revolutionized the world of fashion?
I did not specifically think about the Jungle Jap brand revolutionizing the fashion industry, but I believe that I had a different idea. I also had no intention of initiating a new movement in fashion that is now known as see now, buy now. I just needed the money to be able to continue so I had to sell my creations quickly. I knew that my clothes were limited in quantities, so I wanted collections to be available quickly for those who were interested. I had a certain freedom in my designs; I enjoyed being hands-on and I had my own way of sketching. It felt liberating! 

How did you come about creating the name for this label at first?
When I started, I knew that I wanted to have a brand that contained something about my cultural heritage as well as my main interests. Painting a jungle in the first shop I had (Galerie Viviane) was one thing I was really passionate about. I was strongly influenced by Henri Rousseau and his artwork. I wanted to blend and reinterpret the two things I love; the jungle and Japan. A jungle is also a place where so many elements live together in certain harmony.
 In terms of design, how would you best describe your techniques?
I draw a lot and I use thick drawing paper with a Japanese brush felt tip pen and a coloured pencil. I simply love sketching a collection based on an idea that I would like to put forward. I love imagining pieces; from when you start the sketch to the end product fully grasped is a real pleasure. My approach when it comes to sketching is to create a rough design while finding all the details such as materials, patterns and dimensions. 
 What are some of the most significant contributing factors to your creative process and how does this book portray them?
Well, everything starts somewhere. I feel as though I got my inspiration from a variety of things. Whether that might be flowers, art, friends around me, I found it all contributing towards my creative process. I would then create various sketches as a starting base to begin the creative process and the collection. These sketches are portrayed in the book.
 What concepts have mainly inspired your work through the years?
From a young age, I was inspired by a wide variety of things but was mainly attracted to the arts. I admired the fascinating colours, patterns and mix of materials on kimonos as well. My love for flowers is also a strong factor of influence in my inspirations, which probably comes from growing up in Japan, where nature was widely used in textiles. There has always been a very strong presence of natural elements in Japanese art, which is where I take some ideas. I think that the people you meet along the way are also inspirations. The Bunka Fashion College certainly taught me a lot about the basic skills from sewing, sketching to patron… Paris also became a strong source of inspiration.

What was the inspiration behind renamingJungle Jap to Kenzo?
In 1972, after the fashion show at Macy's in New York. Japanese people were protesting outside the show against the use of the word "Jap" in Jungle Jap. In France, "Jap" did not have a negative connotation; I initially chose the name Jungle Jap as a reflection of my heritage. When I was younger, I was told that a Japanese man like me would not succeed in the French fashion industry. Yet, I was determined to prove them wrong, so I wanted to add the word "Jap" in reference to Japan in the brand's name. So when I came back to France, the team decided to rename the brand Kenzo.
Although you sold the brand to the LVMH group in the '90s, do you believe there is still a strong part of yourself that resides in the brand's identity to this day? 
I do believe that there is a part of my creativity that still exists within the brand's identity. There are plenty of designs that include bold colours and enthralling fabric patterns which is definitely something I was an advocate for. The team also launched the Memento collection. Though, Carol [Lim] and Humberto [Leon] clearly defined their style and have been very successful.

Is there a message about your persona that you hope people will gather from this book?
I think the most important message I would like people to take away with them is that anything is possible if you are truly passionate about it. Initially, when I started my studies, men were not accepted into fashion schools; my parents were not so supportive of my interest in pursuing this career, and fashion, in general, was not really accepted for men in Japanese society at the time. This book is a memoir of my career whilst also sharing my drawings, which can allow new generations to understand the logic behind my designs and sketches. 
Given your strong creative background, what should we expect to see from Mr. Takada in the future?
Nowadays, I am more interested in working on new collaborations within other creative fields and industries. I am learning new things every day and it is very exciting and refreshing to work alongside young professionals and talented people. In 2019, I will be revealing new creations in different industries; from cosmetics to interior decoration. I am also designing costumes for the Opera "Mrs. Butterfly" for a show later this year.
On a personal level, I love to paint whenever I find the time. The art world fascinates me; I have a lot of respect for artists who bring new ideas and new thoughts. I myself am trying different styles to improve my work, which is very challenging and thrilling at the same time as I continue to learn every day.
'Kenzo Takada', by Kazuko Masui and Chihiro Masui, the book, published by ACC Art Books, is now available for purchase. Get your copy here (RRP £55.00).
words. Amanda Breeze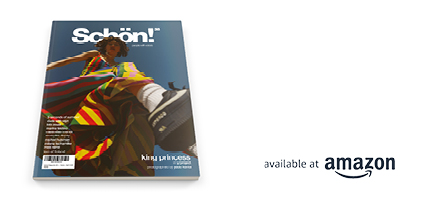 Discover the latest issue of Schön!. 
Now available in print, as an ebook, online and on any mobile device.