Having starred in iconic teen dramas like One Tree Hill and Teen Wolf to exhilarating films like Wind River, Kelsey Asbille is the 26-year-old polishing her acting career while managing her hectic schedule as an Ivy League student. Born in South Carolina, Asbille began to take part in a community theatre and had always been inspired by the dedication and passion individuals held in her community. After gaining a vast experience during her time spent in theatre, Asbille landed her first television role at the age of 13 and has been making her mark in the industry ever since. Schön! sits down with the vibrant actress to discuss her experiences thus far and to get a glimpse of her recent work.
Currently a Human Rights student at Columbia University, it is no question that Asbille has mastered the perfect balance between pursuing her hectic academic schedule and acting career. Recently leading a new role as Monica Dutton in Paramount's new drama Yellowstone, the young star explains that the most intriguing thing about being an actress is "bringing people together from all walks of life, in service of a story." Part Cherokee and half Chinese, Asbille has always taken pride in her roots and states that her "family and home are forever inspirations for my work, everything starts with them." Since family is the most significant element that fuels her work, it is evident that Asbille is the perfect fit for the Yellowstone series. "Yellowstone is about family. Specifically, for my character Monica, it's about a woman trying to keep her family together," she explains. Apart from Paramount's new drama and other television series like One Tree Hill, Asbille landed roles in big budget films including the Amazing Spider-Man and most recently, Wind River. While discussing her preference between television and film, she mentions that "the lines between [both] have become blurred. [Yellowstone was treated] like a film. [My] preference becomes more about making content [and] to have the opportunity to play a great part in an incredible script."
Having the ability to grow a genuine and emotional connection to a character is crucial in order to adapt to different roles. Amongst her experiences in both television and film, Asbille highlights that it is key to "respect every character you play as you respect your own life." After months and sometimes years of acting in a particular role, the young star admits that there have been instances where she's grown an attachment to a given character. "They are quite literally a part of you. When I'm working, I'm heavily influenced by my characters but, even more so by the places they inhabit," Asbille tells. After all the experiences gained since she's embarked on her acting journey, Asbille explains that "as time passes, life sharpens your perception, and I see that development in my work. I am constantly trying to grow as both a woman and an actress." While looking back on these experiences, Asbille's most memorable moment in her career to date was having her mom and sister by her side for the premiere of Wind River. Between juggling her demanding academic agenda and maintaining a strong presence in her career, the strong-willed actress would not change a thing that she's done in the past. "I believe that everything that is ours comes to us and, I hope that the challenges in my life are opportunities for transformation."
Amongst all the gold and glamour lie many sensitive topics in the media that concern several females working in the film industry, especially after recent sexual allegations. As a Columbia University student studying in Human Rights with a primary focus on indigenous rights, Asbille is far from supportive to that modus operandi. In fact, she is quite confident about the changes that are in motion for females in the future. "[Change] is a work in progress, but I'm excited for the prospects of the future," she tells. "We must continue to be vigilant in our efforts to protect and promote women in all areas of the workforce." 
With a big journey ahead of her, it is natural to say that Asbille is ready to takeover anything that comes her way.  From starring in One Tree Hill and owning her role as Mikayla in Disney's sitcom Pair Of Kings, to landing a role in Wind River, it is definite that the unstoppable and ever-so-talented Asbille is heading straight to the top. However, with the little time she has left for personal, Asbille enjoys educating herself on several topics across the board. "I am most passionate about education, whether [it's] through work, school or travel. To constantly challenge [a personal] way of thinking and understanding [in order to] adopt a more informed [and] inclusive worldview. That's what interests me most about acting – it's a profession in which you are never done learning." After successfully premiering Yellowstone and Wind River – amongst other works – this past year, it is fair to say that Asbille's audience is highly anticipating her next move.
A new episode of 'Yellowstone', starring Kevin Costner, Luke Grimes, and Kelsey Asbille, airs tonight on Paramount. 
This Schön! online exclusive has been produced by
photography. Ruo Bing Li
fashion. Anthony Pedraza
hair. Jerome Cultrera @ L'Atelier NYC
make up. Steven Canavan @ L'Atelier NYC
nails. Yukie Miyakawa @ Kate Ryan Inc
words. Amanda Breeze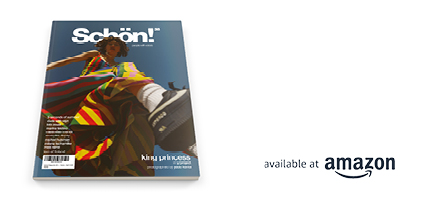 Discover the latest issue of Schön!. 
Now available in print, as an ebook, online and on any mobile device.