No matter where you live in the world, it is hard not to notice the paradigm shift that is taking place in Hollywood. Starting from the sexual abuse scandals, to Black Lives Matter and the #MeToo movement: people from all walks of life are rising up, ready to declare that enough is enough. As a young rising star in Hollywood, Keiynan Lonsdale is no stranger to this change. Born and raised near Sydney, Australia, he moved to Los Angeles a few years ago. He has recently starred in the CW series The Flash as the iconic Wally West (a.k.a. Kid Flash) and, as the same character, can be now seen as a series regular in the CW's Legends of Tomorrow. At the time of our interview, his new movie Love, Simon has just released worldwide and is generating positive reviews. Refreshingly, during our conversation, he leaves nothing off the table, talking freely about coming out as bisexual, playing a black superhero and why he feels the message of Love, Simon is so significant for our times.

With conversations focusing on 'inclusion riders' and better representation of diversity in Hollywood, this has been a year of change for the industry, and Lonsdale's latest projects have certainly moved the conversation forward. Lonsdale measures his words carefully when talking about the noticeable change and whether this considerable momentum will carry on.  "I think forward is the only way. But I'm an optimist," he laughs before adding, "I can feel the big picture of the future and it is unbelievable. We can either resist change or we can flow with it and I'm here for anything that brings us together."
Lonsdale journey to Hollywood recognition hasn't been easy. Having moved across continents from Australia to pursue the so coveted stardom of L.A.  He misses home but "he likes to move around" and he has "a lot of Aussie friends in L.A". To anyone wanting to make the same move to try out living in L.A., he says "get a feel for the vibe, find people you enjoy growing with, and see if it's really a place you can commit to moving to". Adding the advice "to persevere, and to never shrink yourself, your choices, or your dream, because of internal doubt'.

Following his own advice, Lonsdale has managed to make his way into Hollywood most desired universes in the CW's adaption of DC's classic comic The Flash. Interestingly, Wally West, his character, was portrayed as a redhead with green eyes in the original DC comics. Undeniably, Lonsdale, born to a Nigerian father and a Caucasian Australian mother, seamlessly and admirably puts his own imprint onto the role. "We let him grow organically as any ol' speedstar would at that stage", he laughs. "When I started on the show his story was a sad one, he was angry, scarred and in pain… but I felt it was important that he grew to love himself and not let his past determine in future, I think we've achieved that." 
As a queer black young man, being part of one of the biggest superhero houses is a badge of honour for not only Lonsdale but also the industry and spectators. "This has a huge significance to me," he confirms. Seemingly as significative is his desire to speak out. He was advised by individuals within and outside of the industry to not come out as bisexual at such a young age as it would be "a stupid idea". There were concerns that it would halt his career progression. If this advice was of concern to him before it doesn't seem to bother him much now. "I'm now at a point where I'd rather not 'make it' and just be my authentic self," he affirms. "I don't want to work with anyone who operates out of fear. Just being myself and casually existing in Hollywood sends a message of truth that we don't have to hide anymore. We can play any character regardless of our sexuality because we are actors".
He insists that during his stint in L.A and while playing Wally West he has learnt a lot about himself. It has taken time, but he has learnt the importance of fighting for his choices and is intent on continuing to do so. It seems that his new film, Love, Simon, is one such conscious choice. Love, Simon, directed by Greg Berlanti, is based on the novel Simon vs. the Homo Sapiens Agenda. The film follows 17-year-old Simon Spier, a high schooler who hides his homosexuality from his friends and family and doesn't know the identity of the anonymous classmate he has fallen for online. Lonsdale plays the character of Bram Greenfeld, one of Spier's classmates.

One of the most difficult adolescence experiences has to be the successful navigation of the often ruthless world of high school. But it could be made worse still if you also have to struggle with your sexuality — which is why a film such as Love, Simon, made for these teenagers, is highly relevant in this day and age. Lonsdale believes the message in the film is salient for everyone. "This film has the opportunity to normalise seeing equal representation of love on the big screen," he says. "If enough people show support, it is a chance to heal part of the current divide or rather show that there is no need for one."
It is clear from the course of our conversation than Lonsdale feels a sense of responsibility towards the LGBTQ community. He wants the younger generation of LGBTQ actors to know they are not alone and that diversity unites rather than divides us. "We have so much collective growth to do, but that can't happen if so many of us aren't able to embrace others around us". Regardless of what sexuality, background, culture or belief one has, surely that is a message we can all get behind.  
'Love, Simon' is out in cinemas now.
DC's 'Legends of Tomorrow' airs Mondays on The CW in the US and Wednesdays in the UK on Sky.
This Schön! online exclusive has been produced by
photography. Isaac Sterling
fashion. Anastasya Kolmytseva
talent. Keiynan Lonsdale
hair. Bekah Lesser
grooming. Red Phallon
words. Eshika Haque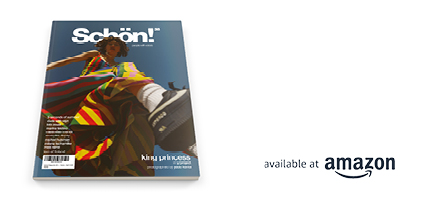 Discover the latest issue of Schön!. 
Now available in print, as an ebook, online and on any mobile device.