Mix one part cool Math geek with two parts stage actress, infuse three parts supernatural heroine and you've got yourself one rare individual — in the best way imaginable. Katherine McNamara is the leading female force behind popular series Shadowhunters. As the third season of the hit series makes its way to international audiences through Netflix, Schön! speaks all things economics, education and empowerment with the soaring star.
McNamara was born into a medical family, so education was always a priority. Early on she was a natural academic, graduating with a business degree, at an age when most of us were still completing high school. "I loved Math as a kid, so anything having to do with numbers is right in my wheelhouse," she says. "Economics expanded that for me and gave me a real-world application through which to use my love of numbers." Economics was indeed a wise decision for her acting career, as the skill gave her power over her finances. "In my line of work, there are times where you don't know when your next job is going to happen or where your next paycheck is coming from," she admits. "As such, I find it immensely essential to be able to plan, invest, and organise my own finances."

McNamara likens the world of an actress to that of a business owner, explaining "I've had a great advantage in the knowledge again through my business degree so that I can make decisions quickly, officially, and in an informed as to how it will affect the future." While one may think academia has little to do with acting, McNamara eloquently justifies her aptitude towards both. "With every job, every role, even every scene comes new challenges, new learning experiences, and new ways to expanded both my artistry and myself as a person," she explains. Initially, these roles were on the stage, alongside the likes of Catherine Zeta-Jones. "The energy of the audience is like no other and the thrill of a live show is exhilarating," she says. "However, there is a magic that is created on a set that's quiet where you can hear a pin drop and nothing exists except the moment you're playing."
Most recently she has been creating magic on the set of Shadowhunters, where she plays the lead character, Clary Fray. The show explores humanistic qualities against a backdrop of supernatural themes. "We tackle extremely common and extremely relatable issues that everyone goes through. With the supernatural aspect, it allows the audience to look at their own lives and their own struggles objectively and hopefully learn something and take something away from the process," she illustrates. For fans who had been anxiously awaiting for the third season premiere the week before last, McNamara reveals that "after the events of the season two finale, Clary is changed forever. She no longer sees the Shadow World as a magical land of wonderment, she sees it for what it is — a cold, cutting, dark, bloody, deadly world that has no mercy no matter your intentions. There's a maturity with which she tackles issues and responsibility for her past mistakes."

Fortunately for audiences, there's more. "There is never a dull moment on set as we are constantly exploring some crazy new weird or wacky aspect of the supernatural world," she continues. "Personally, I give a little bit of myself to each character I play. That's where the honesty comes from. Because of that, I always learn something about myself and about the human experience."
This intrigue towards the human experience extends beyond her work, as McNamara actively engages in empowering other women from around the world. The actress is currently an Ambassador for Girl Up, a United Nations Foundation initiative. "As an ambassador, I help spread the word about their programs and about the organisation in general and encourage more girls to get involved in lending a hand in helping their sisters across the globe," she explains. And it's precisely this value for sisterhood that's also important to McNamara within the film industry. "I feel immensely lucky to live in an era where there are so many powerful strong women who are speaking out and making a difference in the industry," she says. "Gender roles are developing, they're changing, they're expanding and that is because of these women who are brave enough to say 'why not us too?''' Yet, with the imminent success of Shadowhunters, the multi-faceted actress doesn't plan on stopping. "Ultimately, my goal is to continue to develop interesting real characters in great stories, that hopefully provide a benefit or positive influence in someone's life."
A new episode of Shadowhunters Season 3 premieres tonight on Freeform in the US and tomorrow on demand worldwide through Netflix and Hulu.
This Schön! online exclusive was produced by
photography. Mynxii White @ Nissa Maya Artists
fashion. Melanie DeJesus @ Photogenics Army 
talent. Katherine McNamara
hair. Derek Yuen
make up. Garret Gervais using Chanel Beauty
retouch. Studio Navona
words. Alana Flood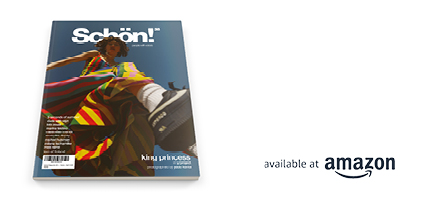 Discover the latest issue of Schön!. 
Now available in print, as an ebook, online and on any mobile device.