She's the philanthropic, ambidextrous actress, dancer and singer with a starring role in a hit US TV series, an overwhelming fan base and unusual but stunning Liberian features. "I was a kid that grew up doing it all simultaneously," says Kat Graham of her acting-stroke-music-stroke-dancing career, "technically I started off as a dancer at 3." A true triple threat, the Swiss born songstress had her big break as Bonnie in hit CW series, The Vampire Diaries, and more recently with her music career, releasing single 1991 this month.
With a career spanning over seventeen years, she's more a Hollywood veteran than a fresh new talent, starring in Barbie commercials from age 6 and acting small parts in The Parent Trap, Lizzie McGuire and Malcom in the Middle. Her first big break came later, replacing Christina Millian on the Disney channel's Movie Surfers. At the age of 15, she danced for Bow Wow, Missy Elliott and Pharrell then in 200 she penned and performed single Derailed for the movie of the same name.
Despite her dexterous – and incredibly busy – early start, Graham has never looked back. "People assume that you're going to complain about not having a childhood," she says, "but it's the exact opposite. I had so many amazing experiences and I don't feel like [my career] took anything away from my life." She never saw her career as a hobby, claiming instead that it always felt like something she was "supposed" to do.
Roles in Zac Efron chick-flick 17 Again and dance movie Honey 2 later, Graham auditioned for what was to become The Vampire Diaries. "I was touring with the Black Eyed Peas just a couple of months before booking the show," she says, "I loved the initial innocence of the character, and I wanted to play something that feels unexpected." Currently filming the sixth series, witch Bonnie has returned to the show in February after being trapped in a prison world.
Although she has signed up for season seven of the show, will this series be the last for the actress, opting instead to solely pursue her music career? She's adamant not to let one career overrule the other, "I would never pick one thing or the other permanently for the rest of my life. What kind of artist what I be if I painted the same painting over and over again?" She insists.
However, perhaps it is time that more attention should be paid to Graham's music career, with her first single, Put Your Graffiti On Me, produced by Pete Wentz and 50 Cent's Twice as Nice, reaching over 8 million views on VEVO. Graham has recently released the first single from her upcoming debut album, 1991, blending both nostalgia and summertime beats. "There was never a turning point," she says of pursuing singing alongside acting, "because a turning point would mean that I would have not continued to sing once I got The Vampire Diaries. I never stopped."
Although she admits it has been hard to balance both careers, she says, "I have to work extremely hard – but this only makes you want it more." Having just finished her album, she says: "you can expect very '90s inspired music. I want to create my own classics."
It's clear from her music videos that the multi-talented artist has a keen eye for fashion, naming Viktor and Rolf, Thierry Mugler and Versace as some of her favourite designers. She loved what Givenchy did for autumn/winter 2015 and her current sartorial weakness are well structured pieces with embellishments.
Alongside her already crammed schedule, she also manages to squeeze in philanthropic work as a council member for GLAAD (Gay and Lesbian Alliance Against Defamation), as well as working with the Water Project, which funds wells to be built for villages and schools in Africa. "So much of the world is oppressed so I feel like it's very important to focus on being someone that will raise global consciousness," she says, "self empowerment is extremely important; if you feel like you can't change the world you won't."
2015 looks bright for Kat Graham, who is starring in Muse, a short by Darren Genet, director of The Vampire Diaries, and is set to release her aforementioned album in September this year, with the second track due to hit the charts in April and an upcoming role in animation blockbuster QQ Speed. Schön! expects great things from the star – but try to keep up!
Words / Molly Taylor
Follow her on Twitter.
This Schön! online exclusive editorial was produced by
Talent / Kat Graham
Photographer / Luke Dickey
Stylist / Jenny Haapala
Hair / Taichi Saito
Make Up / Yuko Suyama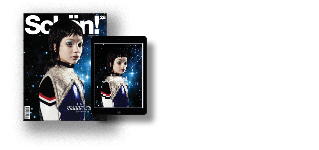 Discover the latest issue of Schön!. 
Now available in print, as an ebook, online and on any mobile device.