Head of Womenswear for Aquascutum, Kasha Crampton reveals the inner workings of her compelling career path, from managing menswear footwear and accessories at Reiss, to re-developing the timeless brand of Aquascutum in innovative and beautiful aesthetics for her new AW16 collection. Given creative responsibility for a historic brand, as well as creative freedom to explore with fabrics, textiles and innovation, Crampton took the role with enthusiasm, explaining how genderless the historic trench coat can be. Taking a heritage brand into a contemporary setting, Crampton explains how, as Senior Womenswear Designer, she was able to balance modernity, to play with contours of femininity, as well as honouring the timeless English symbol of rainwear.
What sparked your interest in fashion? Who do you count as design influences? 
My environment was very visually stimulating growing up as a child. My mother is a ceramist and instilled a very creative surrounding for us, our walls were painted with nursery rhymes so I think this influenced me very early on. Although my sister became a scientist!
What challenges did you face as young designer? How did your position at Reiss come  about? 
I graduated in 2008 when the financial crisis hit Britain, so most companies weren't employing which was a challenge for a lot of students graduating that year. My course director recommended me to the creative director at Reiss, she thought we would get on. We did!
While at Reiss, you moved from designing menswear to womenswear, was this transition a difficult one? 
Not at all, it was very organic and my passion is realIy in womenswear anyway. I'm a strong believer that the design process is an application that can be applied to anything.
Your position at Aquascutum is a major high point in your career. What was your reaction to being offered the role?
Aquascutum is such a great brand with a rich history. People love the brand and everyone has a story behind the piece they own. To have the opportunity to develop the aesthetic and story behind the womenswear range is really exciting. 
 Tell us a bit about your AW16 collection. What was the inspiration behind it?
It was really an archive study on fabrication. The brand is often perceived as purely 'raincoats', but it's also really about material and was founded on fabric innovation. Working closely with the mills, we created very textural fabrics inspired by the archive pieces, using unusual yarns and abstracting proportions of the weaves.  We explored the same textures through different fabric weights and knits and the collection was much more about the relationship between similar textures. I wanted to explore and celebrate the history of the brand, whilst evolving the style to a more contemporary aesthetic. 
Aquascutum is a storied brand with a rich heritage, do you ever find this a challenge when designing?
Having such a vast archive is an amazing asset. I always respect and embrace the brand's heritage, but believe newness is important.
How do you balance being current and contemporary while at once staying true to the brand's core identity? How important is it for you to stick to the brand's traditions? 
Because Aquascutum is such a timeless brand, the identity always remains relevant. It is also important to push the boundaries of what is perceived to be traditionally Aquascutum in less conventional ways.
 You've infused a new beautiful femininity into the brand, how did you achieve this? 
I love how genderless the trench coat is. I wanted the layers that supported the more masculine outerwear pieces to be contrastingly delicate.
The trench coat has remained a timeless garment and a core product for Aquascutum, what do you think has contributed to its enduring appeal? Do you ever feel the pressure to update it, to attempt to make it more contemporary? 
The Aquascutum trench coat has this kind of latent quality, it's completely honest. It feels symbolic of England! It's made in England. We have updated the AW16 range, refining the silhouettes and expanding the variety of styles and colours. We have seasonal styles of raincoats where we play with shape and fabric. It's an exciting area to abstract, and we always stay true to rainwear from a functional aspect.
How are you influenced by the brand's history of textile innovation? How do you utilise the brand's water-proof fabrics? 
The brand's history of fabric innovation is at the core of everything we do. For me it's as important as our rainwear heritage and fabric development is a big part of our process. We develop more unexpected fabrics with rainwear functionality such as tweed, cashmere and lambskin. Function is integral to the brand. 
Do you think being a Londoner gives you a better understanding of the brand and its heritage? 
Perhaps, but I think your understanding and perception of a brand always alters once you join it, regardless of nationality.
How does your previous experience in accessories and footwear affect your clothing design process?
I would say I apply the same formula to both. Bags and footwear are perhaps more architectural and you need to understand construction and leather finishing, so I suppose this does inform my approach to garment design.
What do you currently have in the works?
Some exciting projects that explore and abstract the idea of rainwear and some really great collaborations!
Discover Aquascutum's collections here.
Words / Aurore Groult
Follow her here.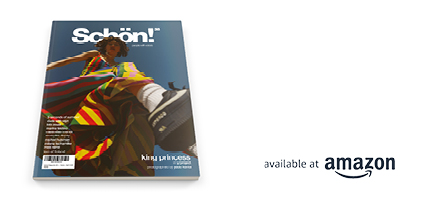 Discover the latest issue of Schön!. 
Now available in print, as an ebook, online and on any mobile device.