Nearly 20 years ago, Joseph Fiennes gained international stardom as the leading man in Shakespeare in Love and Elizabeth, and has graced our screens ever since. Now, he delivers another career-defining performance in the brilliant adaptation of Margaret Atwood's classic novel The Handmaid's Tale. Simultaneously shocking and witty, the beautifully shot and brilliantly acted series is our must-see show of the season. Schön! sits down with Fiennes to talk feminism, fundamentalism and family.
The Handmaid's Tale was published in the 1980s. What makes the story relevant today?
It's very pertinent, because everything depicted in the book, we have witnessed in our time and age: theocracies, totalitarian regimes, rights being stripped away… It's come into sharper focus today, especially surrounding certain issues. Women (and men) took to the streets because of rights being threatened and women's autonomy of their bodies and Planned Parenthood funding being taken away. There were greater numbers in the streets than there were at the President's inauguration.
There's a lot of 'buzz' around the series because of these parallels. Is there a danger this will overshadow it as a work of art?
It's a good thing because it's written as a cautionary tale. It's all about being alert and being vocal and you need that in any administration. Many people live in oppression, whether it's in the work space or a country with a totalitarian regime. There's a lot to take away for audiences across the board – not just in America, and not just because of the Trump administration. Putting that aside, it's also a taut, dynamic drama and Lizzie Moss as the heroine is nothing short of mesmeric.
Some of the cast members have said they don't see it as a 'feminist' story. What's your opinion?
Yes, of course it is. [It's] one of the most seminal pieces of feminist literature and there's no shirking that. I think what my colleagues were trying to express was a sense of inclusion. The audience they are hoping for is not just feminist.
Perhaps feminism is still perceived as a 'dirty' word?
I don't understand why. To me it's not. I'm a feminist. The three most important people in my life are women – my wife and two daughters. I want to see them in a society where they have equal rights and it's apparent, as I navigate fatherhood, that there's a lot for them to conquer in that regard. If current rates are to be believed, women won't get pay parity until the year 2059, but if you're a black woman, you won't get it until the year 2124, and – here's the figure that's extraordinary and total science fiction – if you're a Hispanic woman, until the year 2248. It's shocking.
Your character, The Commander, is certainly not a feminist.
He and his comrades brought about the coup [and] this totalitarian patriarchy. Everything is outlawed: literature, painting, sex, smoking, drinking. If you're not straight, you're what they call a 'gender traitor' and sent to the colonies. It's a sort of puritanical purge. His warped belief is that the only way to bring about a restoration to the world is to press the re-set button – hence women's rights are taken away. Huge toxicity brought about plummeting birth rates, so women who can give birth are put into the households of the Commanders to have babies for them. This theocracy is a thinly veiled way to have a rape culture and control.
But, it's complex, the relationship between Lizzie Moss's character Offred and The Commander. She navigates it with great caution and it really means her survival and he is aware of that. The previous Offred had taken her life and that's had a big emotional impact on him. He wants to extend some care to Offred but, at the same time, like men in high positions of power, there's great hypocrisy, deceit and duplicity. He just can't help playing abusive games. I describe him as like a cat with a ball of string.
What was it like working opposite Elizabeth Moss?
She's not afraid to take what you might throw at her and is an actor's actor. It's such a nuanced, passionate, perfect performance that's full of pathos and, at the same time, fiercely intelligent and funny. Just in the flick of an eye, the dilation of an iris, Lizzie expresses huge amounts of emotions and thoughts.
You have been quoted as saying you 'can't abide suffering', so were any of the scenes particularly challenging to film?
They're all difficult. You want to find that tension, to find it disturbing, and then you're in the right place. The ceremony is tough, it's ugly, but the show has an advantage in that it's not explicit. A lot of the horror is in what's not said and not seen. There's nothing gratuitous about it.
From American Horror Story to Urban Myths, a lot of your recent projects could be described as risqué or controversial. Is that intentional?
American Horror Story was [through] my love of Ryan Murphy and his tone of voice. We collaborated on a pilot about a transgender character and that was too risqué maybe 10 years ago and didn't get picked up. I read [The Handmaid's Tale] when Trump was an outsider, so no one could have imagined the way it would turn. I wanted to be part of it based on calibre and intelligent narrative, more than doing something for the sake of being risqué.
There's also often religious themes in both your film and TV projects. Did you have a religious upbringing?
It's funny, there were three things I was warned not to talk about which were sex, religion and politics and we're breaking those rules! But yes, and no. Religion has been in my family: A Bishop of Bombay, a Greek Archimandrite monk, a professor of theology. My mother was catholic and turned to Buddhism. My father was a protestant and turned to Catholicism to marry my mother [laughs] so, yes, it surrounds us, but not in a dogmatic way.
Many people assume that you followed in your brother's footsteps, but what really made you decide to become an actor?
I remember clearly at the age of seven being in a play and I knew that I had been dropped off in the right department. Putting that into action in adulthood and committing to it was a different thing. You know, doors can open, but you have to walk through them. My inspiration was really my mum, who was a writer and a painter. Her expression and her discipline was a great guide to me.
Finally, is it true that you've visited psychiatrists in character in the name of research?
Yes, I've done that about three times. Everything I can do to access a route into a character is a path I'll follow. You can write your character biography, do an accent or wear a pair of shoes. It came to me that if I went as a character to a shrink, I might be able to reveal deep feelings or they might be able to throw up a sounding board, so it's been very helpful.
Have you done that for The Commander?
I haven't. I'm a bit worried that the men in white coats might arrive when I start talking about how ashamed I am to have partaken in these rituals and enforced a coup that's brought about a totalitarian state and theocracy!
The Handmaid's Tale is on Hulu now.
Words / Huma Humayun
Follow her on Twitter.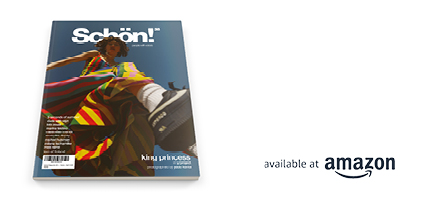 Discover the latest issue of Schön!. 
Now available in print, as an ebook, online and on any mobile device.