Joey King is not your average teenager. At just 18-years-old, she can boast of having worked in some of the biggest productions in the industry throughout her 14-year-old career: from Christopher Nolan's The Dark Night Rises and FX's acclaimed series Fargo to horror maestro Jen Wan's The Conjuring. But she keeps adding names to her resumé: having just announced her appearance in the upcoming thriller, The Bayou, alongside Academy Award-winner Gary Oldman and Maze Runner's Dylan O'Brien, and even stepping into production. There's no doubt that King can do it all, and she doesn't have any plans of stopping soon. Wise beyond her years yet candidly refreshing, King opens up to Schön! about stepping into the industry at a young age, the perils and pleasures of social media and her latest venture, The Kissing Booth, which premieres today on Netflix. 
You've been acting professionally since you were four. How did your interest in acting start?
Since we were little, my sisters and I just always had a desire to express ourselves in a way we couldn't explain until we started doing little local theatre plays together. Then we really understood that we loved to entertain people and provoke emotion from people. Ever since then I've loved the feeling of being on a set and [bringing] characters to life.
What do you think has been the best and worst part of stepping into the industry that young? How does it feel to be stepping into the limelight now as a protagonist?
I think for me, the best part has been that over the years I've gotten to meet people that I will call friends and even family for the rest of my life. I've been so lucky, almost everyone I've encountered along the way has been lovely. I think the worst part for some people is that they can get very caught up in the lifestyle of being somebody with a lot of attention on them, but although it sounds cliché, having a good family around you is the best thing to keep your head right. I'm very lucky in that aspect too.
Speaking of family, your grandmother was into theatre and, as you mentioned, your sisters are also in the business. How was it growing up in your family? Did they influence your acting in any way?
My family is a blast. My whole family is full of characters. Me and my sister Hunter would make home movies a lot when we were younger and edit them ourselves so we were always doing something crazy. At six years old, I was in charge of special effects and sound effects in our films… lots of responsibility [laughs].
You've just released Summer '03 to positive critiques on your acting. How do you feel you have matured in your craft as an actress since? Because you clearly have!
SXSW was one of the greatest experiences I've ever had. I feel so proud to be in Summer '03. It's a performance of mine that I feel really confident in, which is hard for me to say because I'm always so critical [about] myself. I think when it comes out, people will be shocked, laughing, and feel like it relates to them in a way. It's a wild movie. In terms of maturing in my craft, I try not to take myself too seriously and just have fun. Being carefree and committing yourself 110% to a character is so liberating and I hope that, as I get older, I get a chance to challenge myself and play many different kinds of characters.
You've been part of major productions like Christopher Nolan's Batman: The Dark Knight Rises and more recently the series Fargo. What role has been your favourite so far and who are looking forward to playing in the future? Any experience that has been particularly formative or memorable to you?
It is pretty crazy to take a look at what I've gotten to be part of. I'm looking forward to EVERYTHING! One thing I loved so much about making Fargo was that I got the chance to play someone who has an accent in the show and I would definitely love to play someone with an accent again. An experience that has been particularly memorable and formative to me was filming Going In Style. I got to work with some of my idols — Morgan Freeman, Michael Caine, and Alan Arkin — which was a life-changing moment for me, all while being directed by one of my closest friends Zach Braff. The whole experience of filming that movie will forever be so special to me. Everyone was so so nice.
Your next project, The Kissing Booth, is set to air on Netflix. What can you tell us about the project?
I'm so excited for The Kissing Booth to release on Netflix [today]! It's such a cute movie that I had an exceptional time making. It's a film about a girl named Elle Evans and she has a MAJOR crush on her best friend's brother. It's romantic, silly, heart-wrenching and just hilarious. I'm in love with it and I hope everyone else will be too.
Did you read the book in preparation for your role?
To be completely honest, I did not. I have weird superstitions — like I never look up a director before a meeting or audition because I don't want to psych myself out instead of really focusing on the character. With book adaptations, it's tricky because I'm supposed to be playing a very specific person, but I also want to make sure the way I'm playing them is unique to me, and I like to have lots of wiggle room with the director so we can make our own version of this beloved character without losing our authenticity or the characters. But trust me, I did my fair share of research on my girl Elle Evans and the amazing Kissing Booth fandom.
You went to South Africa to record the film. What was the experience like? You met your partner, Jacob Elordi, in the process, so I'm guessing pretty good!
South Africa is easily my favourite place I've ever travelled to. I met the kindest people while filming there and I also got to make a movie that I love so much. And like you said I did meet Jacob Elordi and, of course, Joel Courtney and those two mean the absolute world to me. South Africa was very good to me and I can't wait to go back and see my beautiful friends that I made there again.
On top of all, you also do voice acting, what challenges do you face when doing this?
Voice over acting is a whole different world. It's honestly so incredible how different it is to live action filming. I love it so much, you put so much energy, pitch and feeling into your voice and then getting to see the final product and how all your little vocal nuances fit into the animation is so magical honestly.
You are also stepping into the horror genre this summer with the release of Slender Man. What are you most looking forward for fans to see with this one?
I really do think and hope people are going to flip over Slender Man. [The] Slender Man is a mythical creature that has become such a viral obsession over the years. What's interesting to me is that the people who actively buy into the myth of Slender Man and indulge it are, in a lot of ways, just as scary if not scarier than Slender Man himself. Our movie touches on a lot of that and it's incredibly terrifying and awesome.
You are quite spoken about politics and social issues on social media, supporting movements like 'March for Our Lives', charities like 'Meals on Wheels' as well as highlighting the importance of adopting pets over buying (we swoon over Angel and Dallas, by the way). Do you feel a responsibility to shed light on these issues? How important is it for you to use your platform to speak out?
Social media can be looked at as a gift to people who have a plentiful amount of followers. Using your voice as much as your comfortable with is something I think is so important. With me, I want to give my followers a fun and light-hearted time on my pages but with the amount of influence I seem to have, I think it's crucial that I also try and give my followers a point of view on certain topics and issues that they may not have otherwise had, or for the followers that maybe share the same beliefs as me, it shows them that they can hopefully rely on someone they respect to set an example they would like to set as well.
Definitely. Lastly, your plate is quite full at the moment but what are you most excited about the future? Are you still trying to guest star in Grey's Anatomy?
Ah, yes, the future. Well, The Kissing Booth hits Netflix, which I'm obviously sooooo excited about. We've got Slender Man this summer and I'm going to scream my head off in the theatre. My voiceover film The Boxcar Children: Surprise Island, which is gonna be adorable, and Summer '03 [are] coming to theatres later on this year and I'm really proud of [those]. There are some more things that I can't wait to talk about but they will have to remain secrettttt for now, teehee.
'The Kissing Booth' comes out today, May 11, exclusively on Netflix. Watch the trailer here.
'Slender Man' premieres August 24 in the US and the UK.
This Schön! online exclusive has been produced by
photography. Grace Pickering
fashion. Krissie Torgerson @ NissaMaya Artists
talent. Joey King
hair. Clariss Rubenstein @ The Wall Group
make up. Georgie Eisdell @ The Wall Group using NARS
photography assistant. Alex Colombino
fashion assistant. Kayla Torgerson
words. Sara Delgado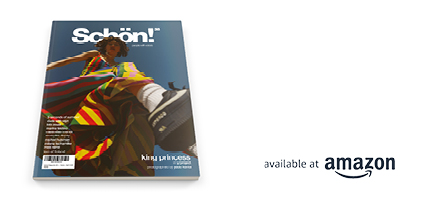 Discover the latest issue of Schön!. 
Now available in print, as an ebook, online and on any mobile device.