To quote Bob Dylan's poetic lyrics, it seems that in Hollywood, 'the times they are a changin'". One of the actresses leading the charge for stronger and more complex female roles is Jaimie Alexander. Whether it is exploring female identity in the hit NBC series, Blindspot, or defending the galaxy as Lady Sif in Marvel's Thor franchise, Alexander is proving that women are more than ready to take on the challenge.
A self-proclaimed people watcher and daydreamer, it seemed only apt that Alexander was chosen to portray the intriguing character of Jane Doe in Blindspot. Discovered in unusual circumstances, hidden in a duffle bag in Times Square, stripped of her memory and intricately covered in cryptic tattoos, the series follows her quest to uncover who she really is. Drawing on her own experiences and those around her, Alexander refused to be overwhelmed by a character with such a blank slate. "I find inspiration in everything and everyone. I'm very open to the life that is happening around me. I portray Jane by using my own empathy and compassion. For me, it's about being relatable."
This sense of relatability was what first attracted Alexander to the role. "I loved how show creator, Martin Gero, managed to take an extraordinary concept and ground it in reality," she says. "It was completely different to anything I had been offered at the time." And whilst there is no denying the show's more sci-fi-esque qualities, it is her very tangible quest of self-discovery that we all experience that seems to resonate the most. "As people, we are extremely complex and complicated. We have many different layers to our personality. So at times, it can be difficult to identify who you really are deep down," she says. "That said, we are constantly evolving. Our identity is always changing and being defined by what is happening at that moment."
As Season Three hits our screens, the audience continues to be taken on an emotional rollercoaster. Yet, unlike previous seasons, the latest sees a marked change in tone, with more humorous elements adding an extra layer to the situations many of the characters face. As for Jane, Alexander is excited to see how the audience reacts to her character development. "Jane knows herself much more now than she did in the previous two seasons. That said, she doesn't go with the flow as easily as she used to. I hope the audience enjoys where life takes each character as they move forward."
Strong character development plays an important part in Alexander's choice of roles. She muses, "I love that both Jane and Lady Sif have a sense of vulnerability whilst maintaining a deep inner and outer strength. I love playing a layered female – I love the realness." Yet, Alexander is quick to emphasise that it's not simply about playing strong female characters but rather "to remain a strong female whilst embodying these characters. I've always been a strong woman. I've always tried to do the right thing and to help others. It's important I don't lose sight of what really matters. I bring that into the characters I play – the sadness, the struggle, the vulnerability, the power, the realism." 

It is this emphasis on meaningful female empowerment that has stood her in good stead in an industry that is rife with sexism. Committed to revolutionising the roles traditionally afforded to women, Alexander is calling for greater mutual respect. She is adamant that "one way of combating this appalling abuse of power, rife in so many industries, is to raise awareness. The sad fact is that sexism exists. But there needs to be a greater recognition of the problem. We all need to educate ourselves. It's about knowing your worth – learning to respect yourself and others so that we can stand up for what we believe in. That's one way we can bring forth change."
One way Alexander is breaking from traditional female expectations is by embracing roles that require a greater degree of physicality. She enthuses, "I love the physicality of both Lady Sif and Jane Doe. It's hard work but I enjoy the challenge. I try to keep myself mentally and physically fit. Occasionally, I find myself having to turn off my adrenaline whilst performing a stunt in order to stay focused and calm."
She's also not afraid to take on a role that bears huge expectations. Whilst many actors would have crumbled under the pressure of embodying such an iconic character as Lady Sif from the revered Marvel comic franchise, Alexander has refused to let expectations weigh her down. "It's ridiculous to place pressure on yourself to try and please millions of people who are all different from one another. I find most artists suffer because of that unattainable perfection. So, I just try to enjoy what I'm doing and have fun. You have to trust your instincts."
Alexander is certainly not one to shy away from characters that reflect both female strength and vulnerability. Keen to embody the real and raw attributes that make up powerful female roles, she is adamant to explore the complexity of female identity and physicality. As both Jane Doe and Lady Sif continue to dominate our screens, Alexander is on a mission to prove that Hollywood really is a changin'.
Blindspot premieres Fridays on NBC in the US and Mondays on Sky TV in the UK. 
This Schön! online exclusive was produced by
Photography / Alvin Kean Wong
Fashion / Anthony Pedraza
Model / Jaimie Alexander
Make Up/ Ashley Rebecca for Hourglass Cosmetics
Hair / Matt Fugate for Exclusive Artists using Kérastase L'Incroyable Blowdry
Words / Katie Shuff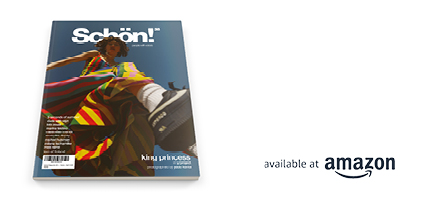 Discover the latest issue of Schön!. 
Now available in print, as an ebook, online and on any mobile device.