Hayley Atwell is on a mission. Not content with the need to dispel any long-held stereotypes plaguing female representation on screen, Atwell is determined to make sure that women from all walks of life get the representation they deserve. Through her unapologetic choice of complex, and often flawed female roles in the likes of Dry Powder and Howards End, and an unflinching desire to work on female-driven projects, Atwell is leading the Time's Up charge, both on screen and on stage. With an eye for nuanced scripts and strong versatility, Atwell moves seamlessly from Marvel action hero, Peggy Carter, to Evelyn in Disney's new live-action adaptation of Winnie-the-Pooh, Christopher Robin.  As Atwell continues her quest for equality, she contemplates her love of classic tales, how fellow female artists continue to inspire her and why she is always open to exploring new worlds. 

You've been in many period dramas such as The Duchess and Howards End – what is it about period dramas that are so captivating for you?
It just happened that way. I'm attracted to good writing – writing that is nuanced and multi-layered which can stimulate my imagination. More often than not, the "period" pieces I've been offered have been literary adaptations so there is a natural emphasis on, and respect for, the writing. So, the period in which they are set only really acts as the backdrop or context for the characters.
My background is in theatre, where the classic tales become ingrained as the stories are so timeless and really explore universal human themes. But ultimately it is the quality of the writing that attracts me more than anything else.  The Black Mirror episode, 'Be Right Back', was set a little in the future, exploring grief in the technological age. The script made my heart beat faster.

What attracted you to the role of Margaret Schlegel in Howards End? How do you prepare for a role where the audience has quite clear expectations of the character? 
Margaret is in the canon of great female parts. She is multi-layered and dynamic and asks the actor to make all these emotional and intellectual twists and turns. She's inquisitive, contradictory, compassionate, hypocritical, rational, yet passionate, self-aware and, at times, lost and confused. E. M. Forster has written a woman with so many layers, presenting her with love and respect for all that she is. It is the strength and weaknesses of her character that makes her so thrilling to play.
Rather than engaging with other people's expectations of a character, my job is to interpret her with total commitment whilst honouring the text. Kenny Lonergan's writing is so specific, each page makes it clear how to play her, moment by moment. The book provides much more detail of her inner world, so much so, that I would go back to it again and again whilst we were filming.

Do you feel that there are more diverse female roles being depicted now?
I have seen a change – small, but significant. Howards End was the first time I had worked in length with a female filmmaker, other than for one episode of Agent Carter. I have just finished a play in London, Dry Powder, that was written and directed by women. Coincidentally, the next three projects I'm working on back-to-back will be directed by women, two of those projects are also written by women.
While I was recently in LA meeting with producers, the Time's Up movement was the central topic of conversation – both with men and women. That's exciting! Due to the incredible bravery of a group of women who were traumatised by the abuses of power, we are starting to see a cultural shift in how women are represented on screen. Women are coming forward with confidence and some men in positions of power are listening. May that long continue and may we raise our girls to know with unflinching conviction that they are capable and that their stories matter!

With #TimesUp and #MeToo in mind, what can the industry do to ensure that women are championed both on and off the screen? Do you feel like change is actually coming to fruition in the film industry?
Close the gender pay gap! Once we do that, we tell women that their contribution to society is equal to our brothers. We do that, and we'll see the knock-on effects of more confident and productive women as workers, mothers, daughters, lovers and friends. We need to hire more women and put them in positions of power if we want to see better and more accurate representations of half of humanity. We have to change how we see ourselves in the world. It will affect us morally, spiritually, emotionally, intellectually. Then we can get on with our jobs and our lives, living out our full potential and making society better for all.

Which actresses or characters did you look up to as a young girl?
Too many to name! I looked up to actresses such as Juliet Stevenson, Emma Thompson, Imelda Staunton, Katherine Hepburn, Judi Dench, Fiona Shaw, Helen McCrory…  I continue to look up to writers like Nicole Krauss, Margaret Atwood, Sharon Olds, Harper Lee, Betty Smith, Jeanette Winterson, Maggie Nelson… I'm always being inspired by modern writers such as Yrsa Daley-Ward and my friend, Jessie Burton. Even artists like Beyoncé and Florence Welch – inspiration is all around!   
How does Sarah Burgess's Wall Street comedy Dry Powder differ from your previous work?
The character of Jenny was a refreshing change. Here we have a female lead that is unapologetic throughout, despite continuous criticism from the men around her. We learn absolutely nothing about her personal life and there is no sexual-chemistry between her and the other characters. She's just brilliant at her job, totally transparent and sleeps well at night. She has killer lines like 'allow less intelligent people to hate you. It is their destiny and it costs you nothing.' She's quick, bright and loves her job and is very, very funny although she doesn't mean to be. The humour for the audience lies in her complete lack of self-awareness when it comes to social interactions and her very poor emotional intelligence.

What did you learn from being part of such a big franchise like Captain America? Would you like to take on a similar project in the future?
I learned that there is no excuse for abuse of power. Marvel is a hugely powerful franchise in Hollywood with enormous international appeal and my experience with the people who run it has been a wholly positive one. I felt seen and heard by them and so they let me do what I wanted with Peggy Carter. I want to continue taking on stimulating projects with creative and passionate filmmakers which portray a variety of challenging and multi-faceted female-lead narratives.  
How does appearing on stage differ to being in film or on TV? Which do you prefer and how do you prepare for each differently?
Stage work requires technique and stamina – there's no hiding. The performance can't be edited to make it look better. You can't do a re-take if you mess up. It requires total commitment and focus and you are part of an ensemble. I've taken that work ethic on to film sets too, so my approach isn't that much different. I show up prepared, engage with the director and the cast, and explore the most interesting way to play the scene based on the writer's vision.

What can you tell us about your role in new Disney live-action film, Christopher Robin?
It was a pure joy to film. The story is endearing and Pooh bear continues to delight fans. I love working with Ewan McGregor as he has so much passion for what he does. Charisma just oozes out of him and he's always such a good laugh. Marc Forster, the director, was a champion of my work which definitely helped! 
Lastly, what is next for you?
A movie called Blinded By the Light by Gurinder Chadha [and also] a limited series adaptation of a fantastic book [, which will be announced soon] where I'll be playing a truly awful human being [who is] simply just a woman of her time. [I will also be part] of an ambitious production of a classic play on stage in London which will be announced soon! The variety of these roles and the range that they each require are thrillingly challenging and never fail to open my brain up to new worlds.
Watch the brand new trailer for Disney's live-action film, 'Christopher Robin', starring Hayley and Ewan McGregor, here.
This Schön! online exclusive has been produced by
photography. Ben Duggan
fashion. Douglas Van Laningham @ Photogenics Army
talent. Hayley Atwell
hair. Anh Co Tran @ Tracey Mattingly
make up. Fabiola @ Tracey Mattingly
production. Richard Villani
fashion assistant. Jeremy Friend
words. Katie Shuff
special thanks to John McIlwee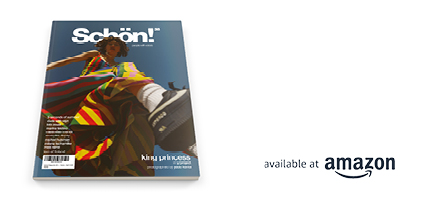 Discover the latest issue of Schön!. 
Now available in print, as an ebook, online and on any mobile device.