Building a successful dynasty requires commitment, tenacity, and determination —qualities Gustaf Skarsgård knows only too well. Having watched and admired his father's, the renowned actor Stellan Skarsgård, passion for acting, Gustaf did what many six-year-old children do at that age, vow to follow in his father's footsteps. Whilst many would inevitably waiver from their initial career choice, Gustaf, along with his brothers, Alexander, Bill, and Valter have carved out a truly iconic acting dynasty. As he continues to explore the emotional boundaries of his character, Floki, in Vikings, the History Channel's explosive series, Gustaf is more than ready to enter the prestigious arena of HBO's gripping sci-fi thriller, Westworld.
Intent on pursuing acting from a young age and having seen the virtues of being paid to "play pretend", Gustaf honed his craft whilst at drama school where the pressure to succeed really kicked in. "The most pressure I've ever felt to be brilliant was in drama school —those were the toughest auditions. I really wanted to prove myself." Yet, despite this early determination to succeed, Gustaf insists that there is no bad blood in the family when it comes to competing for roles. "Luckily, we are different in type and age, so there hasn't been a lot of competition for specific parts," he confesses. "There is competition to the point that we can actually make fun of it —we'll keep scores and laugh about it. At the end of the day, we're in this industry to have fun." However, Gustaf doesn't deny the difficulties that come with being part of an acclaimed acting family. "We're a very close family, and we've always been supportive of one another. But it's definitely easier to be happy for the other person's acting success when you're doing okay yourself. Ultimately, when you're all in the same competitive industry it can be more hurtful to see the other succeed if you're not doing as well."

Having secured the troubled role of Floki in the highly acclaimed Vikings, Gustaf is far from struggling. As his character submits himself to the Gods after the devastating loss of his closest friend, daughter and wife, this fifth season sees Floki embark on a journey of rebirth. "This season, we see a complete transformation —almost like the annihilation of his ego," he says. It's no longer about him. With so much loss, he's let go in order to serve a higher purpose." Drawing on such an intense level of suffering, proved to be a challenging experience. "It's about submerging yourself into the fate of this man who I've come to know so well over the years. Whatever happens to this character, I really feel the emotion myself. As humans, we've all experienced some level of pain. Acting is just a matter of accessing and magnifying these emotions." One element that has been a light-hearted relief is his character's now idiosyncratic giggle. "It has a very mischievous quality to it, which is extremely unexpected," he admits. "I wanted to do something that would throw a curve ball into the very testosterone filled environment. Ultimately, it reflects Floki's unpredictability."

With an array of film, theatre and TV roles to his name, Gustaf is more than ready to embark on his biggest challenge to date, appearing in the much anticipated second season of the TV remake of Michael Crichton's Westworld. "I hadn't even read the script before I signed on," he admits. "I was already a huge fan of the show, so I trusted the material would be of the highest quality." As with any eagerly awaited TV series, much of the show's character and plot developments are tightly under wraps, so much so that even Gustaf has been kept in the dark. "It's like I have a laser dot on my chest at all times, and if I reveal too much, someone will pull the trigger," he jokes. "I wish I knew more than I actually do. We've all kept in the dark, so we don't know any of the big secrets." The only titbit he can divulge is that he will be playing Karl Strand, a white collar, ex-military, problem solver that works for the Dallas Corporation who enters the arena. Whilst remaining tight lipped about his role, Gustaf enthuses about the show's production. "It really is a huge beast of a production! The sheer scale and logistics involved is just insane —there are so many things going on at the same time with different directors and locations. We have to be on standby and be ready to shoot when we get the call. It can be brutal, I'm literally given the script right before I shoot —you really are kept on your toes. So it's challenging, but also hugely rewarding just being able to step into this amazing world."

With so much at stake, you would be forgiven for thinking that Gustaf was feeling the pressure—not so… "There is always pressure to deliver but you can't ever focus on that," he recounts. "The need to be brilliant is something you learn to cope with over the years —ultimately you just want to do right by the material. You want to keep challenging yourself and evolving as an artist, so you can't really focus on being great. That's not a concrete thing to aim towards, the role is." Drastically switching genres from history to sci-fi also sheds light on Gustaf's refusal to be typecast as an actor. "I like playing a variety of roles and characters as it forces you to keep challenging yourself. I deliberately dare to take risks with every performance." Gustaf's keen interest in sci-fi undoubtedly helped whilst filming. "Good sci-fi lends itself to both the bigger philosophical and technological questions —who are we as a species, who could we become and what would it mean to create a new species," he ponders. "These questions are more urgent than ever. For me, Westworld strikes that balance between the existentialist exploration of human enlightenment and the potential of technology."
As we wait with eager anticipation to see how his latest characters play out on the small screen, Gustaf is already looking to take on his next challenge. As always, keen to mix things up, Gustaf now has his eyes cast on film and, whilst the nature of his next role remains a mystery, his position within the family dynasty is firmly set.
The second season of Westworld premieres next Sunday, April 22nd, on HBO. Vikings' fifth season returns later in 2018, watch the mid-season finale now on Amazon Prime.
This Schön! online exclusive was produced by
photography. Ben Cope @ 7am Management
fashion. Tiffani Chynel
grooming. Mynxii White @ Photogenics Army using Temptu
words. Katie Shuff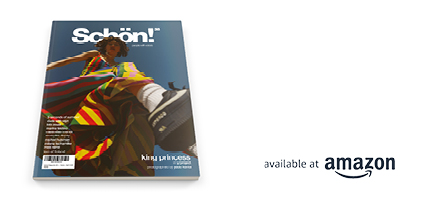 Discover the latest issue of Schön!. 
Now available in print, as an ebook, online and on any mobile device.