Mix funk, soul, R&B with a hint of disco and you'll get Garçons' unique sound. Hailing from the Canadian capital, this duo is reclaiming their space within your favourites with their idiosyncratic repertoire and curated aesthetic. With Deelo as the voice maverick and Julian Strangelove as producer and director extraordinaire, Garçons surely have the potential to become a fixture in the contemporary creative scene. Influenced by the likes of Pharrell and Frank Ocean, Deelo's soothing vocals carry through a velvet-like flow that ranges from wiry falsettos to raspy interludes. This chameleonic range in conjunction with Strangelove's composition skills and quasi-poetic vision make up for a match made in heaven. Garçons re-energized R&B tracks have a funky twist and leave a retro aftertaste. With Tarantino meets Wes Anderson anthological videos, these guys have signalled themselves as ones to watch in 2018. Their debut EP, 'Body Language', is a testament to their potential. The seven-track EP is a sonic voyage through their creative symbiosis, resulting in lyrical complexion and retro-infused rhythmic cadence. We catch up with Deelo and Strangelove to talk about repping Ottawa's musical scene, their origin, influences and what's to come for them as the breakthrough duo.
You guys both live in Ottawa. We hear a lot about the music scene in the main US cities as well Canadian counterpart Toronto but how's the music scene in Ottawa?
Julian Strangelove: Ottawa is a very clean, quiet and conservative city. But it doesn't really have a music scene. There is are a lot of creative people here, especially with the younger generations so hopefully, it's the start of something. 
Having lived there for most of your lives, how does the city influence your creative process?
JS: Everything here allows you to focus on your goals. It can get really boring, so you get inspired to work harder. Sometimes there's nothing else to do besides staying at home and writing music, especially in the winter. It's very motivating in a sense — you want to work hard so you can leave and explore other things the world has to offer. 
You guys met back in 2014 and immediately decided to link up creatively. How did this decision actually come about? Is it something you set out to do or did it come naturally?
JS: We met in a friend's studio back in 2014 and messed around with some ideas, but nothing serious came about until 2017. I was living in Montreal working on some music when the idea to work on a project with Deelo came to mind. I could hear his voice on everything I was writing. So I moved back to Ottawa that summer and we spent a month writing the 'Body Language' EP.
Your individual styles are quite different but you've found a musical symbiosis where you compliment each other marvellously. What do you feel makes you work so well together?
Deelo: We both like to embrace our uniqueness, push boundaries and just be weird. If there's a way to be different, we're going to experiment. But we're also fans of a lot of the same music, which I'm sure influences our writing subconsciously.  
The videos you have released so far have an anthology feel to them. How important are visuals in your creative vision for Garçons?
JS: Visuals are always going to be an important part of our creative process, without a doubt. I love doing them and I want to keep telling stories. 
The visuals have a Tarantino vibe with a pinch of Wes Anderson's cinematography. What's the inspiration behind them?
JS: Ottawa was super limiting to us when it came to the videos, but we managed. We shot in places we thought looked cool and fit the aesthetic. 'Hang With Us' was my favourite to shoot. It was all about not taking yourself too seriously. We just wanted to capture those types of moments on camera. 
'Body Language' is 7-track EP but so far you've released 3 videos. Are you guys going for the visual album? Do you have any more lined up?
D: There won't be any more for 'Body Language'. But there is new music on the way… and there are most definitely more visuals coming too.
How come you chose the game Garçons? Is there a specific story behind the name?
D: We were brainstorming over FaceTime with our homie Green and the name came up. Once it was said, I think we all knew it was a perfect fit.
Your EP has been "labelled" as a mix of funk, soul, and R&B. Do you feel a preference for any of these genres?
JS: I think it's fun to hear everybody labelling it differently. Because there are influences of everything in the music. So it makes sense to hear someone talking about a "jazz feel" in one song and a "classic R&B" sound in another. We're always going to experiment and push the boundaries of what we can accomplish as writers and musicians. And we're gonna have a damn good time doing it. 
If you had to, how would you describe Garçons' sound?
D: Colourful, experimental storytelling through unorthodox ideas and simplicity.
You spent a month in the studio last year writing the EP in Julian's flat. How was the process like?
JS: Neither of us had released a proper project yet, so it was really fun to build one out of nothing. It just kept growing and getting better and better each day. Being in the right place at the right time with the right thing to say, I guess.
Now that the EP is fresh off the press, how have people's reaction been?
JS: We're just so happy that it's gotten a chance to be heard. All we want is for people to lend us their ears. The rest is up to the universe.
Do you have a favourite track from 'Body Language'?
 D: That would be 'Fly Solo', for the both of us.
You guys just supported Ludacris and played in the NXNE festival. Do you have any more live performances in the pipeline?
D: We're working on solidifying a few things. There's some cool stuff we're trying to do specifically in Toronto. We're also going to be playing there in September at Unity Festival. 
You've said the EP is about "embracing the things that make us human". It's undoubtedly one that people can jam out too, with infectious rhythms and soulful tunes. What do you hope people will take out from this EP?
D: If it makes them dance, laugh, smile or cry, then we've done our job.
Are you already planning to go back to the studio?
D: No, we're not planning on it. We are already there.
What's next for you guys as Garçons? What are you most excited for the rest of 2018?
JS: More music, more videos, more shows, more stuff. Bigger and better things are definitely on the way. We're happy to be working with all these cool people. So far, every day in 2018 has been amazing. We're enjoying it and we hope it keeps on rolling. Hopefully more of that for the rest of 2018.
Garçons debut EP, 'Body Language', is out now. Listen to it on both Spotify and Soundcloud.
photography. Christopher Afolabi
talent. Garçons (Deelo + Julian Strangelove)
words. Sara Delgado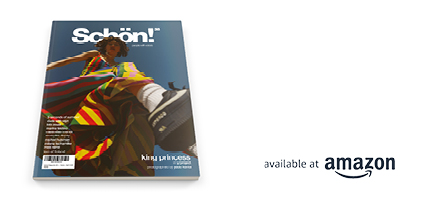 Discover the latest issue of Schön!. 
Now available in print, as an ebook, online and on any mobile device.