Freya Ridings' voice is enigmatic, charismatic and soothing — mirroring her own personal stance. After releasing her stand out single, Lost Without You, earlier this year, Freya has been captivating the public (and even mass-blocking Tube stations with her performances) in the UK and beyond. With chilling vocals, heartfelt lyrics and downtempo compositions, the up-and-coming songstress represents the future of British indie soulful pop. We catch up with the ring star to discuss remaining genuinely independent, selling out shows and what the future holds for her.
You are currently on your debut UK headline tour, which, on top, is sold out. How's is it going?
It's going well, thank you. Actually, the tour bus just arrived in Brighton, we were in Birmingham last night so that's nice to be by the sea, a bit closer to home. I remember finding out that Shepard's Bush Empire was the next venue I was going to play ten months ago and just being in complete shock and not believing that in any way I could ever sell that out and it sold out weeks before. It was literally one of the best nights of my life, we had a confetti cannon at the end which I set off with a hair flip. I got to play a grand piano with my band and it was so beautiful that I got to play with these amazing gospel singers. It was just one of my favourite nights ever!
Does it ever feel crazy to you that just last year you were a "supporting artist" on tours and are now selling out these iconic venues?
Oh no, it's not lost on me at all. It's quite surreal, the last tours we were on we were driving around in rental cars and now we get to be on a tour bus with a beautiful band and crew. I feel like the more support tours that I've done, the more I value the kind of artists that I love and want to be like and getting to do that, especially on a sold-out tour, it's an honour. It's literally my favourite thing in the whole world.
Did you ever imagine you'd cause massive blocks in the Tube with your performances when you first started?
No! Not at all, there are YouTube videos of me playing that exact same piano at Tottenham Court Road about eight months ago and literally about one person stops. I never played the piano expecting anyone to really stop so I didn't have those expectations but when we came back, especially after the song was on Love Island, things kind of picked up a bit. I remember coming down the escalator and thinking "oh my god, rush hour is so intense" and then realising, it was just so surreal to have so many people turn up that spontaneously in Tottenham Court Road and sing with me.
Social media has been instrumental in your success and you are really connected with fans on all your social platforms. How much importance do you place on it?
I think it's very important to connect with people in any way you can, especially the people that have been so supportive and have been championing from the very beginning. As someone who, growing up, was isolated at school and kept on the outside, I like to be as inclusive and welcoming as I possibly can be. Especially to people that want to come out and support. It's such a lovely thing to be able to connect with people around the world, and when you turn up in the country or that place and you already have that connection with them.
Your interest in music started from a really young age but how did you first get started in music professionally? When did you realize it was something you wanted to pursue as a career?
It's really interesting, there was an open mic night that I used to play at when I was eleven years old at school. It was the first night that I had ever played the songs that I had written at home to people and it was a weird lightning bolt moment where it just hit me. It was the first time I felt like I could truly be myself, especially at school. It was a life-changing moment really, where a chubby little ginger girl just decided that this is what she wants to do. Whether it works or not I just wanted to hold on to that for the rest of my life, it wasn't really a conscious thing I feel like I've been giving it everything I've got since around that age. Over the last couple of years I got signed to a great indie label and there's a small passionate team that I have been working with and I love them like family, I really do.
You are signed to an independent level. Do you consider yourself an independent artist? If so, how important is it for you to still have independence as an artist?
Oh yeah, totally. I think it's hugely important, you know there are so many kinds of record deals and I was always really aware that I would never be happy if I ever signed one where I had to change who I fundamentally am or the music that I make. So finding people who would let me keep my second name and let me wear the clothes I wanted to wear and play the songs that I had written at home, that was quite a rare thing. I have so much gratitude for the fact that I found a team really understand and supports me for who I actually in my most raw and authentic way.
Technically speaking Lost Without You is a single. Will you be dropping a full album soon or do you feel the traditional album system is restrictive?
Not at all, I love albums. Albums have been some of my favourite works of art of all time. It's been such an incredible journey from just releasing singles to actually being lucky enough to make a studio album. The studio album is in the final stages of being finish as we speak and hopefully, it will be out early next year. It's crazy that it just started with me at home on my piano and to go from that to being able to work with some of the producers and songwriters that I absolutely aspired to be like growing up has been such an honour.
Your previous albums were live recorded, is this something you're looking to repeat?
Not currently because I feel like it was just the best and most authentic way at the time. It's the opposite of putting barriers up and saying that everything has to be perfect because I'm definitely not perfect and I feel like that's part of the songs and part of how I play live. It's more about connecting with people and not trying to be perfect. Playing live is my favourite thing in the world, especially with the first headline show being at St Pancras and then having lots of new songs at Omeara, I just wanted to share the songs with people in their rawest, most authentic format first without holding them back and saying that it has to been done in a certain way. I feel like that's really let people in, when I play shows now I can hear people singing the words back and that's just so surreal to hear that, especially as I wrote most of them on my own at home.
People dub your sound as indie. Would you agree? If you had to, how would you describe your style?
Yeah, I'd say indie-piano-pop ballads. I'm hugely inspired by Elton John, Carole King and Tom Odell. Piano songwriters have always inspired me hugely. As well as honest songwriters, like Hozier and Lorde. People who you can really hear their soul in their lyrics and you just know there's no part of them that could lie. I love that!
Your piano seems to be your best friend, musically speaking. Can you give us an insight into your creative process? How do you write and compose?
I have to be on my own and sat at any piano really. It's almost like writing a diary – if you know that people are going to read it as you're writing then you're going to censor yourself to a degree. It's the same thing for lyrics, I have to know that no one can hear it because then you can afford to be really honest and just let your subconscious speak.
I never write with a pen because I'm very dyslexic and it's not something I find myself at home with so I record myself using voice notes on my iPhone. I just close my eyes and say the things that I didn't think that I could say.
Where do you draw inspiration to write?
Personal experience. Always. I can't really write from any other perspective because even if something hasn't directly happened to you, it always comes from an emotional place that is true. It's just about letting your subconscious write the stories and the heart of you.
You've been quite open about how Florence and Adele are your main influences but what else influences your music?
My parents and the rest of my family because the music I used to listen to growing up hugely affected what I did. When I write lots of ideas in clusters, I'm always quite hesitant to show people. I feel like showing people the new ideas is the scariest thing in music because when you write the music not everything you do is going to be great, so it's just about having that safe space where you know that people aren't going to say things just to hurt you.
It's a real open and honest place where you can share ideas your ideas, especially because everyone in my house writes so they understand the process of re-writing and editing and working on a song beyond just writing it, because it's easy to just let your subconscious speak but harder to finish a song.
What can people expect from you next musically?
I think a natural evolution of sound is something which I'm really excited to explore. I love cinematic, gospel and Celtic music, so something in that world, with the same vocal and piano core, is something that I'm excited to share.
You've been super honest about the problems you faced studying music because of your dyslexia. What advice would you give to someone going through a similar situation? What has been the biggest lesson you learned due to this?
In no way does it make you less musically viable than someone that can read music! At times it can be a blessing; it definitely was for me. If you can't read or play other people's music it means that you are forced into a position where you have to write your own and it's actually a liberating and beautiful thing. One day you'll look back and be grateful that you weren't like the other people.
What's the next thing you'd like to tick off your bucket list, musically or otherwise?
I'd love to a duet with somebody that I admire. That would be something which I'd really, really love to do.
'Lost Without You' is out now. Get tickets to Ridings' next tour here.
This Schön! online exclusive has been produced by
photography. Guy Lowndes
fashion. Kay Korsh
talent. Freya Ridings
hair. Brady Lea @ Stella Creative Artists using Bumble and Bumble
make up. Amy Conley @ Stella Creative Artists using Creme De La Mer
words. Sara Delgado
fashion assistant. Fernanda Dovali
photography assistant. Jackson Bowley
location. Kissa Wa Cafe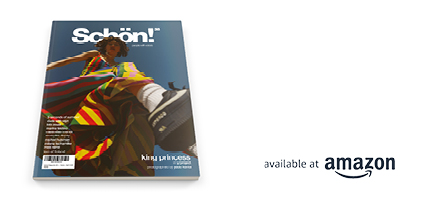 Discover the latest issue of Schön!. 
Now available in print, as an ebook, online and on any mobile device.