Empara: to seize or takeover. The alias taken on by one Empara Mi, the new face on the block whose work has been toying with notions of personae and surface image. Is this verb-turned-noun indicative of her entrance into the music business? "I hope so… that's kind of the point," she mocks, a keen advocate of the patience involved in escalating to the top. Already working with the likes of mega-producer Andrew Dawson, she comes out from behing her own persona, revealing herself to the world on Schön!
Empara Mi had her start in song writing, like many of today's biggest and best, an experience she is grateful for as it has allowed her to "learn a lot about how [she] wanted to write songs" for herself. This experience has paid dividends in her previous release Wanderlust, a beautifully-penned, stripped-back vocal showcase and serves to be a recurring theme in all her future work, namely her new track The Come Down.
The track is step-up, in terms of production, post Wanderlust, "it's a little heavier, a bit more hip-hop" admits Empara. She admires the "sort of angry, sort of powerful" tendencies of hip-hop and hope to infuse some of that influence into her future material, sampling icon of the genre, Biggie Smalls' Machine Gun Punk on another song for her upcoming EP.
"I can't lie … I didn't listen to Biggie straight away" on her introduction to the hip-hop genre. "I listened to a lot of Eminem," she laughs, somewhat coyly. "It felt like a guilty pleasure at the time, but now I guess not." Quick to defend the artist and the gateway Eminem offered into the genre in which she herself now belongs to. Influences from artists such as RZA and Gorillaz also filter into her brooding, rhythmic sound.
When Empara talks about music, she shows incredible knowledge in terms of all things production procedures, perhaps easing off the tech-chat a little when realising the jargon may be lost to anyone not in the industry. She talks synths, layers, double-layers, splits, harmonies, interludes… the list goes on. Needless to say, this girl knows music.
When conversation moves away from her own producing capabilities, talk turns to Andrew Dawson, a three-time Grammy award winner and six-time Grammy nominated producer, whom she rather nonchalantly sent a raw version of The Comedown to, hoping but not expecting a finished version to be sent back. Dawson, however, did reply with a version of the track to which Empara openly admits that "it was probably the first time I'd heard my productions sound professional". She heard his version of the track and was shortly thereafter on a flight to Los Angeles to work with the man himself.
Empara's time in LA, working with Dawson and of course rubbing shoulders with the crème-de-la-crème of other producers, including Kendrick Lamar's and Drake's own producers, provided more than a few pinch-yourself moments. "I was sitting with Dre's producer – he was playing with the piano that Dre bought him … that was the craziest moment," she recalls, and notes being surrounded by a room of people that were on first name basis with artists such as Dre, that's Dr.Dre to the rest of us.
So, with the audio taking shape under the helm of the biggest producers in the game, naturally the visuals have to be equally as impressive. The importance of visuals for a song is one Empara is passionate about: "I just think it has to be. I've never really thought otherwise," she explains, referring to Wanderlust. "No one would understand the point of the song, unless there was a visual." The video for Wanderlust is stripped back, claustrophobic and enigmatic – for The Come Down, Empara steps it up a level.
"There's a line in the song about dripping in gold, so I just thought obviously I want to be on a rotating platform naked, dripping in gold." Mockingly said but with sincere intent, the comment demonstrates just how far she will go for the perfect visual. It goes without saying that the practicalities of such an idea come with limitations. "We tried it and it didn't work" – disappointed but not defeated she took to the internet for a solution, and she found one, almost by accident.
"I was searching 'dripping in gold' and I think it was one of those sponsored posts on Facebook, or something, about how this technology had come about." Fast-forward a little back and forth correspondence and Empara was on the next flight to Japan to have her face 3D mapped using this innovative technology, that she essentially found on Facebook. The result is a truly ethereal aesthetic which works in perfect tandem with the dark, enigmatic vibe of the track.
To be the first to implement this technology on a public stage, Empara Mi is a talent, in every sense of the word. Empara – to seize and takeover – seems more an inevitability than a namesake.
The Come Down is out now, available on iTunes here.
Words / Jordan Gale
Follow him here. 
This Schön! online editorial was produced by
Photography / Gomez de Villaboa
Fashion / Patrick Clark
Talent / Empara Mi
Hair / Naomi Regan

Beauty / Rose Angus @ S Management using Laura Mercier
Fashion Assistant / Mehdi Bensalah
Studio / Apiary Studios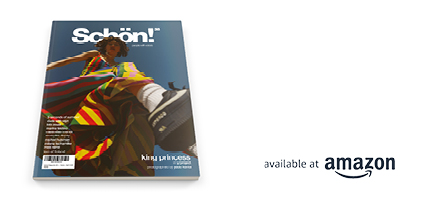 Discover the latest issue of Schön!. 
Now available in print, as an ebook, online and on any mobile device.