As a singer/songwriter/actor, it would seem that Emily Kinney has truly embraced the multi-hyphenate millennial career path. However, she certainly hasn't bought into the person-as-brand ideology. Her willingness to experiment and take chances, whether it be with her musical direction or her acting choices, prides personal development over a consistent Instagram feed. However, this hasn't done anything to damage her appeal — quite the contrary.
Kinney has a loyal fanbase, amassed over more than a decade in the industry and a four-season stint on the hit series The Walking Dead. Upon speaking to the star it's clear that her personality, effervescent and down-to-earth in equal measure, is what has garnered her such a following. Schön! was fortunate to sit down with Kinney ahead of the season premiere of upcoming crime-thriller Ten Days in the Valley, talking about her musical journey and what we can expect from her latest role.
Like most performers, Kinney has a real artistic conviction, cultivated from a young age. She has always wanted to be an actor and musician, and talks fondly of her first performances as a child: "[I] would learn songs and sing them for my parents and stuff.  My first talent show was when I was 7.  It was in the Lions Club Talent show and I sang 'My Favourite Things' from The Sound of Music." These are clearly cherished memories, experiences which laid the foundations for the successful career which Kinney now enjoys.
She explored this passion for music throughout her young life, with it gaining momentum after a spot on Broadway: "I've been doing music since I was really little.  My interest in releasing songs I wrote [myself] has always been there, but I felt more of a push after working on [the Broadway musical] Spring Awakening.  I met a lot of actors who were putting out their own material.  And then I met my good friend Conrad [Korsch], and he really encouraged me and produced my first EP."
Since this 2011 release, Blue Toothbrush, Kinney has released a second EP, her debut studio album This is War and single "Back on Love". Music traces a continuous thread throughout her career, cross-pollinating her different projects. Indeed, for someone who began their professional life in musical theatre, it's unsurprising that her singing and acting careers have frequently crossed paths. While Kinney's character on The Walking Dead often sang onscreen, this is only the tipping point. As Kinney elaborates, enthusiastically as ever; "I sing a bit in Ten Days in the Valley coming up!  I've also had my songs used in a couple movies so that's pretty cool!"
Indeed, her formation in musical theatre appears to have been particularly fruitful for her development. These experiences not only provided a framework for combining music and acting, but helped develop her on-stage persona for live material: "I do think being in theatre and doing a show every night makes you especially good and comfy at being onstage performing music and [at] learning how to keep it new and exciting every night." Transformation seems to be a central tenant of Kinney's musical practice, whose songs are radically changed between the stages of writing and recording: "I would say the songs start in a folk Americana place when I write them, but then as I get into the studio they become something different."
Despite the fame, Kinney gives off the feeling that she is always, sincerely, being herself — even when she's playing someone else. Perhaps this is because Kinney is so discerning with the roles she picks, feeling most attracted to characters who remind her, ever so slightly, of herself. She elaborates, saying that what attracts her to a character is: "If it feels like the character reminds me of somebody I know or if it feels like a certain side of me." However, she also comments that: "I like characters that have a lot of layers and are put in situations I haven't been in just because it's like I get to do things I wouldn't have done in life." This goes a long way to explaining what drew her to the role of Casey in Ten Days in the Valley, a character who is a stark addition to Kinney's acting portfolio. Kinney is acutely aware of this, commenting: "Casey is manipulative in ways I don't believe I've played before.  I also don't think she is incredibly grounded [in] her surroundings and reality. She's definitely more insecure than some of the other characters I've played."
The series itself centres around a TV producer whose controversial police series begins to mirror her real life, prompting questions about the nature of television itself: can it function purely as escapism or does it work best when reflecting elements of society? Kinney would appear to take the latter stance: "I personally have found I'm especially interested in art that has truths and is grounded in elements from real life.  I love how an artist or writer can take a real story about everyday things and then put it onstage or write songs about it and now that moment, even if it seemed small, seems special.  I think everyday life is really beautiful and special and I like making art out of real life."
This approach, drawing beauty from the quotidian seems an apt way of describing Kinney's worldview. Kinney is certainly someone who takes pleasure in the small things, describing her plans for the rest of the year as, simply; "making music and swimming". This gentle pace of life seems to suit Kinney and has been prompted in part by a recent move from New York to Los Angeles: "I can only do a few things in a day.  I drink less alcohol and coffee.  I don't walk as much or see as many different kinds of people in a day…I end up seeing family more and just being more connected to them." A star with her feet firmly planted on the ground: a refreshing change, just like Kinney herself.
This Schön! online exclusive was produced by
Photographer / Ben Duggan
Fashion / Lisa Bae @ The Rex Agency
Talent / Emily Kinney
Hair / Preston Wada @ Opus Beauty using Kevin Murphy
Makeup / Lilly Keys @ Exclusive Artists Management using Mac Pro Cosmetics
Production & Location / The Forge LA
Words / Megan Wallace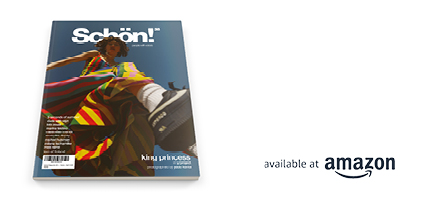 Discover the latest issue of Schön!. 
Now available in print, as an ebook, online and on any mobile device.