When your career takes off as a young reality TV personality, changing the public perception about who you are and how you live your life can later prove to be a daunting task. Draya Michele, however, has enough fight in her to break down just about any barrier which dares try to stop her. Having recently experienced motherhood for the second time, Draya is eager to start sharing a more mature side of herself with the world. Sitting down to speak with Schön!, she discusses her acting, her household, and her newest apparel venture.
Reality TV is something that Draya claims she was never passionate about, but is grateful for. "It was something that I simply used as a platform to be able to showcase my other talents, and once I was able to do that, I decided – this really isn't for me anymore… it's just not relevant to what I'm trying to do in the fashion industry right now." Still, she is aware it might be smart to leave her options open. "I'll never say never to Reality TV, but I would definitely only place myself in the right situation that is something that is based around my business or fashion sense. I wouldn't go back to drama Reality TV."
Having already experienced some success with her swimwear brand, Mint Swim (which has been worn by the likes of fellow reality star Kylie Jenner), it was natural for her to want to push forward with a second brand, found at FineAssGirls.com. Draya hopes that her newest brand, Beige & CoCo, will convey an upgrade in sophistication. "I want to design all types of clothing, so I didn't want to limit myself to just swimsuits. I am still doing swimsuits – I'm very good at that – but I wanted to try something else." Accustomed to keeping her eye on the ball, she noticed a trend and seized an opportunity: "I noticed that when I would wear things, a lot of people would like the things that I wore, and they would go purchase the pieces from other people. So I decided to make a brand of a bunch of clothes that I like to wear, and that I knew were going to be staple pieces in my wardrobe. I knew that when I wore them, that people would want to go out and buy them also, and love them the same way I do."  
When asked about the transformation of her image, she doesn't hesitate but pauses in reflection for a moment, concluding: "It has to do a lot with just age in general. You know, I've been publicly viewed on social media for a few years now. I think that the girls that originally started following me from the beginning, they're growing up with me. So, I just wanted to be able to show the world that it's OK to change and to grow into something different. You don't always have to be the same person that you were introduced to the world as. That's what I've been determined to do."
Hindsight now also brings more appreciation for her current family life. "Before, I was young – a teen mom. Now I'm a woman, and I was actually ready and prepared for this baby, so things were just different. My life is just completely different. My financial status is different. It's all different. It's still just as challenging, but a different type of challenge." She continues, "Being a new mom is very hard and challenging in and of itself. Luckily for me, my kids are so far apart in age that my older son turns 14 this month. I couldn't ask for a better helper/big brother/babysitter. He's going into high school next year, and he's amazing. He's happy to be a big brother, and he makes a lot of it easier on me. I'm a lot older now."
Considering everything that Draya juggles – her three businesses, her acting career, and a new baby to care for while maintaining her life as a public figure – she is constantly working to keep her priorities in balance. "What's important to me is family time, and being a busy mom and at-work mother, I definitely have to dedicate time to my family. I like to take time and have dinner at the table, settle in and absorb each others' conversations and figure out what we did today and talk you know – without the cell phones and the social media and all the noise. It's our one hour that we can give to each other, and we can give our undivided attention. Quality time." Growing up may be hard to do, but Draya Michele continues to evolve in front of the camera and in the design room. The next milestone in her fashion and entertainment legacy is just around the corner.
Words / Landra Dulin
Photography / Ben Duggan
Fashion / Michael Mann
Production & Make Up / Mynxii White
Talent / Draya Michele – Mint Swim Lauren Klug
Hair / Preston Wada @ OPUS Beauty using Oribe Hair Care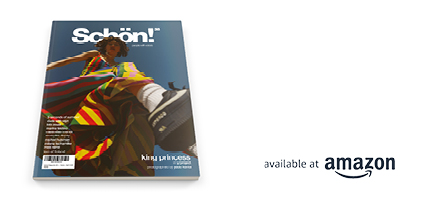 Discover the latest issue of Schön!. 
Now available in print, as an ebook, online and on any mobile device.