Bojana Novakovic's personality is as contagious as her performances. Zealous, outspoken and unapologetic, the 36-year-old Serbian-Australian wunderkind has played integral parts in popular and coveted series such as HBO's arguably dystopian drama Westworld, and Showtime's family dramedy Shameless; as well as acclaimed films, like Craig Gillespie's wildly entertaining biopic I, Tonya, opposite Margot Robbie and Sebastian Stan. Novakovic, now living in Los Angeles, currently stars as the series co-lead (alongside Alan Cumming) in CBS's latest cop venture, Instinct, as NYPD detective Lizzie Needham. Halfway through season one, Novakovic is extremely comfortable in Lizzie's shoes but her talents aren't restricted to the screen. She's a writer, producer, director of theatre and an acclaimed photographer.
As such, it was only natural for her to pick up her trusty camera and presents us with her own photographs, some of which have rather peculiar stories behind. "A long time ago, like 10 or 15 years, I started taking selfies every time that I'd catch my reflection [but] there were just too many times when I'd catch my own reflection. So I was like 'okay, what else can I do to take self-portraits?' I'd just been through this break-up and, [even though] I never wanted to buy a digital camera, I decided that I was going to buy one because I needed to join the 21st century," Novakovic recounts. "I wrote a list of characteristics in men that I [was] done with: broken people, alcoholic, artists, actors… I had this whole list of things that I [actually] really love [laughs]."
"And then, I had this bag of clothes that I'd been stealing from the men I had been dating. I had at least one item from each of these people, so I thought I'm going to say goodbye to these men and I'm going to say goodbye to my Leica camera at the same time. Out with the old, in with the new," she continues. "The great thing is the men are gone but the Leica camera has stuck around. I'd spent three or four days where I'd put an item of clothing on, I would look into the lens and I would talk to these people; and I would shoot a roll of film for each person. I got in conversations with them, sometimes I cried, sometimes I laughed and sometimes I wouldn't even want to say anything. I would just try to process them out of my system in a way, and then I went a bought my Canon 5D Mark II," she jokingly admits. "I'd dreamt of doing an art show with the photos and making a rug out of all of the clothes and have people walk on it when they walk into the gallery. Anyways, now I have a digital camera and I've kept my Leica camera. Thank God I didn't do the ritualistic throwing out of my camera — that would have been idiotic."
But whilst we eagerly wait for that show to happen, Novakovic's photographs serve a greater good, with its proceeds going into rebuilding efforts in Nepal. Working with refugees and focused on social work, Novakovic's trip to Nepal in 2015 is documented through her photographs, which boast owners such as Cara Delevingne. "Nepal is definitely [still] on the cards," she asserts. "There are a couple of people who want to go with me, I'm trying to convince Tom Hardy to come actually. We're building a community centre there and he's starting a charity so he wants to help build that. It's interesting because I work there on the projects and the photos don't reflect those. I never want the photos to be journalistic. The photos that I take over there I want them to look almost like a fairy tale, rather than just giving [people] something that they know how are supposed to feel about it."
There's a picture of a goat. Cara Delevigne actually bought two of those pictures. But the great thing about that picture [is] the story behind it. Behind me is a school that was destroyed in an earthquake and that we were rebuilding, a team of people surveying the land and the girls that I work with talking to them, and then in front of me was this goat and this man just feeding it and I just took his photo. Every single picture that there is, when someone buys it, I tell them the story. You can kind of tell [the other side of] the story that way too."
And whilst Nepal is still on Novakovic's list, her mind is currently set on Instinct, which is gaining audience every Sunday. "Television feels more like a long-term relationship and film feels like a passionate love fantasy that leaves you heartbroken," Novakovic explains. Instinct offers a refreshing narrative to the overtly explored genre of police series; and it does so not through comedic relief but through the diverse stereotype-defying characters delivered by not only Novakovic but consummate actors like Alan Cumming, Whoopi Goldberg, Michael B. Silver or Naveen Andrews. With the female lead being emotionally closed as well as the first openly gay lead of an American broadcast drama, the chemistry between the characters is a clear testament to the actors' work and the team behind the production. "Michael Rauch, the creator, is doing something that I've never seen people do in the business. He would not employ people who are problematic and cause trouble on set; which is something that people overlook in this industry," Novakovic reveals. "There are arguments and there are healthy conflicts but no one ever sucks energy, there's nobody on set who is a prima donna or suffer from narcissism tantrums. We don't wait for actors, except for me because I'm in makeup and they are doing my hair," she jokes. "Being able to show to work every day and seeing that amazing group of people, it feels like a family. I never wanted to be disconnected from the concept of a normal job and my job is anything but normal." And neither is her character's.
t's easy to try to liken actors to the characters they portray, however, one quick look at Novakovic's social media and you'll find that they are not much alike but quite the opposite. "What I love in particular about her is that she is as heroic as Dylan [Reinhart —Cumming's character] and they are both obsessed with their work," she says. "One is heroic from the outside, that's him and then I'm more heroic from the inside. She is seemingly badass and boss, but I think the most boss thing about her is that she is a self-aware person with a lot of vulnerabilities and she tries so hard to not allow people to see and yet her kind of behaviour is fully transparent. The more badass you try to be, the more [obvious] it is that you're hiding something. Like you obviously got issues [laughs] and they come out during the season. I think she thinks she has it all together and every step of the way something reveals itself that she is vulnerable about."
Yet, there are two things Lizzie and Bojana share and that is their love for dogs and MMA (they wrote MMA into Lizzie's hobbies because of Novakovic's own infatuation with the sport). "I started watching MMA about five or six years ago and, when you take away the girl with the signs and all that crap, mixed martial arts is an absolutely incredible unpredictable insane discipline," Novakovic recounts. "When I started training, I started loving it even more. I just love watching the mental skill. It's watching two people either think their way through fight or relinquish all their ego in order to attain some goal. At the end of that, there's a loser and a winner. Sometimes when the judges are crap, the result is crap but, generally, there's a real clear winner and loser. And both of these people, and I think this is really true in fighters, in winning or in losing something happened to both of those people where they have furthered their own development. You watch fighters who lose, and how much they gain from that loss is unbelievable. Because both people go in with the same intent and, particularly, the fighters who are respectful of each other, continue to fight for the respect of each other or respecting the game, it's second to none. I'm obsessed with it. [Plus] there are different codes: there's UFC, Bellator and a couple more. A lot of people think UFC is MMA and it's not, it's just one code of MMA."
As with the fighters she admires, Novakovic has had to overcome her own mental barriers. Earlier this year, Novakovic penned an open letter as she travelled with her sister across the U.S. in Jolene (her Harley-Davidson), in which she revealed dealing with low self-esteem and a great sense of shame since early in her career — something she contemplated further after making the move to L.A. "LA is really difficult for any gender. I always say you can go away on a little retreat and feel great about yourself but then you come and join the LA traffic and tell me how you feel," she says. "I obviously talk from a personal experience, I struggle with shame and self-esteem from a very early age. I do a lot of work on myself because of it. I used to resort to distorted behaviour, food, alcohol and drugs. I did a lot of things to try and numb that and I don't do any of those things anymore; so I have to deal with it without any kind of attempt to self-medicate. I also try not to hide in work, but it is there, it is present."
"And I think L.A. can really trigger this, particularly the industry. I think one of the main elements [for dealing with these] has been acceptance and self-acceptance more than anything. I didn't really change on that trip and I really haven't changed in essence. What it changed for me is to accept myself as I am, in whatever form, and to not act out. I just find the more that we accept ourselves, the more that I also see how much some of the things that I'm ashamed of are actually good things about me that I'd just grown up in a place, or in a way or around people that have maybe told me that are not good. It's this idea of being too much. Having too many feeling, being too talkative or asking too many questions. None of those things are bad. It just really depends on who's telling you and whom you are listening to. So now I choose to really check in with people whose opinion I like, rather than to try and gauge my self-esteem off of people who I [shirk], whose opinions I think I should be listening to. I only listen to the opinions of people who I believe. I don't read reviews, because if I believe the good ones, I believe the bad ones. So I don't pick and choose. I don't have any answers. That's part of it. It's all part of the acceptance. I'm in the process and I'm walking through it."
It's no secret that Hollywood scene can be extremely harmful but finding someone that's willing to speak out about the problems it inflates is refreshing to say the least. "I love style and the fashion industry here but what I can't stand is people taking themselves too seriously," Novakovic explains. "When reality TV came along all of a sudden we [were] bitching about real people. Then social media came along and we are bitching about each other. We have become our own characters and our own soap operas. We've become disassociated with our own relationships. And I do it too. I stalk as much as the next person. With my self-esteem, I limit my use of it a lot and I limit who I follow as well, so I mainly follow friends and a couple of people I don't agree with in politics so I can just see what's going on the other side as well." But "the eclectic mix of people here is just beautiful." And thankfully still, the good outweighs the bad, even in Hollywood because as Bojana puts it: "I wouldn't stay here if it wouldn't!"
'Instinct' airs Sundays on CBS.
This Schön! online exclusive has been produced by
photography. Bojana Novakovic
retouch. Studio Navona
words. Sara Delgado
special thanks to Mowgli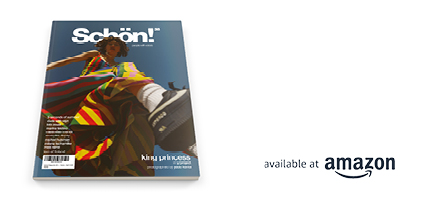 Discover the latest issue of Schön!. 
Now available in print, as an ebook, online and on any mobile device.