Having recently turned 20, Bishop Nehru has already emerged as one of the most promising MCs of this year – most definitely beyond too. Catching the attention of legends such as Nas, MFDOOM, and MadLib from the tender age of 15, Nehru's talents' span the fields of rap, creative direction, and musical production.  
From age 12, Bishop Nehru has been producing and rapping from his home studio in upstate New York. Starting out, Nehru was just submitting his tracks to forums such as Hypebeast and Odd Future. His freestyle skills are notably what got him high up on the ones to watch list. Named Youth Rap Talent of the Week by WorldStarHipHop in 2012, Nehru was then featured on Hot97 as one of the next rappers to "blow up". 
Soon after, Nehru released his debut mixtape in collaboration with Madlib and MF DOOM. And later that year Nas announced he would be executive producer for his next project. Nehru has, indeed, been "blowing up".
It's a tricky body of work to categorise. Nehru himself explains that he sees it as "neo-soul, with the majority of it being hip hop." It's partly due to the variety of genres that influence his sound— more specifically the funk and rock undertones. "It influenced me to think differently about hip hop. I don't think the typical way another person would think about hip hop. I think with other genres in mind as well."
In addition to bending the boundaries of the hip hop genre itself, Nehru also adds that his audience is primarily, "kids in different places growing with me." And understandably, that is: a lot of his lyrics capture the intense adolescent experiences of first love and other emotions. A verse from one of his songs, Sweet Lips, produced by J Dilla, goes, "My pride's kicked in / I'm so sick of sitting in class and listening / to "this plus the third" and / "She's a bird" / you're mine / lesson adjourned / nothing learned." However, when asked about his process of pulling inspiration from life experiences, Nehru responds with, "I try not to chase things to write about it. I try to just let it come to me through life experiences. I think that's how you stay humble." That said, Nehru didn't always cut himself some slack when it came to his music making process.
"I'm one of those people that loves music but I try not to think about music all the time," he explains. "There was a point in my life when everything was music and whether somebody was talking about something or talking about a song that they liked I would think 'OK… how can I sample the song and make it this, etc.'"
Not only does Nehru focus on refining the quality of his sound, but also on adding his personal touch to the complete production. Often writing, directing, and editing his own music videos, Fickle Mind$ and Midnight Reflecting are just two stand out pieces that capture Nehru's quirky and natural vibe.
In terms of his name, Nehru explains that "the bishop part is to symbolise a spiritual advisor." The second name takes us further afield: "I mixed it with Nehru, who was the first prime minister of India who marched alongside Ghandi." Is the name announcing the fact that he is our next musical leader, we wonder – will be the one who ushers in a new era of hip hop and neo-soul?
"I do things very passionately, and I don't want to be stuck in the hip hop only box. I want to do whatever I want to do," Nehru states matter of factly. He's still very much in the "the grinding stages"- something he admits humbly – adding that, "Jay Z still hustles, so there are times when you can relax for a while but you definitely have to keep going." His most recent mixtape, MAGIC: 19, is solely Nehru. With a new album due for release in the coming months, we beseech you to stay tuned – this is a star on the rise. 
Listen to MAGIC: 19 here.
Words / Valeriya Tyurina
Follow her here.
This Schön! online exclusive was produced by
Photography / Andrew Weir
Creative Director / Gregory Mastrianni
Fashion / Timothy Reukauf @ Wilhelmina
Grooming / Natasha Leibel @ Artist by Timothy Priano
Lighting Director / Tim Darwish
Production / Roxanne Mahoney
Post-Production / Xi Chen
Location / sabina@sabinazest.com
Special Thanks / Guillermo Perez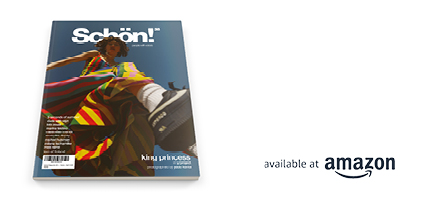 Discover the latest issue of Schön!.
Now available in print, as an ebook, online and on any mobile device.